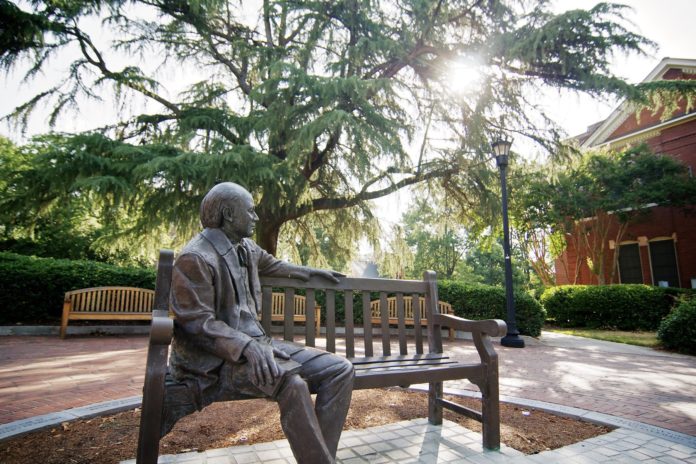 MACON, Ga. – Mercer University joined former United States President Jimmy Carter in bringing together the leaders of Baptist conventions and organizations from throughout North America to explore opportunities for establishing a unified voice. The meeting was held earlier this month at The Carter Center in Atlanta, Ga., with participants representing more than 20 million Baptists in the United States and Canada.
"The meeting was historic. It was historic because of the diversity of Baptists represented. North and South. Black and white. Conservative, moderate, and progressive. Canadian and U.S. And it was historic because of the resolve of the participants to create a new Baptist witness for Christ in North America," observed Mercer University President-Elect Bill Underwood.
The gathering was the first time Baptist organizations representing such diversity of race, culture, geography and convention affiliation had joined together to explore additional opportunities for fellowship and cooperation. While discussions at the meeting covered a wide range of topics, the leaders focused on the major issues facing their organizations as well as the commonalities of their faith.
Out of their deliberations came a statement called "A North American Baptist Covenant," which affirmed their desire "to speak and work together to create an authentic and genuine prophetic Baptist voice." It was signed by all 18 participants.
The covenant reaffirms their "commitment to traditional Baptist values, including sharing the gospel of Jesus Christ and its implications for public and private morality." It also commits them to "their obligations as Christians to promote peace with justice, to feed the hungry, clothe the naked, shelter the homeless, care for the sick and the marginalized, welcome the strangers among us, and promote religious liberty and respect for religious diversity."
The historic meeting developed from conversations that started in January among Carter and Mercer University President R. Kirby Godsey and Mercer President-Elect Bill Underwood on issues and concerns facing Baptists today. The former U.S. President expressed an eagerness to bring Baptists together and invited Underwood to assist in recruiting the participants.
This was not the first time this year that Underwood had participated in a gathering of Baptists for such discussions. In January, Mercer called together some 200 Baptist church and lay leaders to begin a dialogue concerning how best to sustain the University's Baptist identity in the wake of ending its 172-year relationship with the Georgia Baptist Convention last November. Carter had wanted to participate in the summit, but had a previous commitment out of the country.
At Mercer's Baptist Summit, the University's leadership reaffirmed the University's commitment to its historic Baptist traditions of religious freedom, intellectual freedom and respect for religious diversity and expressed plans to seek partnerships with other Baptist associations to promote the Baptist values.
Underwood said that "Mercer's role in organizing the meeting at The Carter Center evidences Mercer's emergence as a truly national Baptist university that will continue exploring opportunities to relate to a wide diversity of Baptist groups and organizations."
Attending the meeting at The Carter Center with Carter and Underwood were Godsey, Mercer University; the Rev. Jerry Sanders, president, and the Rev. Dr. David E. Goatley, executive secretary-treasurer, Lott Carey Baptist Foreign Mission Society, Inc.; the Rev. Dr. Major Lewis Jemison, president, Progressive National Baptist Convention; Marv Knox, editor, Baptist Standard, the news journal of the Baptist General Convention of Texas; the Rev. Dr. A. Roy Medley, general secretary, American Baptist Churches, USA; the Rev. Dr. Gary Nelson, general secretary, Canadian Baptist Ministries; the Rev. Dr. Tyrone Pitts, general secretary, Progressive National Baptist Convention; the Rev. Dr. William J. Shaw, president, National Baptist Convention, USA, Inc.; Dr. Walter Shurden, director, The Center for Baptist Studies of Mercer University; the Rev. Samuel C. Tolbert Jr., general secretary, National Baptist Convention of American, Inc.; Dr. John V. Upton Jr., executive director, Baptist General Association of Virginia; the Rev. Dr. Daniel Vestal, coordinator, Cooperative Baptist Fellowship; Dr. Charles R. Wade, executive director, Baptist General Convention of Texas; Dr. Bill Wilson, co-chair, Mainstream Baptist Network, and Dr. Jimmy Allen, a former president, Southern Baptist Convention, and a founder, Cooperative Baptist Fellowship.
"The Baptist voice has certainly been muted by the Southern Baptist Convention," said Godsey. "While none of these groups by themselves has a large voice, together, they have a very significant voice. Their willingness to work together to become a more unified voice of Baptists is a very important step. President-Elect Underwood will provide the principal leadership in organizing the continuing conversations among these diverse Baptist constituencies."
Determined to move forward in seeking opportunities to work together as Christian partners, the participants agreed in the covenant to plan a convocation of Baptists to celebrate their commitments to Baptist values and traditions. Underwood expects the convocation to take place in 2007.