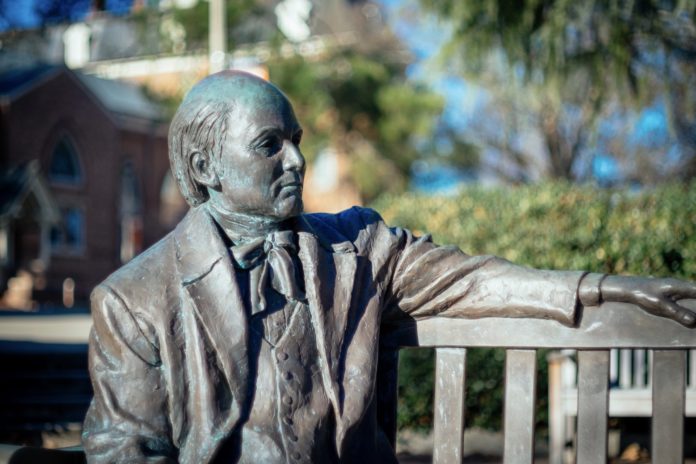 College of Health Professions
Dr. Cheryl L. R. Gaddis, assistant professor of practice in public health, and Dr. Brad Lian, associate professor of community medicine, co-authored "Evaluation of Food Access and Food Security Concerns among Public Housing Residents" in the Journal of the Georgia Public Health Association, 2015; 5(2): 165-169. Dr. Gaddis also served as a moderator for two panel sessions focused on addressing health disparities at the American Public Health Association's 143rd Annual Meeting and Expo in Chicago. Additionally, Dr. Gaddis was elected as the 2016 treasurer for the Georgia Society of Public Health Educators.
College of Liberal Arts
Dr. Craig Byron, associate professor of biology, co-authored an article, titled "Constraints on feeding in Australopithecus sediba: implications for the origin of Homo," which was accepted for publication in Nature Communications.
Dr. David A. Davis, associate professor of English, gave a talk, titled "The Language of Southern Foodways," to the Georgia Fulbright Association on Oct. 31.
Dr. John Marson Dunaway, emeritus professor of French and interdisciplinary studies, coordinated the Beloved Community Paired Clergy Network's fifth biennial community-wide Unity Service on Nov. 15 at Steward Chapel African Methodist Episcopal Church in Macon. Guest preacher was the Rev. Dr. C. Jarred Hammet of Northminster Presbyterian Church. The service was hosted by Pastor Maria Gordon.
Dr. Sarah E. Gardner, professor of history and director of Southern studies, published "Civil War Memoir" in The Cambridge History of Civil War Literature, ed. Coleman Hutchison, Cambridge University Press, 2015.
Dr. Chinekwu Obidoa, assistant professor of global health, shared preliminary findings from her research on HIV/AIDS risk in Macon at the S.E.E.K. Gala organized by the Pleasant Hill Community Development Cooperation (PHCDC) and the Community Church of God in the Bloomfield neighborhood of Macon on Sept. 20.
Dr. Anya Silver, professor of English, published three poems, titled "Benediction," "Autumn" and "Red Never Lasts" in Atlanta Review Fall/Winter 2015, 27-29. She also published "Ash Wednesday" in Between Midnight and Dawn: A Literary Guide to Prayer for Lent, Holy Week, and Eastertide (Paraclete Press, 2015) 48.
College of Pharmacy
Dr. Ashish A. Advani, clinical assistant professor, published three online articles, titled "Our Drug Pricing Problem," "Pandora of Medicine: Guiding Evidence-Informed Practice" and "Technologies Disrupting Health Care Today."
Dr. Ajay Banga, professor, was awarded $35,000 from Merck Millipore in Germany for "Micromoulding of poly (vinyl alcohol) microneedles," as well as $50,000 from Johnson and Johnson in New Brunswick, New Jersey, for "In vitro human skin permeation studies." Dr. Banga co-authored "Cosmetic devices based on active transdermal Technologies" in Therapeutic Delivery, 6(9) (2015) 1089-1099.
Dr. Melissa Chesson, clinical assistant professor, Dr. Maria Thurston, clinical assistant professor, and Dr. Gina Ryan, clinical professor, co-authored "Description and evaluation of interprofessional education activities at one college of pharmacy" in Let's Think About It (2015) Oct/Nov 16(1):1-7.
Dr. Nicole Metzger, clinical professor, Dr. Chesson and Dr. Kathryn Momary, associate professor, co-authored "Simulated order verification and medication reconciliation during an introductory pharmacy practice experience" in the American Journal of Pharmaceutical Education, 2015; 79(7) Article 96.
Dr. Kathryn M. Momary, associate professor, was named grant reviewer for the American Heart Association, IRG Cardiac Biology Basic Sciences 1.
Dr. Samuel K. Peasah, assistant professor, was awarded $3,030 from Valeritas for "Evaluating the impact on diabetes control and economic outcomes with V-Go at Northeast Florida Endocrine and Diabetes Associates: A retrospective cohort analysis."
Eugene W. Stetson School of Business and Economics
Dr. Carol Cagle, Dr. Faye Sisk and Dr. Arthur "Buddy" Rutledge, professors of management, presented their research findings, titled "Implications of different measures on healthcare resource allocations," at the Decision Science Institute 2015 Annual Meeting in Seattle on Nov. 21. The research examines multiple models of rurality and their impact on predicting maternal mortality.
Dr. Briana Stenard, assistant professor of entrepreneurship, authored a paper, titled "Predictors of Entrepreneurial Exit," which was accepted for the 2016 Babson College Entrepreneurship Research Conference, co-sponsored by the University of Nordland Business School and the Nordland Research Institute, in Bodo, Norway, on June 8-11.
Dr. Kenneth Tah, visiting assistant professor of finance, and student Oscar Martinez co-authored an article, titled "The Effects of Securitized Asset Portfolio Specialization on Bank Holding Company's Return, and Risk," which was accepted for publication in Studies of Economics and Finance.
Penfield College
Dr. Hani Khoury, professor and coordinator of mathematics, and Dr. Feng Liu, associate professor of informatics, recently completed a certificate program in "Online Course Design and Delivery" through the Office of Distance Learning in Penfield College. The 15-hour certificate program consists of three levels of hands-on instruction in the use of the University's learning management system, the application of instructional design methodologies to content development and the implementation and delivery of learning through the use of online tools.
Dr. Suneetha B. Manyam, associate professor of counseling and human sciences, co-presented with two other counselor educators on "The State of Counseling in India: A Cultural Immersion Experience" at the American Counseling Association 2015 conference on March 15 in Orlando, Florida. Dr. Manyam also co-presented with a group of counselor educators from different universities on "Culturally Relevant International Counseling, Research and Teaching: Counselor Educators Share Best Practices" at the Association for Counselor Education and Supervision 2015 Conference on Oct. 8 in Philadelphia. She attended the 2015 Fall National Rehabilitation Education Conference, Oct. 18-20, hosted by the National Council on Rehabilitation Education in Arlington, Virginia. She also attended the 17th Annual Project Directors Conference, Oct. 20-22, hosted by the Department of Education Rehabilitation Service Administration in Arlington, Virginia. Additionally, Dr. Manyam published an article on "LPCAGA reaches out to India" in Vol. 29, Issue 1 of the Licensed Professional Counselors Association of Georgia News Letter. She is the first author for this article. She co-authored manuscripts on "Bilingual Families," "Family Values" and "Group Family Therapy," which were accepted for publication in The SAGE Encyclopedia of Marriage, Family and Couples Counseling.
Dr. Richard H. Martin, professor of criminal justice, reviewed two articles, titled "Is the four-day school week detrimental to and student success?" and "Effect of solution focused group counseling for high school students in order to struggle with school burnout," for the Journal of Education and Training Studies. The journal acknowledged Dr. Martin for his review of manuscripts during 2015. Dr. Martin also co-authored "Sexual violence among male inmates in selected Georgia correctional institutions," in Law Enforcement Executive Forum, 15(4), 41-59. Additionally, he was appointed to the editorial board of the Journal of Homeland Security and Management.
Dr. David Purnell, assistant professor of communication, was elected a board member for Positive Impact Health Centers Inc. in Atlanta. PIHC is an organization that provides services and counseling for people living with HIV.
School of Engineering
Dr. Susan Codone, associate professor and director of the Center for Teaching and Learning, was an invited speaker at the annual meeting and conference of the Southern Regional Education Board Council on Collegiate Education for Nursing in Atlanta on Nov. 16. She spoke on "Technology in the Classroom."
School of Medicine
Dr. Richard O. McCann, associate professor of biochemistry and director of the Biomedical Sciences Graduate Program, and Utkarsh Parwal, a Stamps Scholar and senior in the College of Liberal Arts, attended the annual meeting of the American Society for Cell Biology in San Diego, Dec. 12-16, to present their research, titled "The Origins of Animal Multicellularity: Functional Constraints and Sequence Divergence in Coevolution of Proteins of the Core Adhesome." ASCB is an international organization of cell biologists, and the annual meeting each December attracts thousands of scientists from North and South America, Europe, Asia, Australasia and Africa.
Tift College of Education
Dr. Tristan Glenn, assistant professor of special education, authored a chapter, titled "The Sword, the Shield, and Double-consciousness: Notes on Reconciling and Negotiating the Black Male Scholar Identity," which will be included in Navigating Through the Shark Waters of Power and Privilege in Higher Education: Lived Experiences of Faculty of Color, eds. Karen Brown, Patricia Alvarez McHatton and Michelle Trotman Scott. Dr. Glenn also presented with several colleagues at the National Association for Multicultural Education (NAME) 2015 annual conference on Oct. 3 in New Orleans. His presentation was titled "Conceptions of Self and Others: Cultivating Critical Consciousness in Teacher Preparation." Additionally, Dr. Glenn co-facilitated a structured discussion at the 15th Annual Diversity Challenge sponsored by the Institute for the Study and Promotion of Race and Culture at Boston College on Oct. 24. This discussion was titled "Interdisciplinary Approaches to Negotiating 'Safety' in Race Dialogues."
Dr. Carol Isaac, assistant professor of research methodology, was invited to present on "Leadership and Other Skills in the Undergraduate Curriculum" to the American Association of Physics Teachers at its 2016 summer meeting in Sacramento, California. Dr. Isaac has a growing national reputation for her research and expertise on women in leadership.
Dr. William Lacefield, professor of mathematics education, presented "Nurturing Number Sense and Number Enjoyment in Middle Grades Learners" at the annual conference of the Louisiana Middle School Association, Oct. 28-30, in New Orleans.
University Libraries
Kim L. Eccles, associate director of the Monroe F. Swilley Jr. Library and associate professor, authored "Georgia Library Spotlight – Monroe F. Swilley Jr. Library, Mercer University" for Georgia Library Quarterly: Vol. 52: Issue 4, Article 4.
Beth Hammond, dean of University Libraries, served on a SACS Off-Site Review Committee in Atlanta on Nov. 3-4.
Walter F. George School of Law
Karen J. Sneddon, professor, gave a presentation, titled "You Call that Persuasive?: Providing Pointed Feedback on Persuasive Writing," at the Georgia Legal Services Program for Senior Advocates in Macon on Nov. 16. She will present on "Not Your Mother's Will: Gender, Language, and Wills, Sex and Death: Gender and Sexuality Matters in Trusts and Estates" at the Joint Program of Trusts and Estates Section and Women in Legal Education Section of the 2016 Association of American Law Schools Annual Meeting in New York City on Jan. 8.