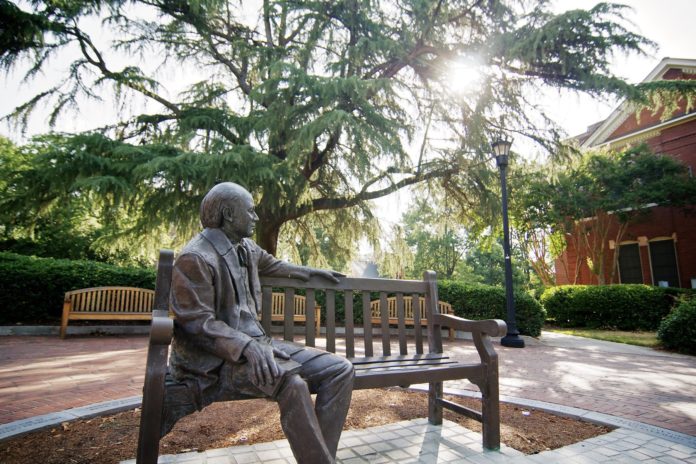 MACON — For the past 18 years, Dr. Allen Lynch, associate dean of Mercer University's Eugene W. Stetson School of Business and Economics and an associate professor of economics, along with colleagues Dr. Jay Coleman, professor of management at the University of North Florida, and Mike DuMond of Charles River and Associates Inc., have been crunching the numbers trying to determine which teams will make it into the NCAA Men's Basketball Tournament.
The trio's "Dance Card," a statistical model, has only once missed more than three teams and currently stands at 93.3 percent accuracy in predicting the "at-large" berths handed out by the NCAA Tournament Selection Committee.
"This year's selection committee will certainly have its hands full as there are a number of teams that are hovering just above the cut line," said Dr. Lynch. "Traditional powers like Cincinnati, Connecticut, Seton Hall and North Carolina State are just barely in the tournament right now. Fast on their heels are a slew of up-and-coming mid-majors like Xavier, Virginia Commonwealth, and Davidson. Things can change quickly as teams are desperately attempting to prop up their resumes before Selection Sunday."
Dr. Lynch, DuMond and Dr. Coleman are not just picking who gets in, they are now in their seventh year of using the "Score Card," another statistical model, which helps to predict what teams will win their games once the madness begins. Although predicting the winner of individual games represents a much more daunting task than predicting tournament entry, Dr. Lynch, DuMond and Dr. Coleman still forecast winners reasonably well and continue to perfect their model.
To follow the Dance Card, keep up to date via the official web site http://www.unf.edu/~jcoleman/dance.htm, or follow on Twitter @DanceCard3. Information about each model appears below.
About Mercer University
Founded in 1833, Mercer University is a dynamic and comprehensive center of undergraduate, graduate and professional education. The University enrolls more than 8,300 students in 11 schools and colleges – liberal arts, law, pharmacy, medicine, business, engineering, education, theology, music, nursing and continuing and professional studies – on major campuses in Macon, Atlanta and Savannah and at four regional academic centers across the state. Mercer is affiliated with four teaching hospitals — Memorial University Medical Center in Savannah, the Medical Center of Central Georgia in Macon, and The Medical Center and St. Francis Hospital in Columbus — and has educational partnerships with Warner Robins Air Logistics Center in Warner Robins and Piedmont Healthcare in Atlanta. The University operates an academic press and a performing arts center in Macon and an engineering research center in Warner Robins. Mercer is the only private university in Georgia to field an NCAA Division I athletic program. www.mercer.edu
— 30 —