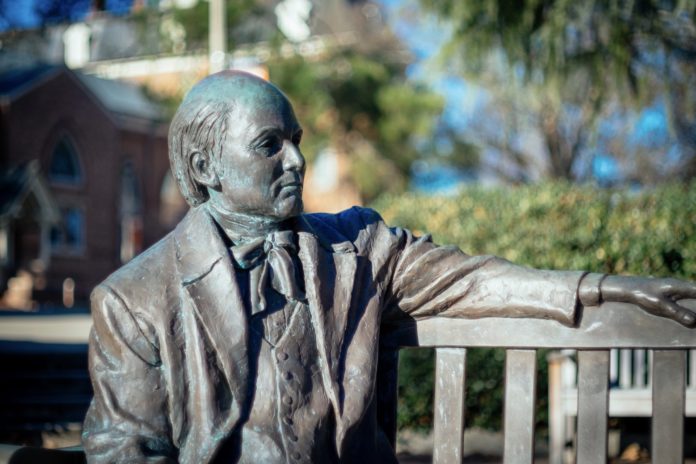 MACON — Mercer University has named its first five Stamps Leadership Scholars as part of the University's participation in the prestigious Stamps Scholars Program, funded by the Stamps Family Charitable Foundation Inc. The five students are Cory Zeller of Lawrenceville; Min Hyun Oh of Tucker; Braeden Brettin of Peachtree City; Utkarsh Parwal of Suwanee; and Joshua Wildes of Valdosta. This opportunity will be life-changing for this group of bright and talented students.
"This new scholarship has already helped us to attract some very capable young men and women and will only further enhance our ability to recruit the best and brightest from around the country," said Dr. Penny Elkins, Mercer's senior vice president for enrollment management. "The Stamps Leadership Scholars award is a game-changing scholarship in our recruitment efforts."
Among the five recipients are students who participate in more than 100 clubs and honor societies, as well as leaders, scholars and athletes. Zeller was an AP scholar and student body president at Dacula High School and plans to major in political science in the pre-law track at Mercer. Oh, a bilingual speaker who has spent time in Korea working as a translator and was named outstanding student of the year at Tallulah Falls School, plans to major in secondary education. Brettin, an AP scholar and Eagle Scout, graduated from McIntosh High School and will major in Christianity. Parwal was an AP scholar with distinction at Northview High School and plans to study medical technology in the pre-med track. Wildes was a very involved leader who graduated second in his class from Lowndes High School, and will major in history in the pre-law track.
"I am excited to welcome Mercer as a partner university for the Stamps Family Charitable Foundation," said Randy McDow, executive director of the Foundation. "Mercer's history, breadth and mission are exciting qualities that attracted us to work with the University, and we are proud it shares our vision for this program to be an amazing, campus-challenging force to help attract and enroll outstanding young people. The five young people in this first class of Stamps Leadership Scholars at Mercer are a part of a new cohort of 121 students, chosen from more than 130,000 applicants, enrolling as Stamps Scholars at two dozen schools across the nation."
The scholarship covers the full cost of attendance, including tuition, fees, room, board and books. In addition, Stamps Leadership Scholars will each receive a $16,000 stipend over four years for enrichment activities, such as study abroad or undergraduate research. When the program is fully implemented, up to 10 members of each Mercer freshman class will be designated as Stamps Leadership Scholars.
In addition, students benefit from the program by being part of a national network of talented students, McDow said. Mercer is one of only 25 universities in the country to participate in the program. In all, nearly 300 students will be enrolled as Stamps Scholars this fall at institutions such as the University of Chicago, University of Michigan, California Institute of Technology, UCLA, Purdue and the University of Miami.
E. Roe Stamps IV, who was raised in Macon and is a graduate of Stratford Academy, and his wife, Penny, established the foundation in part to help exceptional students realize their dream of achieving a college education. Among the alumni of the Stamps Scholars Program are a Rhodes Scholar; graduate students at Emory, Georgia Tech, Harvard, Kansas, the Manhattan School of Music, Michigan, MIT, Oxford, UC-Berkeley and Vanderbilt; and employees at several top consulting firms, BP, Deutsche Bank, GE, Teach For America and the Department of Homeland Security.
About Mercer University
Founded in 1833, Mercer University is a dynamic and comprehensive center of undergraduate, graduate and professional education. The University enrolls more than 8,300 students in 11 schools and colleges – liberal arts, law, pharmacy, medicine, business, engineering, education, theology, music, nursing and continuing and professional studies – on campuses in Macon, Atlanta and Savannah – and four regional academic centers across the state. The Mercer Health Sciences Center launched July 1, 2012, and includes the University's medical, nursing and pharmacy schools and will add a fourth college – the College of Health Professions – on July 1, 2013. Mercer is affiliated with four teaching hospitals — Memorial University Medical Center in Savannah, the Medical Center of Central Georgia in Macon, and The Medical Center and St. Francis Hospital in Columbus. The University also has educational partnerships with Warner Robins Air Logistics Center in Warner Robins and Piedmont Healthcare in Atlanta. It operates an academic press and a performing arts center in Macon and an engineering research center in Warner Robins. Mercer is the only private university in Georgia to field an NCAA Division I athletic program. www.mercer.edu
— 30 —