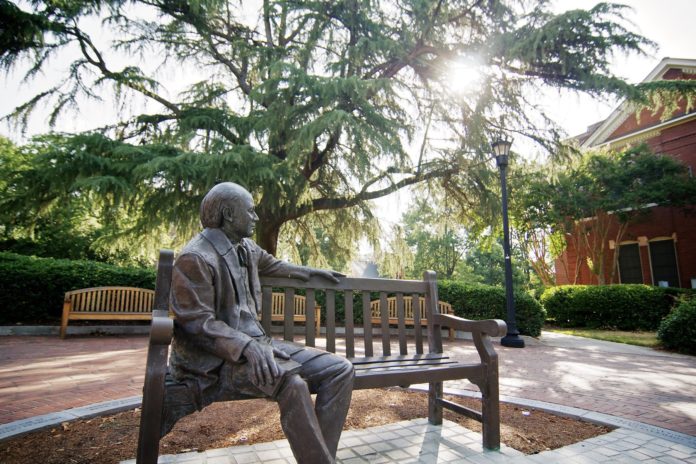 ATLANTA – Mercer University's Stetson School of Business and Economics will, pending Board of Trustees approval, offer a Master of Science in Business Analytics on the Cecil B. Day Campus in Atlanta, beginning in January 2015.
Business analytics is a field of study that focuses on developing new insights and understanding of business performance based on data and statistical methods. Business analytics makes extensive use of data, statistical and quantitative analysis, explanatory and predictive modeling, and fact-based management to drive decision-making, and is therefore closely related to management science.
"The analysis of data without assessing business implications is as incomplete as formulating business strategy without data analysis," said Dr. Susan P. Gilbert, dean of the Stetson School of Business and Economics. "I am excited to be launching our new M.S. in Business Analytics. This program's graduates will be better prepared to lead organizations at the cross section of business and technology, addressing a critical gap in the marketplace."
The M.S. in Business Analytics program will train graduates for careers such as credit analyst, data scientist, quantitative marketing analyst, web analyst and social media strategist, among others. The program will develop the skills, technology applications and practices for continuous iterative exploration and investigation of past business performance to gain insight and drive business planning.
To qualify for this degree, a student must successfully complete at least 30 semester hours of coursework, not including foundation courses or fieldwork, in residence. The program can be completed in approximately 15 months. Courses will be offered on Saturdays, with some online meetings.
Upcoming information sessions will be held on the Atlanta campus on Sept. 30, Oct. 28, Nov. 18 and Dec. 16. To register, visit business.mercer.edu/sessions/.
For more information on the M.S. in Business Analytics, visit business.mercer.edu/business-analytics/, call (678) 547-6300 or email business.admissions@mercer.edu.
About the Eugene W. Stetson School of Business and Economics
Established in 1984, Mercer University's Eugene W. Stetson School of Business and Economics is named for Eugene W. Stetson, a 1901 Mercer graduate and business pioneer who leveraged the first major buyout in corporate history. Over the past 80 years, Mercer has granted over 12,000 business degrees, and many of its graduates hold senior leadership positions in companies around the world. Mercer's business school delivers career-focused business education programs and develops entrepreneurial leaders and responsible global citizens. It holds accreditation from the prestigious Association to Advance Collegiate Schools of Business (AACSB), which places it among the top five percent of all top business schools worldwide. Mercer's business school has been recognized by the Princeton Review as No. 3 for "Greatest Opportunity for Women" and one of its "Best Business Schools." In addition, it has been recognized among the "Top 15 Schools in the Nation for Marketing and Accounting."
The School offers the following programs: Atlanta (Evening BBA, Full-Time MBA, Flexible MBA, Executive MBA, Virtual Professional MBA, Master of Accountancy, M.S. in Business Analytics), Macon (Traditional BBA and Evening MBA), Savannah (Virtual PMBA), Douglas County and Henry County (Evening BBA). www.mercer.edu/business