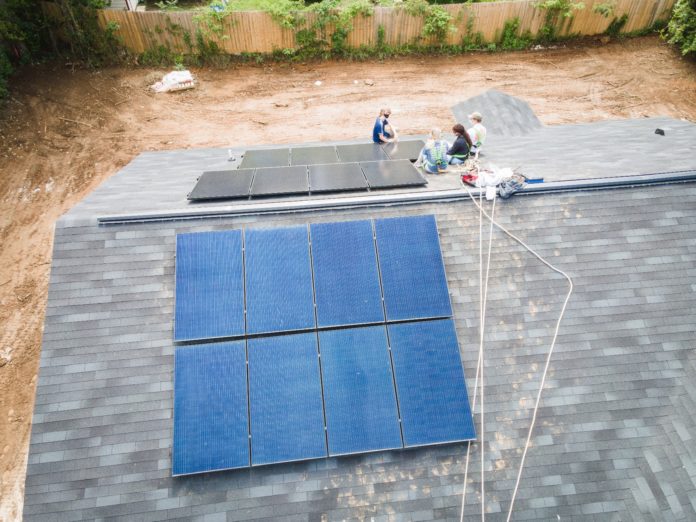 Mercer University engineering students are helping low-income homeowners save money and conserve energy by installing solar power systems on five Macon homes.
The solar photovoltaic systems, which homeowners can monitor using an app, will produce enough energy to cover 75% to 100% of each home's daily needs, reducing the monthly power bill, said Dr. Michael MacCarthy, associate professor of environmental and civil engineering and director of the engineering for development program.
"Homeowners can see directly how much energy is being produced, and then they can compare that to how much they're using," Dr. MacCarthy said. "Just the fact that the homeowners are paying attention to electricity production and electricity consumption, it could lead to additional savings through improved energy conservation habits."
All Points North Foundation provided $60,000 for the program, which is in partnership with Macon Area Habitat for Humanity.
The current program is part of a student-led initiative that started about five years ago with a senior design project and funding from Mercer's Research That Reaches Out initiative. Students were discussing ways to make environmental improvements at the household level in Middle Georgia and began looking at solar photovoltaic systems, Dr. MacCarthy said.
"Talking to various people, a lot of people in the area still had the impression that … you had to pay $15,000-$20,000 to a specialized engineering or construction company to install a huge system that would provide most, if not all, of the electrical power to your house," he said. "And we wanted to change that thinking."
The reality is that a qualified handyman and electrician can do the work, he said. The Mercer team initially focused on creating small-scale systems that would be tied to the power grid and could be expanded in the future. This would allow the homeowner to get electricity from the grid if needed and send extra solar power produced back to the grid.
The success of a pilot project led to the current program with Macon Area Habitat for Humanity. Installation on all five homes was completed in May, after pausing in 2020 due to the pandemic. About 40 students have been involved in the program, primarily through Dr. MacCarthy's green engineering course and Mercer On Mission courses.
"We use the program as an effective way of teaching students the basics of renewable energy technologies, including solar PV, as well as about household energy efficiency and construction techniques and sustainable construction practices," Dr. MacCarthy said.
One of the student leaders, Alviez Aziz Chagan, a mechanical engineering major who graduated with the Class of 2021, said he enjoyed learning how to install the solar panels and then training others how to do it. In the future, he wants to start a solar consulting and installation business that aims to hire and train local residents to become technicians, salespeople and owners to ensure growth and investment in local communities.
"We want to make sure that people have more power over their energy consumption and use," said Chagan, who now is pursuing his master's in engineering management with a concentration in engineering for development at Mercer.
Solar energy provides both economic and environmental benefits, he said.
"There is increased property value, increased equity," he said. And "your carbon footprint goes down after you use the system, especially since the power used around Macon mostly comes from Plant Scherer, which provides electricity that is produced through the burning of coal."
Over the next year, students will work with homeowners to help them understand the solar power systems and their own energy consumption, including teaching best practices, Dr. MacCarthy said.
The project has been a great opportunity for the homeowners to learn about solar power and how it can be a part of their own journey, said Ivey Hall, executive director of Macon Area Habitat for Humanity.
"Through our partnership with Mercer over the last almost 30 years now, we've had the opportunity to work on so many innovative ideas through Mercer's willingness to reach out into the community," Hall said. "And I'm so grateful for that because it brings so many opportunities for our Habitat homeowners that we wouldn't normally be able to offer."
Do you have a story idea or viewpoint you'd like to share with The Den?
Get in touch with us by emailing
den@mercer.edu
or submitting this
online form
.