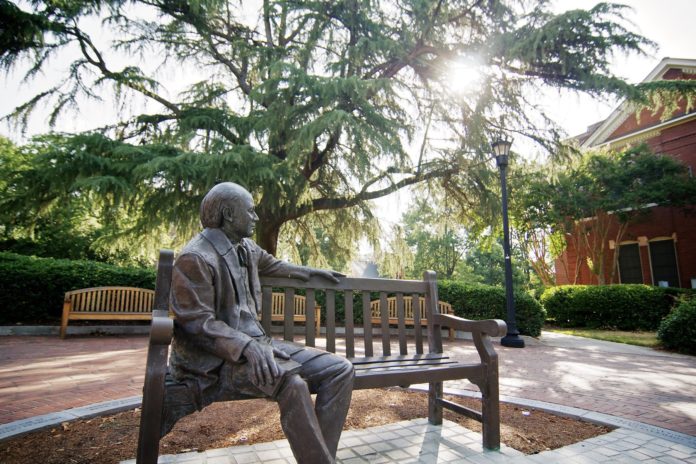 MACON, Ga. – Families of Mercer University students will descend on the Macon campus for annual celebration of Family Weekend on Sept. 20-22. Students and their family members will have the opportunity to meet administration and faculty, attend a concert at the Townsend School of Music, watch a movie on Cruz Plaza, have a picnic lunch with jazz music entertainment and attend a football game or other athletic event.
"Family Weekend is a chance for parents, families and friends to visit their Mercer students and enjoy a variety of events on Mercer's main campus," said Carrie Ingoldsby, director of campus life and student involvement. "Experience all that Mercer has to offer your student, and become a part of the Mercer Bears family!"
Registration for Family Weekend carries a $37.50 flat fee for each family of five or fewer, not including Mercer students. Families need to register only once and will check in from 5-6:30 p.m. on Friday at the Connell Student Center or from 8-10 a.m. on Saturday at the Bear Rock Café in the University Center. Registration closes at 5 p.m. on Thursday, Sept. 19. To register for Family Weekend, click here.
Tickets for the football game against Berry College on Saturday, Sept. 21 at 6 p.m., are $10 each and are not included in the registration cost. Students and their families are invited to Cruz Plaza for ice cream sundaes and music from 3 p.m.-5 p.m. before the game. For more information about tailgating and parking, click here. To purchase football tickets, click here.
For questions about Family Weekend, contact the Office of Campus Life and Student Involvement at (478) 301-2868.
About Mercer University
Founded in 1833, Mercer University is a dynamic and comprehensive center of undergraduate, graduate and professional education. The University enrolls more than 8,300 students in 12 schools and colleges – liberal arts, law, pharmacy, medicine, business, engineering, education, theology, music, nursing, health professions, and continuing and professional studies – on campuses in Macon, Atlanta and Savannah – and four regional academic centers across the state. The Mercer Health Sciences Center, launched July 1, 2012, includes the University's medical, nursing, health sciences and pharmacy schools. Mercer is affiliated with four teaching hospitals – Memorial University Medical Center in Savannah, the Medical Center of Central Georgia in Macon, and The Medical Center and St. Francis Hospital in Columbus. The University also has educational partnerships with Warner Robins Air Logistics Center in Warner Robins and Piedmont Healthcare in Atlanta. It operates an academic press and a performing arts center in Macon and an engineering research center in Warner Robins. Mercer is the only private university in Georgia to field an NCAA Division I athletic program. www.mercer.edu