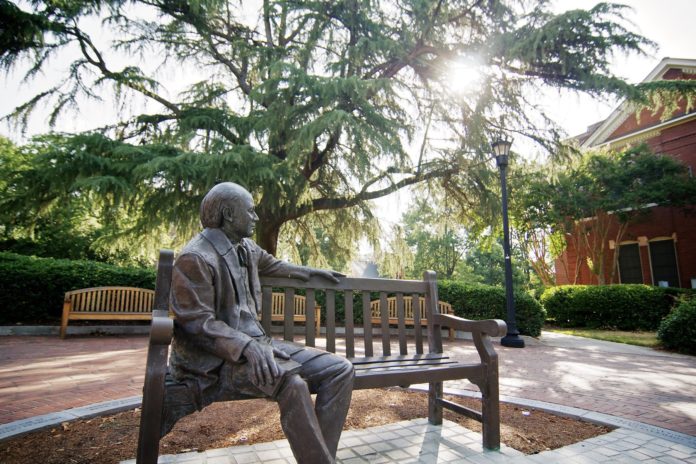 ATLANTA – Mercer University's Georgia Baptist College of Nursing was recently awarded an Advanced Education Nurse Traineeship (AENT) grant by the United States Department of Health and Human Services (DHHS) Health Resources and Service Administration (HRSA). The College will receive $350,000 this fiscal year and an additional $350,000 next year to support students seeking the Master of Science in Nursing degree with a Family Nurse Practitioner (FNP) specialty.
The Georgia Baptist College of Nursing is among a group of 65 schools from across the country receiving an AENT award. The purpose of the grant program is to increase the number of advanced education nurses trained to practice as primary care providers. Additionally, student recipients are expected to include rural and underserved areas in their FNP clinical experiences.
The traineeship will offer support of up to $11,000 to eligible part-time students in their last 12 months of study prior to graduation. Eligible full-time students may be funded up to $22,000 per academic year. This support will be directed toward payment of tuition and fees.
Dr. Freida Payne, coordinator of the FNP specialty, will serve as project director for the grant. Dr. Payne and Dr. Linda A. Streit, dean of Georgia Baptist College of Nursing, collaborated to submit a competitive grant application to support the FNP students.
"This award is testament to Mercer University's commitment to serve the state of Georgia by providing an outstanding education for our future health care professionals, while also delivering care to citizens in the rural and underserved areas of Georgia," said Dean Streit. "This support is especially important to increase health care provider training in underserved rural communities, where health care providers and services are difficult to obtain."
The College has a strong record of accomplishment in meeting and exceeding the goals of AENT funding. More than 80 percent of Mercer students enrolled in the FNP specialty include clinical practice in federally designated Health Professional Shortage Areas.
About the Health Resources and Services Administration
The Health Resources and Services Administration (HRSA), an agency of the U.S. Department of Health and Human Services, is the primary federal agency for improving access to health care by strengthening the health care workforce, building healthy communities and achieving health equity. HRSA's programs provide healthcare to people who are geographically isolated, economically or medically vulnerable. For more information, visit www.hrsa.gov.
About the Georgia Baptist College of Nursing
Founded in 1902 as a school of nursing, the Georgia Baptist College of Nursing is the oldest nursing program in Georgia. Over its 111-year history, the College has graduated more than 7,500 nurses. The College remains dedicated to educating the person, fostering the passion and shaping the future of nursing. The College merged with Mercer University in 2001 and offers a Bachelor of Science in Nursing, a Master of Science in Nursing, a Doctor of Nursing Practice and a Ph.D. in nursing. The College of Nursing is one of four academic units within the Mercer University Health Sciences Center. nursing.mercer.edu