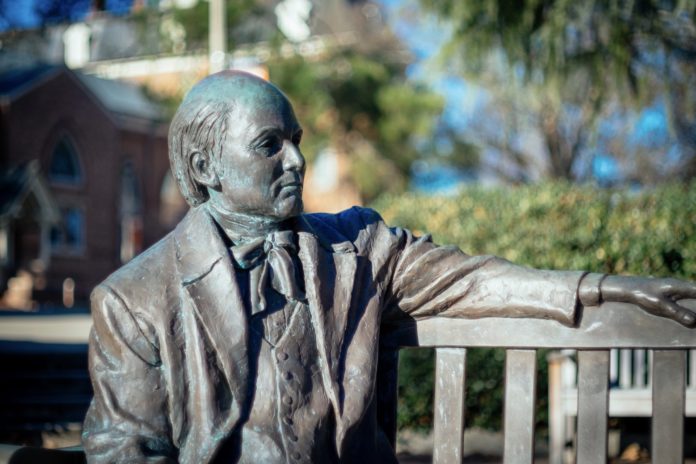 MACON, Ga. – Mercer University's Jack Tarver Library will host a series of events to open the exhibit "Faces from the Past: The Human Image in the Ancient World," which will feature ancient artifacts from the collection of Dr. Yulssus Lynn Holmes, CLA '62, of Carrollton. The exhibit is curated by Dr. Eric Klingelhofer, professor of history in the College of Liberal Arts.
Events will take place during the fourth week of October, beginning with an exhibit opening on Oct. 21 with reception and gallery talk by Dr. Holmes at 7 p.m. Dr. Beth Stewart, professor of art in the College of Liberal Arts, will give a lecture on "Roman Portraiture" at 7 p.m. on Oct. 22. On Oct. 23, Dr. Scott Nash, professor of Christianity in the College of Liberal Arts, will lecture on "The Face of God: The Human Image in the Ancient World" at 7 p.m. The final event in the series will be a film showing of "A Funny Thing Happened on the Way to the Forum" (1966) at 6 p.m. on Oct. 24 with a discussion led by Dr. Achim Kopp, professor of foreign languages and literatures in the College of Liberal Arts.
All events, which are free and open to the public, will take place in The Bear Spot at Jack Tarver Library.
This exhibit is on display thanks to the generosity of Dr. and Mrs. Y. Lynn Holmes.
Dr. Holmes graduated from Mercer University in 1962 with a Bachelor of Arts degree in English. His interest in ancient artifacts developed during his time at Southeastern Baptist Theological Seminary, where he earned a Bachelor of Divinity degree. He began collecting artifacts during his graduate work at Brandeis University while earning his master's and doctoral degrees in ancient history. Multiple trips to the Hebrew University as well as leading a group of students from the University of West Georgia to Israel for an archaeological excavation deepened his passion for collecting artifacts. Professionally, he has served as a teacher, scholar and administrator, holding posts ranging from research fellow to professor to college president. He has published numerous scholarly papers on ancient history and the modern Middle East.
Mrs. Elizabeth Nasser Holmes was born to Christian parents in Palestine. She studied in a French Catholic school in Jerusalem and became fluent in four languages. Mrs. Holmes also studied at the University of West Georgia and Brewton-Parker College. She is a community speaker on the cultures, customs and people of the Middle East.
The Holmes' collection will ultimately reside at Mercer University so that it can serve as a resource on the ancient world for students, faculty and staff, as well as for the residents of Central and South Georgia.Until then, the Jack Tarver Library has exclusive access to select, curate and display an annual exhibit centered on a unifying theme from the collection.
For more information on the exhibit or the events, please contact Wendi Jenkins at (478) 301-2960 or jenkins_gp@mercer.edu.
About Mercer University
Founded in 1833, Mercer University is a dynamic and comprehensive center of undergraduate, graduate and professional education. The University enrolls more than 8,300 students in 12 schools and colleges – liberal arts, law, pharmacy, medicine, business, engineering, education, theology, music, nursing, health professions, and continuing and professional studies – on campuses in Macon, Atlanta and Savannah – and four regional academic centers across the state. The Mercer Health Sciences Center, launched July 1, 2012, includes the University's medical, nursing, health sciences and pharmacy schools. Mercer is affiliated with four teaching hospitals – Memorial University Medical Center in Savannah, the Medical Center of Central Georgia in Macon, and The Medical Center and St. Francis Hospital in Columbus. The University also has educational partnerships with Warner Robins Air Logistics Center in Warner Robins and Piedmont Healthcare in Atlanta. It operates an academic press and a performing arts center in Macon and an engineering research center in Warner Robins. Mercer is the only private university in Georgia to field an NCAA Division I athletic program. www.mercer.edu