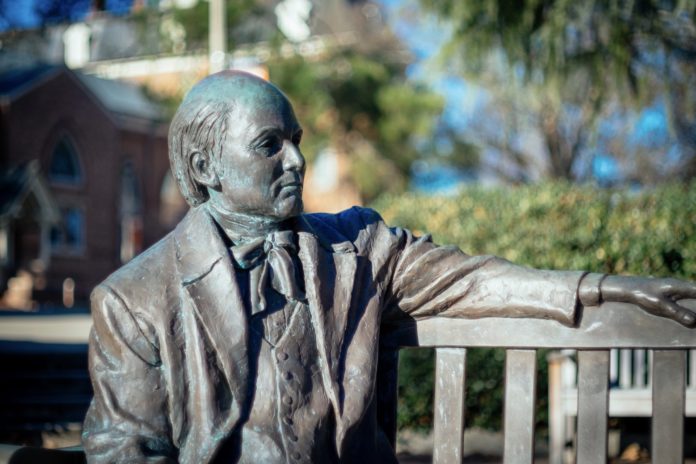 The Honorable Guido Calabresi, U.S. Court of Appeals for the Second Circuit, is scheduled to deliver the keynote address at Mercer Law School's 2014 Law Day luncheon on Friday, March 28. His presentation is titled "Faith in Law and Faith in People."
The Luncheon starts at 12:30 p.m. and will be held in the University Center on Mercer University's main campus. The luncheon is $25 for alumni that register before March 18 and $35 at the door. Registration is available by online or by contacting Leslie Cadle at cadle_l@law.mercer.edu or (478) 301-2180.
During the event, Mercer Law School will recognize two alumni for their outstanding contributions to the legal profession: Thomas P. Bishop, CLA '82, LAW '85, Outstanding Alumnus Award; and Deryl Dantzler, CLA '64, LAW '70, Alumni Meritorious Service Award.
Following the luncheon, three events will take place at the Law School. The Hugh Lawson, III Moot Court Competition, an annual intra-school 1L competition, will be held in the Moot Courtroom at 3 p.m.
A 2 hour CLE seminar in Ethics and Professionalism: Perspectives After 40 Years at the Bar, will take place from 3 – 5 p.m. The CLE will be held in the 3rd Floor Courtroom of the Law School. To pre-register for the CLE, email Nancy Terrill with your name and Bar number. The cost for the CLE is $25 and can be paid on site.
Additionally, an all-class alumni reception will be held in the Robert L. Steed Lobby in the Law School from 5 – 6:30 p.m. To register for the alumni reception, contact Leslie Cadle at cadle_l@law.mercer.edu or (478) 301-2180.
Hotel Information:
Hilton Garden Inn, located on the Mercer Campus
Special Guest Rate of $99/night if reserved by March 13.
Reserve rooms online or by calling (478) 741-5527 by using group code MLR.
About The Speaker:
Judge Calabresi was appointed United States Circuit Judge in July 1994, and entered into duty on September 16, 1994. Prior to his appointment, he was Dean and Sterling Professor at Yale Law School, where he began teaching in 1959, and is now Sterling Professor Emeritus and Professorial Lecturer in Law. Judge Calabresi received his B.S. degree,summa cum laude, from Yale College in 1953, a B.A. degree with First Class Honors from Magdalen College, Oxford University, in 1955, an LL.B. degree,magna cum laude, in 1958 from Yale Law School, and an M.A. in Politics, Philosophy and Economics from Oxford University in 1959. A Rhodes Scholar and member of Phi Beta Kappa and Order of the Coif, Judge Calabresi served as the Note Editor of The Yale Law Journal, 1957-58, while graduating first in his law school class. Following graduation, Judge Calabresi clerked for Justice Hugo Black of the United States Supreme Court. He has been awarded some forty honorary degrees from universities in the United States and abroad, and is the author of four books and more than one hundred articles on law and related subjects.