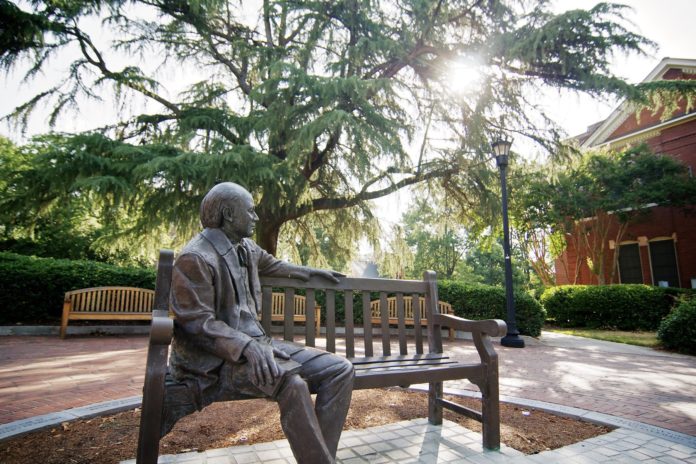 MACON – Mercer University's debate team will challenge the Rwandan national debate team on Oct. 19, 6:30-8 p.m., in the Presidents Dining Room inside the University Center in Macon.
The event, which is free and open to the public, is part of a larger visit to campus by the Rwandan team from Oct. 18-20.
University director of debate Dr. Vasile Stanescu said Rwanda's national team reached out to Mercer following last spring's historic national championship victory by Kyle Bligen and Jaz Buckley, who became the first African-American pairing to win the National Parliamentary Debate Association (NPDA) title.
At the request of the Rwandan team, the two teams will debate the topic, "In the case of genocide, forgiveness is a better response than justice?" After the debate, there will be a time for questions from the audience.
"When I discussed hosting a foreign debate team, Mercer's debate team wanted to compete with a team from Africa, in particular, to help to dispel some of the stereotypes that still exist about Africa. We are therefore particularly honored to be able to debate Rwanda," said Dr. Stanescu.
"Post-genocide, debate took on a particularly important aspect in Rwandan society. It is not uncommon for high-ranking officials or political candidates to judge debate rounds. Rwandan debate has also been effective in reaching out to women in Rwanda, who have been uniquely successful."
Over the past five years, Mercer's debate team has grown from a regionally known program to a nationally recognized, championship-caliber program. Currently, Mercer debate is looking to pursue more opportunities like this on an international stage.
"Key components of Mercer's plan moving forward are both to become a global University and to compete with the best. Those are our goals as a debate team, as well," said Dr. Stanescu. "We hope this will be the first of many public debates to be hosted at Mercer to help to open debate to both the broader University and Middle Georgia communities. These debates will feature debaters from both around the world and top-tier Universities within the United States.
"There are many ways to try to determine how effective an education a University provides. I have always believed that in terms of real-world skills and abilities debate is one of the best methods. However, debate is not only about competition; it also about community and understanding. While we compete, debate can also help to teach and bring people together. More than a competition, that is the goal of this global debate event."
Following the debate with the Rwandan national team, the University will resume its 2018-2019 intercollegiate schedule with a trip to the 11th annual Yale Inter-Varsity Parliamentary Debate Tournament Oct. 26-28 in New Haven, Connecticut.