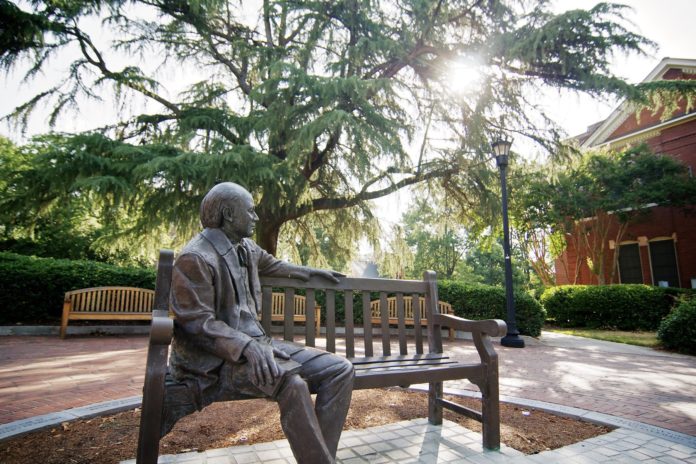 ATLANTA – Six students and two faculty members traveled through India over 11 days last November representing Penfield College's master's- and doctoral-level counseling programs.
Led by Dr. Suneetha B. Manyam and Dr. Diane M. Clark, associate professors of counseling, the group visited six different institutions exploring the state of mental health counseling in India.
The professors – along with M.S. in Clinical Mental Health Counseling students Katie Dunn, Aminah Abdullah, Caroline Fernandes, Brittany Phillips and Ph.D. in Counselor Education and Supervision students Walter Robinson Hughes and Tara Overzat – made multiple presentations on counseling practices and counselor education in the United States. They also demonstrated individual and group counseling sessions and answered many questions.
The group arrived in New Delhi on Nov. 13. After two days of meetings and presentations at the women's and men's colleges of Aligarh Muslim University as well as Indian Institute of Psychology, the Mercer students and professors visited the historic Taj Mahal.
They then conducted workshops on counseling micro skills at Veer Bahadur Purvanchal University on Nov. 17 and visited Jain monks, before arriving at Mohanlal Sukhadia University in Udaipur on Nov. 18. There, an International Conference on the Emerging Role of Guidance and Counseling in Health and Well-Being was held. The visitors contributed to the conference with presentations on topics such as "College Counseling in the USA," "Counseling Men," "Multicultural Counseling: The African-American Experience in the USA" and "Emotionally-Focused Therapy (Tapping)." Accounts of the conference were reported in local and national newspapers.
Similar presentations were made on Nov. 20 at the University of Rajasthan, where the team also organized group counseling sessions for a local non-profit organization, before another opportunity for cultural exploration, which included elephant rides in Jaipur.
The students and professors completed their tour with a visit to Amity University on Nov. 21, where they conducted workshops on helping skills followed by mock counseling sessions.
The latest in a series of study abroad opportunities for Penfield's counseling students, who have traveled to Holland, France and Haiti in recent years, the trip to India was a new experience to many of those involved, who hope it will lead to further opportunities for international education and collaboration through the College.
"This trip was life-changing," said Dr. Clark. "India is a country of many contrasts, but its people are some of the most welcoming I ever encountered. It was a joy to work with the students at the various universities and to see them interact with our students. I can't wait to return."
The journey provided numerous learning outcomes for the students. Through this rich cultural immersion experience, students were not only able to observe their own stereotypes and biases, but they also learned the importance of adapting to a new culture through skillful multicultural interactions.
"I thought I was going to India to influence the field of counseling there, but instead, the country had an unforeseen impact on me," said Abdullah. "India made me uncomfortable in the most incredible way, and I haven't been the same since. I'm more aware, grateful, understanding and determined – it was an unforgettable journey of growth."
"Being a Portuguese Indian who was raised with Western European ideologies, growing up I missed out on many authentic cultural experiences of India. This trip helped me strengthen my self-identity by providing me with tremendous personal and spiritual growth throughout the journey," said Fernandes. "Learning and experiencing cultural awareness, social structures and the economic status of a country is much better in person compared to a textbook. I am thankful to Mercer for opening up doors for endless possibilities."
"I realized how important counseling can be in inspiring changes in not just an individual but a whole community," added Dunn. "Additionally, it became evident that being mindful and aware of multicultural issues is also key in applying counseling in any field."
Dr. Manyam remained in India well into December, as she participated in Aligarh University's International Conference on Well-being and Human Development, where she made four additional presentations. She also held workshops and made presentations at two other Indian institutions.
"Visiting my home country after 13 years was a kind of culture shock for me," said Dr. Manyam. "India has changed so much that some of the multicultural experiences were eye-opening and enlightening. The hospitality at every institution visited was amazing, and the students were warm, welcoming and smart."
As a result of the trip, students and professors have already begun collaborating with contacts made at the Indian universities. Hughes is working on a project on spiritualism in collaboration with a professor from Aligarh University. Dr. Manyam and Fernandes have submitted an article for publication for a leading international journal from India. Dr. Manyam, Fernandes and Overzat have submitted an article about their experiences in India to the Licensed Professional Counselors Association of Georgia, and Dr. Manyam, Dr. Clark and one of their host professors from India will be presenting about their experiences at the American Counseling Association's annual conference in March.
"I found the trip to be enlightening, engaging and affirming of my desire to work more with the international community," said Overzat. "The opportunity to bond with Dr. Manyam and Dr. Clark along with other Mercer students in such a diverse culture was remarkable – an unforgettable experience."