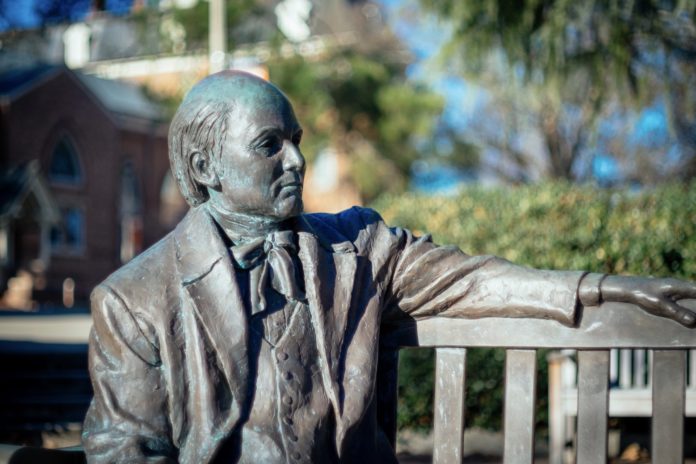 MACON – Four Mercer University students were recently selected to play at Carnegie Hall as members of the 2003 National Wind Ensemble.
Alison McDowell of Savannah, who plays the French horn; Rachel Hauser of Conyers, who plays the flute; Katy Howd of Dacula, who also plays the flute, and Rachel Askew of Jonesboro, who plays the bassoon, each sent an 8- to 10-minute audio tape, along with a recommendation and a résumé of their previous musical experience to audition for the prestigious ensemble. Out of several hundred applications, McDowell, Hauser, Howd and Askew were chosen for this 76-member group.
The purpose of the National Wind Ensemble is two-fold. The first objective is to identify talented students from across the country who have already demonstrated their musical ability and commitment to their art. The other is to provide the students with the opportunity to perform in a world-renowned venue under the direction of H. Robert Reynolds, one of the top musical educators and conductors on the American band conducting scene.
The Carnegie Hall performance on Sunday, May 25, will be the climax of a six-day residency in New York City. The musicians will participate in six, 3-hour rehearsals, plus one dress rehearsal the day of the concert. Music performed will include works by Shostakovich, Lauridsen, Mennin, Dello Joio, and Grantham as well as the world premier of the winning composition from the H. Robert Reynolds Composer's Competition.
Founded in 1833, Mercer is a 7,300-student, comprehensive, Baptist-affiliated university offering undergraduate and graduate degrees through the College of Liberal Arts, the Eugene W. Stetson School of Business and Economics, the Tift College of Education, the School of Engineering, the Walter F. George School of Law, the School of Medicine, the Georgia Baptist College of Nursing, the Southern School of Pharmacy, the James and Carolyn McAfee School of Theology and the College of Continuing and Professional Studies.
Mercer University has campuses in Macon and Atlanta and education centers in Douglas County, Covington, Griffin and Eastman. The University also operates the Mercer Engineering Research Center in Warner Robins and the Mercer University Press in Macon. For the past 13 years, U.S. News&World Report has ranked Mercer among the leading universities in the South.
-30-