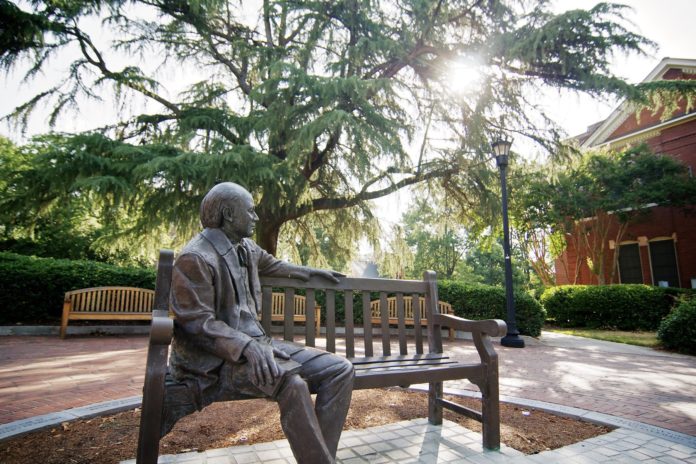 ATLANTA – Runners and walkers of all ages are invited to participate in the Third Annual Claypool Classic 5K Run/Walk on Saturday, April 12, on Mercer University's Cecil B. Day Campus, 3001 Mercer University Drive. The 5K course includes 2.1 miles on the road and 1 mile on a cross-country trail that is somewhat hilly. The run is part of the Run & See Georgia Grand Prix series.
Registration will begin at 3 p.m., with the 5K run starting at 4 p.m. and the 1-mile fun walk kicking off at 4:30 p.m. Registration is $15 by March 31 and $20 starting April 1. Individuals and groups are invited to participate. The registration form is available online at www2.mercer.edu/claypoolregistration.
After the race, awards will be given to overall top runners and to the top three runners in 13 age categories, ranging from "10 and under" to "70 and over." All participants will receive a commemorative t-shirt. Music, entertainment and food will be provided. A number of local businesses and organizations are sponsoring the event, including Georgia Power, Kroger and Coca-Cola.
The event benefits the Dr. John R. Claypool Memorial Scholarship at the McAfee School of Theology of Mercer University. A nationally renowned author and preacher, Claypool was a revered professor of preaching at McAfee before losing his battle with cancer in September 2005. Before joining Mercer's theology school in 2001, he served almost five decades in the ministry. His books include "God is an Amateur," "Tracks of a Fellow Struggler," "Mending the Heart," "Stories Jesus Still Tells: The Parables" and "God: The Ingenious Alchemist."
For more information, contact Claire Dyes at (678) 547-6821, dyes_c@mercer.edu.

About Mercer University:
Founded in 1833, Mercer University is a dynamic and comprehensive center of undergraduate, graduate and professional education. The University has 7,300 students; 11 schools and colleges – liberal arts, law, pharmacy, medicine, business, engineering, education, theology, music, nursing and continuing and professional studies; major campuses in Macon and Atlanta; four regional academic centers across the state; a university press; two teaching hospitals — Memorial Health University Medical Center and the Medical Center of Central Georgia; educational partnerships with Warner Robins Air Logistics Center in Warner Robins and Piedmont Healthcare in Atlanta; an engineering research center in Warner Robins; a performing arts center in Macon; and a NCAA Division I athletic program. For more information, visit www.mercer.edu.