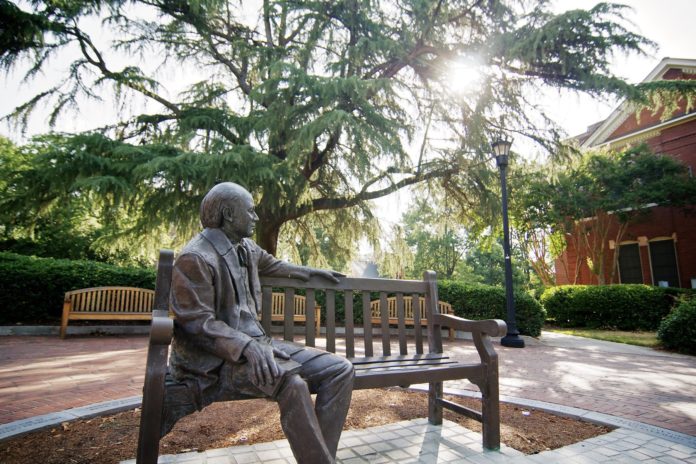 The Leadership Macon Class of 2009 will sponsor the Celebrity Grand Slam exhibition game this Saturday, Oct. 17, benefiting the Central Georgia Chapter of the American Red Cross.
The Celebrity Grand Slam takes place at 6:30 p.m. at Sikes Softball Field at Mercer University. The "home" team will be a mix of local media personalities, government officials, athletes, coaches, city and business leaders and Leadership Macon alumni. The opposing "visiting" team will be the 2009 Warner Robins American Little League Softball World Series Champions. Special guests will be the 2009 Southeast Little League Champions Warner Robins All-Stars, who will kick off the event with a 30-minute homerun derby.
Admission to the event is $5 (12 & under free) and tickets are available at the Greater Macon Chamber of Commerce (305 Coliseum Drive) and the Central Georgia Chapter of the American Red Cross (195 Holt Ave.), as well as through members of Leadership Macon's Class of 2009. Tickets will also be available on the day of the game.
Several Mercer staff members will be participating in the game. Head softball coach Mike Rayner will umpire behind the plate while Jarrod Turner, athletics marketing coordinator, will call the bases. Honorary celebrity coaches include Bobby Pope and Myra Cameron from the athletic department, receiving valuable assistance from Kelly Bretscher and Page Raynor from the softball team. Men's basketball coach Bob Hoffman will be among the players for the celebrity team. Rick Cameron, "voice of the Bears" and a member of the marketing communications staff, will handle the P.A. for the game.

All proceeds from the Celebrity Grand Slam ticket sales will be donated to the Central Georgia Chapter of the American Red Cross for local disaster response, as well as assisting the needs of local active duty National Guard families.

When assessing the needs of the Macon community, the Leadership Macon class of 2009 elected to focus their class project on the continued recovery from the Mother's Day 2008 tornado.

Instrumental in aiding those hardest hit by the disaster is the Central Georgia Chapter of the American Red Cross, who in addition to helping with disaster recovery also provides support to Georgia National Guard families.
A program of the Greater Macon Chamber of Commerce, Leadership Macon's mission is to identify and develop leaders through continuing education, networking and community involvement for the purpose of creating opportunities and encouraging graduates to participate in community leadership.
The Leadership Macon Class of 2009 is also assisting with the repairs from tornado damage at the Macon Little League Park. The repairs will take place from Oct. 6-10, alongside Bibb County officials and volunteers from Rebuilding Macon.
For questions on the Celebrity Grand Slam and Macon Little League repairs, please contact Class of 2009 members Jessica Walden (478) 957-7433 or Shae Hinson (478) 731-6794.
For more information visit www.macongrandslam.com