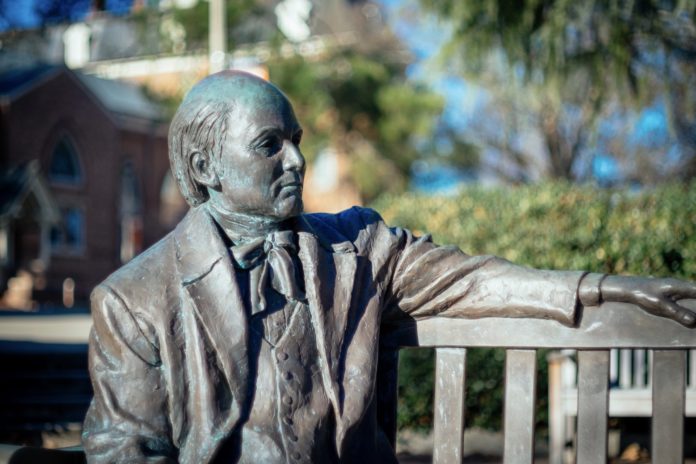 To watch a video of the news conference,

go>




Mercer University President William D. Underwood today announced the appointment of Bobby Pope, current director of athletics, as special assistant to the president and the first full-time executive director of the Mercer Athletic Foundation, and named State Representative and Mercer alumnus Jim Cole as director of athletics. The appointments are effective July 1.
Pope, who has been Mercer's director of athletics for more than 20 years and has served at the institution for a total of 30 years, will move full time into the executive director's role for the Mercer Athletic Foundation, the primary fund-raising organization for Mercer athletics.
Cole, who lettered in baseball at Mercer in the early 1990s, has been serving for the past 18 months as executive director of the foundation while continuing to represent Georgia's 125th District and serve as Gov. Sonny Perdue's floor leader in the state House of Representatives.
"Bobby Pope and Jim Cole both have made important contributions to Mercer University's athletic programs over the years," Underwood said, "and they both will continue to lead and support our men's and women's NCAA Division I athletic teams and our student-athletes by assuming new roles within the Athletic Department. I am grateful to Bobby and Jim for their commitment to Mercer, to intercollegiate athletics within the context of an outstanding academic institution, and for their willingness to take on these new responsibilities."
The dean of athletic directors in the Atlantic Sun Conference, Pope is in his 21st year at the helm of Mercer athletics. During his tenure at Mercer, he has seen the expansion of the program to 14 sports. This fall Mercer will add men's lacrosse to its intercollegiate athletic program, with women's lacrosse fielding a team in 2011. He has overseen the addition of the first full-time coaches for men's and women's golf, men's and women's tennis, cross country and men's lacrosse.
Facility upgrades have been a priority since he became athletics director, as evidenced by the $40 million University Center, home to men's and women's basketball and volleyball since its completion in 2004. The building houses coaches' offices as well as locker rooms for all teams. Claude Smith Field, the home field for baseball, received a facelift in the fall of 2003, and a new softball facility was constructed in 2006. A major renovation of the soccer field was completed last summer.
The University twice won the conference's all-academic trophy during Pope's tenure, and the cumulative average grade point average for Mercer student-athletes never fell below 3.0 over the last 20 years. A Mercer student-athlete has received the conference's male or female post-graduate scholarship each year since its inception in 2007. The University also produced its only two-time, first-team Academic All-American during Pope's administration, when basketball player Will Emerson earned the honors from ESPN The Magazine in 2005 and 2006.
Pope is also very active in the A-Sun Conference, having served two years as president in the late 1990s. He has served on numerous committees and currently is a member of the conference's tournament committee.
For nearly two decades, Pope was a sports reporter, director and sports anchor at WMAZ-TV. Pope called high school football and basketball games from the mid-60s through 1972 on WMAC-AM radio and began his involvement with Mercer athletics in 1970 when he was the "Voice of the Bears." He served as Mercer's sports information director from 1980-1992.
He is active in the community as well, serving as secretary of the Macon Touchdown Club and chairing the board of the Georgia Sports Hall of Fame Authority.
A native of Augusta, Cole entered Mercer on an academic scholarship in 1990 and lettered in baseball from 1990 to 1993. He was recipient of the Charles C. Morgan Outstanding Student-Athlete Award and graduated with honors from the University.
Cole was drafted as a pitcher by the Milwaukee Brewers in 1993 and was named the franchise's Organizational Player of the Year and a finalist for the TOPPS Minor League Player of the Year Award in 1994. After an injury ended his professional baseball career, he returned to Mercer in 1997 to earn his MBA while serving as a graduate assistant and pitching coach for the baseball team. In 1998 he served as pitching coach for the Madison Black Wolves minor league team in Madison, Wis., and then entered private business before being elected to the Georgia House of Representatives in 2004.
Cole is currently serving as the legislative voice under the Gold Dome for the constituents of House District 125, which includes Jasper County and parts of Monroe, Jones and Lamar Counties. His legislative duties include membership on the Appropriations Economic Development Sub-Committee. This sub-committee oversees important areas of the budget that deal with agriculture, community affairs, economic development and transportation. In addition, Cole serves on the Rules, Judiciary Non-Civil and State Planning and Community Affairs Committees.
Gov. Perdue appointed Cole to serve as senior administration floor leader in early 2009, having served formerly as assistant floor leader from 2007-2008.
Cole is an active community leader throughout the state. He currently serves on the Board of Directors for the Georgia Chamber of Commerce. A graduate of Leadership Georgia, he is a member of Forsyth United Methodist Church.
Cole is married to the former Gaylyn Lawson of Forsyth, where they live with their two children, Caroline (8) and Lawson (6).
–30–