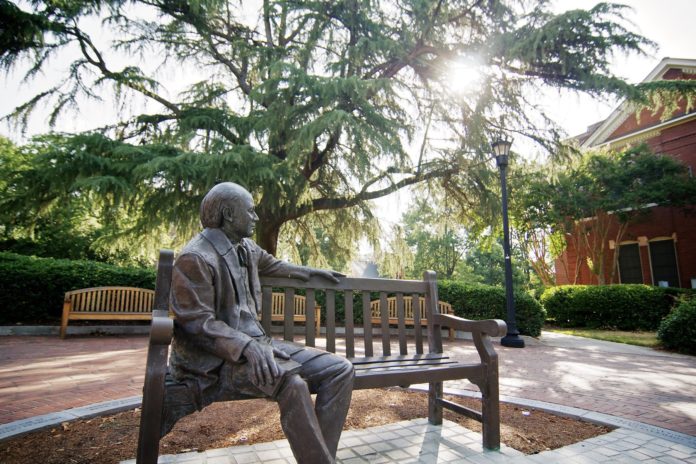 College of Continuing and Professional Studies

Dr. Thompson Biggers, associate professor, will present at the National Communication Association convention in Orlando, Fla., on Nov. 15-17. The program is for communication scholars who are seeking assistance in publishing their research. Participants have conducted research and written initial drafts of articles based on their research. Respondents have read the proposed papers and will give the authors feedback about improvements they could make to increase the probability of publication.
Dr. Kenyon Knapp, assistant dean of graduate studies and associate professor of counseling, wrote an article for The Family Journal in July, a national counseling peer reviewed journal. The article was a review of the book, "The 10 Best-Ever Depression Management Techniques," by Margaret Wehrenberg.
Dr. David Lane, professor of counseling in the Department of Counseling and Human Sciences, had an article, titled "Making the Case for Involuntary Commitment Privileges for LPC's," accepted for publication in the 2012 Georgia Journal of Professional Counseling.
Dr. Zipangani Vokhiwa, assistant professor of science, was awarded a U.S. Department of Education, Fulbright-Hays Group Projects Abroad Grant. The grant will support a study and curriculum development experience for Mercer master's students and metropolitan Atlanta school administrators.
College of Liberal Arts
Dr. John Marson Dunaway, professor of French and interdisciplinary studies, spoke to First-Year Friday, an assembly of first year students, on Aug. 31 about Mercer's Baptist heritage and service ethics.
Dr. Lori A. Johnson, associate professor and director of the Law and Public Policy Program, presented a paper, titled "Lawsuits that Inspire Legislation: A Case Study of the Lilly Ledbetter v. Goodyear case and the Lilly Ledbetter Fair Pay Act," at the Law and Society Association Annual Meeting in Honolulu, Hawaii. In addition, she chaired and acted as discussant on two other panels on "Gender and Law Around the World" and "Religion and Secularism." As director of Mercer's new Law and Public Policy program, she also participated in discussions about joining the Consortium of Undergraduate Law and Justice Programs.
Dr. Brian Rood, associate professor and director of environmental studies, represented the University's chapter of the Honor Society of Phi Kappa Phi at its 2012 biennial convention in St. Louis, Mo., Aug. 10-11. Dr. Rood serves as president for the Mercer chapter and attended the convention as the chapter's voting delegate.
Dr. Eric Spears, assistant professor and director of international education, attended the USIFL Residential Workshop on Chinese History in Global Context at the Asian Studies Development Program at the East-West Institute-University of Hawai'i Manoa Campus mid-June through early-July. While at the workshop, Dr. Spears created the framework for a new Asian geography course. The new course is expected to be a part of an Asian studies minor program in the College of Liberal Arts. The workshop was jointly funded by the U.S. Department of Education and the College of Liberal Arts. Dr. Spears was also invited in July to be the co-director of a Brazilian-U.S. bilateral research project at The Political Economy of Higher Education and Human Development Project (Grupo de Estudos sobre Economia política da Educação e Formação Humana) at the Federal University of São Carlos in Brazil. The research project focuses on political economy of Brazilian higher education reform in the global economy. This project is also co-led by São Carlos professor Dr. João dos Reis Sílva Jr. The project is the first international research effort by the newly established Brazil Research Institute at Mercer, which Dr. Spears also directs.
College of Pharmacy and Health Sciences

Dr. W. Klugh Kennedy, clinical associate professor, was elected the 2012-2013 secretary-treasurer of the American College of Clinical Pharmacy, Central Nervous System Practice Research Network.
Dr. Chad M. VanDenBerg, clinical associate professor, was elected the 2012-2013 chair of the American College of Clinical Pharmacy, Central Nervous System Practice Research Network.
Eugene W. Stetson School of Business and Economics
Dr. Linda L. Brennan, professor of management, and Dr. Faye A. Sisk, professor and director of executive programs, co-authored a book, titled Strategic Management for Results: Practical Strategies for Sustainable Outcomes, published by Cognella this summer. Dr. Brennan and Dr. Cheryl A. Tibus co-authored a paper, titled "Entrepreneurship with social value: A conceptual model for performance," which was published in the peer-reviewed publication, Academy of Entrepreneurship Journal, 18(2): 17-40.
Georgia Baptist College of Nursing
Freida Fuller, professor, was named a team leader for the Commission on Collegiate Nursing Education accreditation visit to Robert Wesleyan College, Rochester, N.Y., in September.
Grace G. Lewis, clinical associate professor, presented a poster, titled "Learning Enhancement for the Academically at Risk BSN Student," at the 2012 Nurse Educator Conference on Evidence Based Practice, San Antonio, Texas, in July.
Dr. Brenda Rowe, associate professor, was appointed by the National Council of State Boards of Nursing Board of Directors to the NCLEX item review subcommittee.
Linda A. Streit, dean and professor, was elected as a member of the Board for the Southern Regional Education Board.
John G. Summerville, clinical associate professor, presented "Programming a Handler: Easy as 1, 2, 3" at the 11th Annual International Nursing Association of Clinical Simulation Learning in June.
MERC
Peter Bryant, manager of the Electronic Systems Division, presented his peer-reviewed paper, "Automated Continuity Tester for Large Wire-wrapped Avionics Chassis," which he co-authored with Tracy Tillman, senior principal electrical engineer, at AUTOTESTCON 2012 in Anaheim, Calif., on Sept. 10-13. AUTOTESTCON is the world's premier Systems Readiness Technology Conference that provides focus on the maintenance aspects of systems readiness and the provision of mission assurance through advanced Automated Test Engineering. It is sponsored annually by the IEEE.
School of Engineering

Dr. Sinjae Hyun, associate professor of biomedical engineering director of Engineering Research Program, co-authored "Size-change and deposition of conventional and composite cigarette smoke particles during inhalation in a subject-specific airway model" in the Journal of Aerosol Science (Vol. 46, 2012, pp. 34–52). Hyun mentored a student, Anthony Fratino, and the two wrote and presented their research at the Summer Bioengineering Conference in Fajardo, Puerto Rico, June 20-23. Fratino presented "Aerosol deposition study of subject-specific upper respiratory model."
Dr. Behnam Kamali, professor of electrical and computer engineering, published an article, titled "Understanding WiMAX: an IEEE-802.16 Standard-Based Wireless Technology," in the IEEE Potentials Magazine. The article was co-authored by two former Mercer engineering graduate students, Robert Alexander Bennett and Dyani Camica Cox, both of whom graduated the five-year bachelor's-master's program of the School of Engineering last year. The IEEE Potential Magazine has one of the largest circulations among all IEEE magazines.
School of Medicine
Dr. Steven Hobbs, professor and director of the Ph.D. program in Clinical Medical Psychology, co-authored an article published in The Georgia Psychologist with Dr. Michael Johns, chair of the Council for Middle Georgia Psychologists. The article, titled "The Ph.D. in Clinical Medical Psychology at Mercer University," described opportunities for involvement in research, training, and professional development associated with the first Ph.D. program in the School of Medicine.
Dr. Edward C. Lauterbach, professor emeritus of psychiatry and neurology, recently published "An extension of hypotheses regarding rapid-acting, treatment-refractory, and conventional antidepressant activity of dextromethorphan and dextrorphan," in Medical Hypotheses 2012 Jun;78(6):693-702."
Eric K. Shaw, associate professor, along with co-authors Jenna Howard, David R. West, Benjamin F. Crabtree, Donald E. Nease, Brandon Tutt and Paul A. Nutting, published "The role of the champion in primary care change efforts: From the State Networks of Colorado Ambulatory Practices and Partners in the Journal of the American Board of Family Medicine, 25(5), 676-85.
Bobbie Shelton, administrative assistant to the dean, received her Master of Education in Adult Education and Community Leadership from Armstrong Atlantic State University in August.
Dr. Mike U. Smith, professor of medical education and director of AIDS education and research, published "The role of authority in science and religion with implications for science teaching and learning," in Science & Education. Available online: DOI 10.1007/s11191-012-9469-1. Dr Smith has also been named to the Genetics Education and Outreach Network of the American Society of Human Genetics.
Dr. Wei-Hsiung Yang, assistant professor of physiology, and lab members Chiung-Min Wang, Victoria Brennan, a pre-med undergraduate student at the University of Miami, and Ninoska Gutierrez, recently published an article, titled "SUMOylation of ATF3 alters its Transcriptional Activity on Regulation of TP53 Gene" in the Journal of Cellular Biochemistry. The piece was accepted on Aug. 10.
Staff and Administration

Tony Kemp, associate director of Academic and Advising Services, was recently selected as an adjudicator for the Georgia High School Musical Theatre Awards and will work with a 55-person panel of theatre arts professionals and educators from across the state to critique productions throughout the fall and spring.
Townsend School of Music
Dr. Douglas Hill, professor of music and director of instrumental ensembles and undergraduate studies, performed in the chamber orchestra for a 9-11 Memorial Service held at Liberty Methodist Church in Macon on Sept. 9. Dr. Hill also presented a concert as a member of the Mercer Faculty Brass Quintet Concert, "Classic Structures," on Sept. 10 in Fickling Recital Hall. He performed as a member of the Colony IV Brass at First Baptist Church of Christ in Macon on Sept. 16 and adjudicated high school bands at the Georgia Marching Band Series at Burke County High School in Waynesboro on Sept. 29.
University Libraries
Elizabeth Hammond, dean of University Libraries and professor, published "Leveraging library resources in a world of fiscal restraint and institutional change," co-edited by Kevin B. Gunn, Catholic University of America. The monograph is drawn from the special issue of College and Undergraduate Libraries, which Gunn and Hammond also co-edited.
Walter F. George School of Law
Steve Johnson, professor, will have his article, titled "Beyond the Usual Suspects: ACUS, Rulemaking 2.0 and a Vision for Broader, More Informed and More Transparent Rulemaking," to be published in March 2013 in the Administrative Law Review, Volume 65, Number 1.