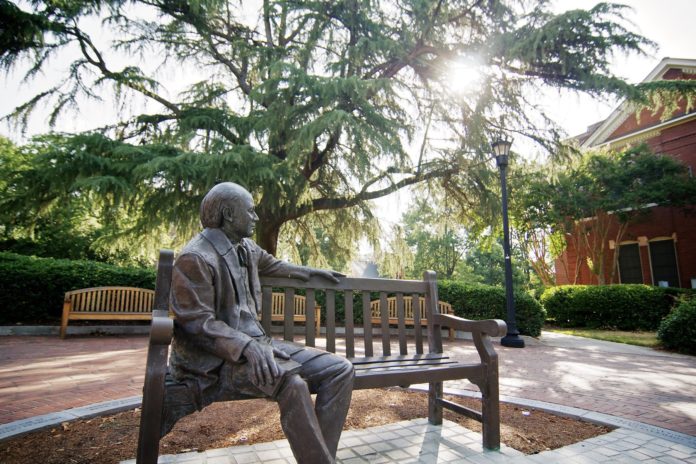 MACON — Mercer University's School of Medicine is participating in First Lady Michelle Obama's Joining Forces Initiative, along with the Association of American Medical Colleges (AAMC) and the American Association of Colleges of Osteopathic Medicine (AACOM), by committing to create a new generation of doctors who will make sure veterans receive health care worthy of their service. Mercer is one of only 105 schools in the country to commit to the initiative. Recognizing veterans and their families' sacrifice and commitment, Mercer pledged to mobilize its uniquely integrated missions in education, research and clinical care to train the nation's physicians to meet veterans' and their families' unique health care needs, including Post Traumatic Stress Disorder (PTSD) and Traumatic Brain Injury (TBI).
"We are honored to participate in the White House Joining Forces Initiative to address improvements in the health care of military service members, veterans and their families," said Dr. William Bina, dean of the School of Medicine. "Our school recognizes the unique challenges of active duty military and we remain dedicated to enrichment of our teaching, research and clinical missions of educating physicians that serve Georgia to address the unique health and wellness needs of those who serve our nation."
Dean Bina is a graduate of the United States Naval Academy and served aboard nuclear submarines before entering the medical field as a family physician. Dr. Bina served on active duty for 26 years in worldwide duty stations before joining the Mercer faculty. He has served as dean since 2009.
"I'm inspired to see our nation's medical schools step up to address this pressing need for our veterans and military families," Michelle Obama said. "By directing some of our brightest minds, our most cutting-edge research and our finest teaching institutions toward our military families, they're ensuring that those who have served our country receive the first-rate care that they have earned."
Together, Mercer, the AAMC and AACOM are committing to enrich medical education along its continuum to ensure that physicians are aware of the unique clinical challenges and best practices associated with caring for this group; develop new research and clinical trials on PTSD and TBI so that we can better understand and treat these conditions; share information and best practices with each other through a collaborative web forum created by the AAMC; and grow the body of knowledge leading to improvements in health care and wellness for military service members, veterans and their families.
The Mercer School of Medicine is committed to advance its current medical education curriculum in the following areas:
· Learning and teaching about the unique clinical challenges and best practices associated with caring for military service members, veterans, and their families
· Focused efforts on psychological health conditions, such as: traumatic brain injury and post-traumatic stress disorder
· Improvements in health care and wellness for service members and their families

Dean Bina said the school will be working with other like-minded organizations, including the Medical Center of Central Georgia in Macon and Memorial University Health Center in Savannah, as well as Robins Air Force Base, Fort Stewart and Hunter Army Airfield.
About Joining Forces:
First Lady Michelle Obama and Dr. Jill Biden created Joining Forces to bring Americans together to recognize, honor and take action to support veterans and military families as they serve our country and throughout their lives. The initiative aims to educate, challenge and spark action from all sectors of society to ensure veterans and military families have the support they have earned. The initiative focuses on key priority areas – employment, education and wellness while raising awareness about the service, sacrifice, and needs of America's veterans and military families. More information is available at: www.JoiningForces.gov.
About the Mercer University School of Medicine (Macon and Savannah):
Mercer University's School of Medicine was established in 1982 to educate physicians and health professionals to meet the primary care and health care needs of rural and medically underserved areas of Georgia. The School only accepts Georgia residents into its medical degree program. Mercer School of Medicine students benefit from a problem-based medical education program that provides early patient care experiences. Such an academic environment fosters the early development of clinical problem-solving and instills in each student an awareness of the place of the basic medical sciences in medical practice. In August 2008, the inaugural class of 30 students began study at Memorial University Medical Center in Savannah at Mercer's second full, four-year doctor of medicine program. The School also offers master's degrees in public health, family therapy, family services, nurse anesthesia and biomedical sciences. In Fall 2012, it will offer its first Ph.D., in clinical medical psychology.

About Mercer University
Founded in 1833, Mercer University is a dynamic and comprehensive center of undergraduate, graduate and professional education. The University enrolls more than 8,300 students in 11 schools and colleges – liberal arts, law, pharmacy, medicine, business, engineering, education, theology, music, nursing and continuing and professional studies – on major campuses in Macon, Atlanta and Savannah and at four regional academic centers across the state. Mercer is affiliated with two teaching hospitals — Memorial University Medical Center in Savannah and the Medical Center of Central Georgia in Macon, and has educational partnerships with Warner Robins Air Logistics Center in Warner Robins and Piedmont Healthcare in Atlanta. The University operates an academic press and a performing arts center in Macon and an engineering research center in Warner Robins. Mercer is the only private university in Georgia to field an NCAA Division I athletic program. For more information, visit www.mercer.edu.
— 30 —