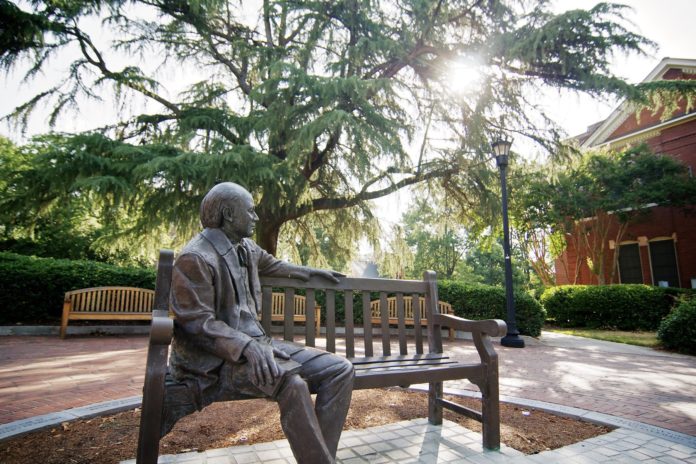 MACON – Mercer University's Walter F. George School of Law will host the 2012 Law Day luncheon with Douglas A. Kysar, deputy dean and Joseph M. Field '55 Professor of Law at Yale Law School, scheduled to deliver the keynote address. The event will be heldMarch 16 at 12:30 p.m. in the University Center on Mercer's Macon campus. Kysar's presentation is titled "Limited Government in an Era of Unlimited Harm: A Case Study of Climate Change Litigation."
The luncheon is $20 for alumni who register before March 9 and $30 at the door. Registration is available online at law.mercer.edu or by contacting Leslie Cadle at cadle_l@law.mercer.edu or (478) 301-2180.
Kysar has published articles on a wide array of environmental law and tort law topics, and is co-author of a leading casebook on torts. His recent book, Regulating from Nowhere: Environmental Law and the Search for Objectivity (Yale University Press 2010), seeks to reinvigorate environmental law and policy by offering novel theoretical insights on cost-benefit analysis, the precautionary principle and sustainable development. Kysar joined the Yale Law School faculty in 2008. His teaching and research areas include torts, environmental law, and risk regulation. Kysar received his B.A. summa cum laude from Indiana University in 1995 and his J.D. magna cum laude from Harvard Law School in 1998. After a federal judicial clerkship and two years at Foley Hoag and Eliot in Boston, he began his law teaching career at Cornell Law School in 2001.
"In only 10 years as a law professor, Doug Kysar has established himself as one of the nation's premier scholars in the areas of environmental law and torts. His writing consistently offers not only analytical rigor but also new and creative ideas," said Gary Simson, Mercer Law dean and Macon Chair in Law. "Having been his colleague during his first few years of teaching, I can also attest to his talents as a teacher and speaker. From the start, students fought to get into his classes and, after only three years, they elected him to be the faculty speaker at graduation. I very much look forward to hearing his thoughts on Law Day about climate change litigation. I am sure it will be a stimulating and memorable address."
During the Law Day luncheon, Mercer Law School will recognize two alumni for their outstanding contributions to the legal profession: Judge John T. Laney, LAW '66 and CLA '64, Outstanding Alumnus Award, and Dwight J. Davis LAW '82, Alumni Meritorious Service Award.
The Law Day theme is "No Courts, No Justice, No Freedom." Established in 1958 by President Dwight D. Eisenhower, Law Day is designed to strengthen the public's understanding of the American justice system. Though the national observance of Law Day is generally May 1, many law schools, including Mercer Law School, publicly recognize it earlier in the spring semester due to the heavy academic demands in May.
About Mercer Law School
Founded in 1873, the Mercer University Walter F. George School of Law is one of the oldest law schools in the United States and the first one in the state of Georgia accredited by the American Bar Association. Mercer Law School's educational philosophy is based on a broadly shared commitment to prepare students for the high-quality, general practice of law in a day-to-day learning environment that is both strongly supportive and consistently professional. Its innovative Woodruff Curriculum – which focuses on ethics and practical skills amid small class sizes – earned the Gambrell Professionalism Award from the ABA for its "depth of excellence." With an enrollment of about 430 students, Mercer Law School is nationally recognized for its exceptional programs in legal writing, moot court, public service, and ethics and professionalism. For more information about Mercer Law School, visit www.law.mercer.edu or call 478.301.5000.