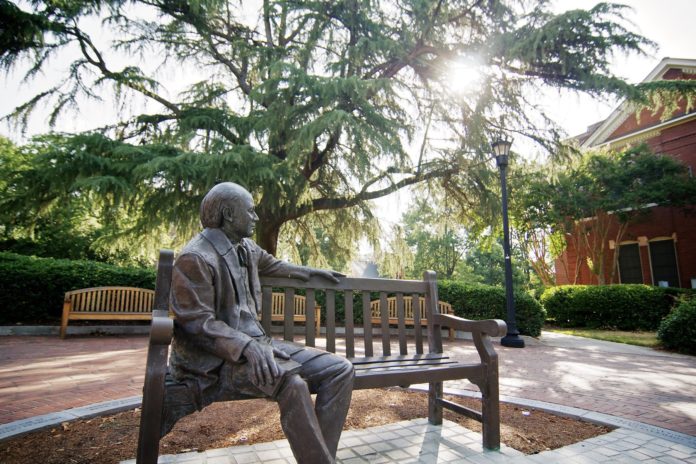 Mercer Theatre director, professor and alumnus Scot Mann has his feet in two worlds this month with the opening of two musicals in which he plays major roles behind the scenes. Mercer Theatre's co-production with Mercer Opera of Stephen Sondheim's A Little Night Music opens at The Grand Opera House on April 13. His second role as fight director for the premiere of the star-studded production of a new play, Ghost Brothers of Darkland County, opens at The Alliance Theatre, Atlanta's reigning professional playhouse located at the Woodruff Center, on Wednesday.
Described as "a world premiere rock and blues ghost story," Ghost Brothers was written by novelist Steven King with original music and lyrics by John Mellencamp. Legendary producer T Bone Burnett is music director for the show, which is being directed by Alliance artistic director Susan Booth. Mann and his wife, fellow fight director Kelly Martin, were added to this incredible creative team early in pre-production, having earned a solid reputation for work over the past decade on productions at The Alliance.
The musical, set in 1967 Mississippi, "Revolves around the tragic death of two brothers and one of the brothers' girlfriend years earlier," Mann explained. "The story is being retold by the youngest brother, who witnessed the violent event. There's a question about whether or not he's going to be able to tell the truth about what actually happened by the end of the show. It's a really unusual musical." The cast includes a mix of Broadway and rock, including American Idol runner-up and Broadway veteran Justin Guarini; Tony Award-winner Shuler Hensley; and Tony Award nominee Emily Skinner.
Mann credits his time as a student at Mercer with launching his career as a fight director, which has taken him around the world. "Paul Oppy was my mentor while I was a theatre major," Mann said. "While I was trying to find a part of the business that I resonated with the most, Paul was the one who made the observation that I really loved martial arts and I really loved acting and I would probably love stage combat." Oppy introduced his student to the Society of American Fight Directors (SAFD) and accompanied Mann to his first SAFD workshop. Back on campus, Oppy provided opportunities for Mann to practice this new element of theatre. Mann is now a fight master with the SAFD and has directed fights and stunts for theater, TV and film around the world.
Mann finds great purpose in his full-circle story arc that has landed him back at Mercer in his former mentor's role. "Since I still have a presence in the professional world I'm able to make connections for my students there," he said. "Contacts that we make and keep in the professional world are key in helping students begin their work in the professional world. It helps to have a theatre degree. It helps more to have a job."
Mann also conveys his professional experience through Mercer Theatre productions, including the upcoming A Little Night Music, which is giving Mercer students the opportunity to perform one of Steven Sondheim's most complicated pieces of musical theatre. The show runs at The Grand Opera House on April 13 and 14 at 7:30 p.m., and April 15 at 2:30 p.m. Tickets are $15 for adults and $10 for students and Mercer faculty and staff. For tickets or for more information call (478) 301-5470 or visit TheGrandMacon.com.
Ghost Brothers of Darkland County opens at The Alliance Theatre on Wednesday and continues through May 13. For more information, visit AllianceTheatre.org. If you plan to see the show please note that it does contain adult themes, content and language.