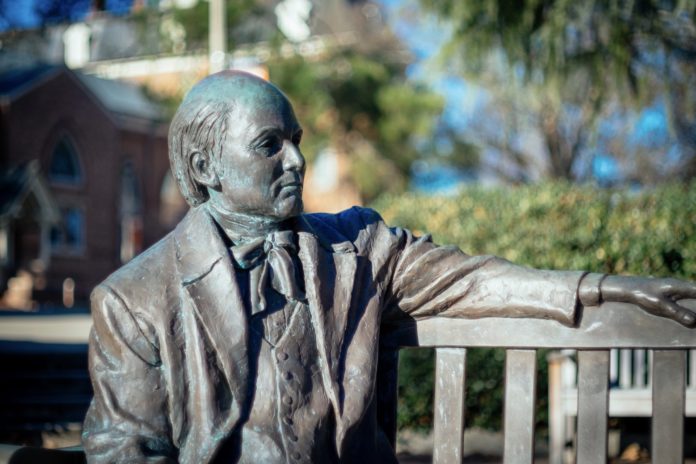 MACON — Mercer's popular BearStock Music Festival marks its fifth year, and its second year in Tattnall Square Park, with an action-packed concert on Saturday, April 14. The concert is free, open to the public and will feature 14 bands on two stages, playing from 1 p.m. to 11 p.m. In addition, this year's event is being held in conjunction with the Macon Cycling Classic, in which cyclists will circle the park in a series of races beginning at 9:30 a.m.
"Our goal is to make BearStock bigger and better and I believe we have accomplished that, including awesome entertainment, more vendors, involvement with the Macon community and the traditional, marvelous BearStock T-shirts," said Anne Biggs, event co-organizer and co-chair of QuadWorks' Mercer Live along with John Jenkins. "We hope that students, faculty and community members will come out and enjoy a free, fun-filled day of great music and food."
Headlining this year's BearStock will be Far East Movement and Yellowcard. Far East Movement presents a blend of hip-hop, pop, electro and dance. The band's most popular songs include "Like a G6" and "Girls on the Dance Floor." "Like a G6" received more than a million views on YouTube before the song was released to play on the radio. Yellowcard is an American pop and punk alternative rock band originally formed in Jacksonville, Fla., in 1997. Their most popular song, "Ocean Avenue," was released in 2003. Yellowcard has released numerous albums through the years, the most recent being in March 2011, titled When You're Through Thinking, Say Yes.
The bands and artists scheduled to perform at BearStock include:
1 p.m. Argonauts – Stage A
1:35 p.m. Young Benjamin – Stage B
2:05 p.m. The Silver Comet – Stage A
2:35 p.m. The Levee – Stage B
3:05 p.m. Bottle Up and Explode – Stage A
3:35 p.m. Emily Hearn – Stage B
4:05 p.m. Josh Foster – Stage A
4:35 p.m. Saint Francis – Stage B
5:05 p.m. Jubee and The Morning After – Stage A
5:50 p.m. theKey – Stage B
6:35 p.m. The Front Bottoms – Stage A
7:20 p.m. Ocean Is Theory – stage B
8:30 p.m. Yellowcard – Stage A
9:45 p.m. Far East Movement – Stage A
The festival is family friendly and there will be food and drinks available for purchase. The streets surrounding the park will be closed beginning at 7 a.m. Saturday through 7:30 p.m. for the race. There will be designated crossing areas around the park, and festival-goers are required to use these areas to cross the street. Parking will be available on the Mercer campus, accessible from the Mercer University Drive entrances of campus.
Bike Race
This year also marks the second year that BearStock will be combined with a bike race. Last year's race, the Southeastern Collegiate Cycling Conference Championships, moves on to another venue and is replaced by the third annual Macon Cycling Classic, which moves from a May date to combine with BearStock. Saturday's races will all circle the park, with roads closing at 7 a.m. Race registration begins at 8 a.m. and will conclude at approximately 7:30 p.m.
The Macon Cycling Classic will include races for all ages, from a free kid's race to competitions for 10 year-olds to adults. For more information on the race, or to register, go to www.maconcyclingclassic.com.
About Mercer University
Founded in 1833, Mercer University is a dynamic and comprehensive center of undergraduate, graduate and professional education. The University enrolls more than 8,300 students in 11 schools and colleges – liberal arts, law, pharmacy, medicine, business, engineering, education, theology, music, nursing and continuing and professional studies – on major campuses in Macon, Atlanta and Savannah and at four regional academic centers across the state. Mercer is affiliated with four teaching hospitals — Memorial University Medical Center in Savannah, the Medical Center of Central Georgia in Macon, and The Medical Center and St. Francis Hospital in Columbus — and has educational partnerships with Warner Robins Air Logistics Center in Warner Robins and Piedmont Healthcare in Atlanta. The University operates an academic press and a performing arts center in Macon and an engineering research center in Warner Robins. Mercer is the only private university in Georgia to field an NCAA Division I athletic program. www.mercer.edu
— 30 —