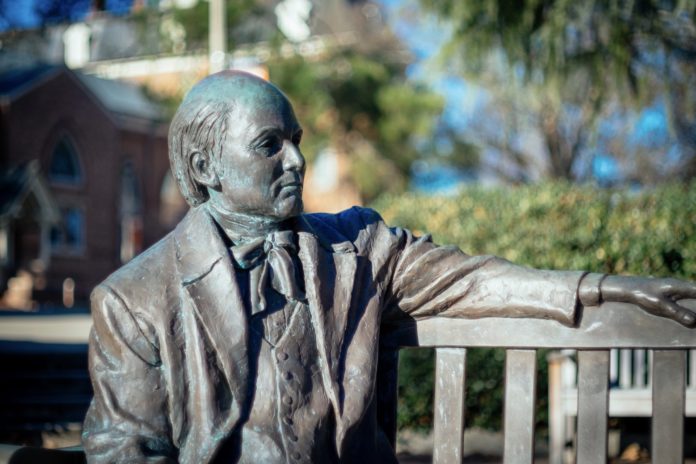 MACON — Mercer University has a long history of learning beyond the classroom, and Thursday the Macon campus will hold two events that showcase those efforts. The events, the Fifth Annual Engineering Expo and the Second Annual BEAR Day, or Breakthroughs in Engagement, Arts and Research Day, will take place from 9 a .m. to 5 p.m. The College of Liberal Arts, Stetson School of Business and Economics and School of Engineering have cancelled classes for the day to allow students to attend the events, which celebrate experiential learning by showcasing the research and projects of students and faculty.
Engineering Expo
The School of Engineering has also expanded its Engineering Expo this year to include a series of podium presentations from 9:30 to 11:30 a.m. by faculty, students and alumni on their research projects in the Science and Engineering Building. The event kicks off at 9:20 a.m. with a welcome from Dean and Kaolin Chair Dr. Wade Shaw. Following the podium presentations, Tau Beta Pi and the IIE Student Chapter will sell lunch on the Engineering plaza from 11:30 a.m. to 1 p.m. At 1 p.m. the annual Freshman Design Competition kicks off in the University Center Arena, concluding at 3 p.m., when the School will hold its poster presentations in the UC, featuring 47 posters on projects by senior design teams, honors program students and students working on research projects. The event concludes with an awards ceremony and closing commencement from 4:30 to 5 p.m.
Breakthroughs in Engagement, Arts and Research Day
BEAR Day kicks off with a presentation by Mercer graduate, Fulbright Scholar and current University of Alabama-Birmingham Ph.D. candidate Kathryn Doornbos presenting in Willingham Auditorium at 9 a.m. The annual poster competition will be held from 10 a.m. to noon in Heritage Hall at the University Center. From 11 a.m. to 2 p.m., there will be a barbeque lunch on the Historic Quad, with live entertainment from noon to 1 p.m. The Fresh Food Company will be closed during that time, and lunches will be available for $5. Oral presentations will be held in Knight Hall on the hour, from noon to 4 p.m. There will also be an art show reception featuring student artists' work from 11 a.m. to 12:50 p.m. in Hardman Hall Gallery.
About Mercer University:
Founded in 1833, Mercer University is a dynamic and comprehensive center of undergraduate, graduate and professional education. The University enrolls more than 8,300 students in 11 schools and colleges – liberal arts, law, pharmacy, medicine, business, engineering, education, theology, music, nursing and continuing and professional studies – on major campuses in Macon, Atlanta and Savannah and at four regional academic centers across the state. Mercer is affiliated with four teaching hospitals — Memorial University Medical Center in Savannah, the Medical Center of Central Georgia in Macon, and The Medical Center and St. Francis Hospital in Columbus — and has educational partnerships with Warner Robins Air Logistics Center in Warner Robins and Piedmont Healthcare in Atlanta. The University operates an academic press and a performing arts center in Macon and an engineering research center in Warner Robins. Mercer is the only private university in Georgia to field an NCAA Division I athletic program. www.mercer.edu
— 30 —