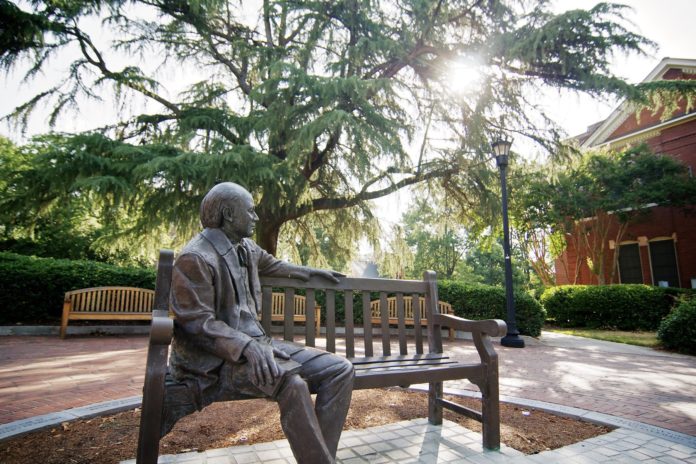 MACON — On Saturday, retired surgeon and CEO Dr. Roy Vandiver will fulfill his dream of graduating from Mercer, 60 years after it began. Dr. Vandiver, 76, has been commuting back and forth from his home in Decatur this academic year in order to complete the final three courses for his degree. Dr. Vandiver will make the drive again to walk at commencement with the other members of the class of 2012 at 3:30 p.m. in the University Center's Hawkins Arena.
When Dr. Vandiver is handed his degree, he will become the oldest student to receive a Bachelor of Science in Medicine and the third oldest person to receive a bachelor's degree from Mercer.
"I always said I was going to come back and finish my degree," Dr. Vandiver said. "So when I retired in June of last year, I talked to Dr. Lake Lambert, and he helped me to get started again."
After consulting with Dr. Lambert, who serves as dean of the College of Liberal Arts, and the University's registrars, it was determined that Dr. Vandiver needed to complete only three courses for his degree. He took Old Testament and New Testament in the fall, and concluded with his final lab class, geology.
Dr. Vandiver, a native of Edison, started at Mercer in 1953 and completed nearly all of his requirements in just two years. However, before receiving his bachelor's degree, he left for the Medical College of Georgia, where he earned his Doctor of Medicine. After 31 years as a successful surgeon, he became the CEO and chairman of MAG Mutual Insurance Co., a malpractice insurance firm. He served there for 10 years, until his retirement. Even in retirement, his quest has inspired his old firm.
"Dr. Vandiver is a shining example of the commitment physicians make to continue their education throughout their life," said Dr. Joseph S. Wilson Jr., current chairman and CEO of MagMutual. "Sir William Osler – often called the father of modern medicine – believed physicians should continue their education in all fields of learning, declaring that medical training was 'not a college course, not a medical course, but a life course.' Dr. Vandiver's most recent achievement demonstrates a central principle behind the field of medicine – that physicians pursue a lifetime of learning. And we're proud of him."
Dr. Vandiver is not the first physician to come back to complete his Bachelor of Science in Medicine. In 2010, Dr. Drayton M. Sanders, then 73, received his degree after completing his course work.
About Mercer University
Founded in 1833, Mercer University is a dynamic and comprehensive center of undergraduate, graduate and professional education. The University enrolls more than 8,300 students in 11 schools and colleges – liberal arts, law, pharmacy, medicine, business, engineering, education, theology, music, nursing and continuing and professional studies – on major campuses in Macon, Atlanta and Savannah and at four regional academic centers across the state. Mercer is affiliated with four teaching hospitals — Memorial University Medical Center in Savannah, the Medical Center of Central Georgia in Macon, and The Medical Center and St. Francis Hospital in Columbus — and has educational partnerships with Warner Robins Air Logistics Center in Warner Robins and Piedmont Healthcare in Atlanta. The University operates an academic press and a performing arts center in Macon and an engineering research center in Warner Robins. Mercer is the only private university in Georgia to field an NCAA Division I athletic program. www.mercer.edu
— 30 —