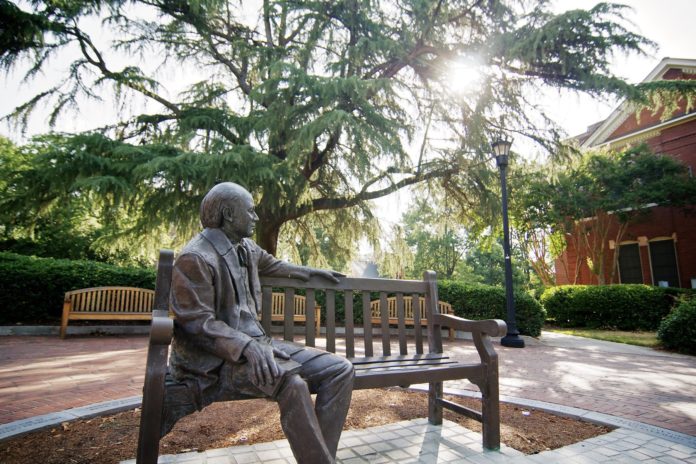 MACON — Mercer University will host two one-man plays this week featuring the Rev. Al Staggs. The first will portray the life of Clarence Jordan, the founder of the Koinonia Community, on Tuesday at 7 p.m. in Newton Chapel. The second will follow the life of Dietrich Bonheoffer on Wednesday at 10 a.m. in Newton Chapel. The events, co-sponsored by the College of Liberal Arts and the Office of the University Minister, are free and open to the public.
The Rev. Staggs will portray Jordan in his struggles to establish Koinonia Farms outside Americus. He will also portray Bonheoffer, a German Lutheran pastor executed for his involvement in a plan to kill Adolf Hitler.
Twenty years ago, the Rev. Staggs began writing and performing his one-person play about Bonheoffer. Throughout time, he began a full-time career as a performing artist adding plays about Jordan, Archbishop Oscar Romero, Thomas Merton and Walter Rauschenbusch. Prior to his performing career, the Rev. Staggs served in the U.S. Army and went on to work as a parish minister. He eventually left the pastoral ministry and began his performing career. The Rev. Staggs also published his collection of poetry that confronts issues of war and peace, injustice greed, aberrant Christianity, empire and apathy in his book titled A Pilgrim in Rome: Cries of Dissent.
For more information on the performances, call (478) 301-2915.
About Mercer University
Founded in 1833, Mercer University is a dynamic and comprehensive center of undergraduate, graduate and professional education. The University enrolls more than 8,300 students in 11 schools and colleges – liberal arts, law, pharmacy, medicine, business, engineering, education, theology, music, nursing and continuing and professional studies – on campuses in Macon, Atlanta and Savannah – and four regional academic centers across the state. The Mercer Health Sciences Center launched July 1, 2012, and includes the University's medical, nursing and pharmacy schools and will add a fourth college – the College of Health Professions – on July 1, 2013. Mercer is affiliated with four teaching hospitals — Memorial University Medical Center in Savannah, the Medical Center of Central Georgia in Macon, and The Medical Center and St. Francis Hospital in Columbus. The University also has educational partnerships with Warner Robins Air Logistics Center in Warner Robins and Piedmont Healthcare in Atlanta. It operates an academic press and a performing arts center in Macon and an engineering research center in Warner Robins. Mercer is the only private university in Georgia to field an NCAA Division I athletic program. www.mercer.edu
— 30 —