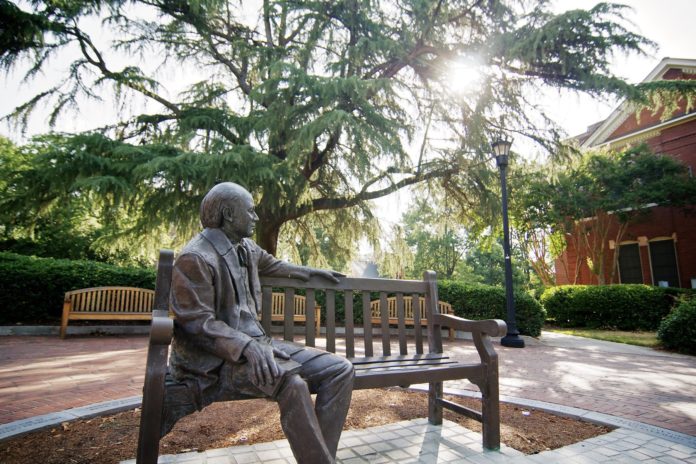 ATLANTA – Metro Atlanta residents interested in earning a public health degree during convenient evening hours will soon be able to do so on Mercer University's graduate and professional campus in Atlanta.
Beginning in August 2013, Mercer will offer the Master of Public Health (M.P.H.) degree on its Atlanta campus near I-85 and I-285. The generalist degree program is designed particularly for working adults seeking to either build or enhance their broad understanding of preventative health and research within local and global communities.
Since 1998, Mercer has offered the M.P.H. degree program on its Macon campus, producing hundreds of graduates who are meeting the growing challenges of protecting the public's health and preventing the spread of disease. With the new program in Atlanta, Mercer will now be offering the M.P.H. program at two locations, providing greater accessibility to a larger number of Georgia residents. The new program is designed for students in a cohort model to earn the M.P.H. degree in five semesters.
"Starting next fall, students will have access to a fully accredited generalist M.P.H. program in a nontraditional format," said Nannette Turner, Ph.D., M.P.H., director and chair of Mercer's Department of Public Health.
"We will offer evening classes, online classes, hybrid and distance learning options – all designed with the professional student in mind. The program is ideal for the student who wants to continue working part-time or full-time and complete her or his degree within a reasonable timeframe."
The expansion of the M.P.H. program is the first visible step of the new Mercer Health Sciences Center, which was approved in April by the University's Board of Trustees and became operational on its Atlanta campus in July. In addition to the three current health sciences units – medicine, pharmacy and nursing – the Health Sciences Center will open a fourth academic unit on July 1, 2013. The new College of Health Professions will incorporate the master's-level physician assistant and the doctoral-level physical therapy programs, which currently are housed within the College of Pharmacy and Health Sciences, and the master's-level public health program, which is currently offered in the School of Medicine. The new college will also allow for the addition of future health sciences programs, such as occupational therapy, as well as the expansion of existing programs, such as public health, on multiple Mercer campuses.
"Mercer University has long been recognized as a leader in preparing health care professionals for our state," Mercer President William D. Underwood said. "Through the establishment of the Mercer Health Sciences Center, the University is better positioned to meet the rapidly growing demand for health care professionals in Georgia.
"Improving the accessibility, affordability and quality of health care depends on greater teamwork and collaboration among various health care professionals, and few institutions in the Southeast match the breadth of health care programs and professionals found at Mercer."
For more information about the new M.P.H. program in Atlanta, please contact Brittany Taylor, graduate program associate, at (478) 301-5478 or Taylor_BD@Mercer.edu.
About the Mercer University Health Sciences Center
The Mercer Health Sciences Center became operational on July 1, 2012. The Center enrolls more than 1,700 students, employs more than 400 full-time faculty and staff, and graduates more than 500 physicians, nurses and nurse educators, physician assistants, pharmacists, physical therapists, family therapists, public health professionals, and biomedical scientists each year. The Center's commitment is to integrate professional education among its future health science professionals by eliminating the traditional silos that have divided them. The Center believes this team-based and patient-centered approach to training health care professionals best serves the needs of patients and ultimately saves money, time and lives. For more information about the Center, please contact David Hefner at (678) 547-6244 or Hefner_DN@Mercer.edu.
About Mercer University
Founded in 1833, Mercer University is a dynamic and comprehensive center of undergraduate, graduate and professional education. The University enrolls more than 8,300 students in 11 schools and colleges – liberal arts, law, pharmacy, medicine, business, engineering, education, theology, music, nursing and continuing and professional studies – on campuses in Macon, Atlanta and Savannah – and four regional academic centers across the state. The Mercer Health Sciences Center launched July 1, 2012, and includes the University's medical, nursing and pharmacy schools and will add a fourth college – the College of Health Professions – on July 1, 2013. Mercer is affiliated with four teaching hospitals — Memorial University Medical Center in Savannah, the Medical Center of Central Georgia in Macon, and The Medical Center and St. Francis Hospital in Columbus. The University also has educational partnerships with Warner Robins Air Logistics Complex in Warner Robins and Piedmont Healthcare in Atlanta. It operates an academic press and a performing arts center in Macon and an engineering research center in Warner Robins. Mercer is the only private university in Georgia to field an NCAA Division I athletic program. www.mercer.edu.
-30-