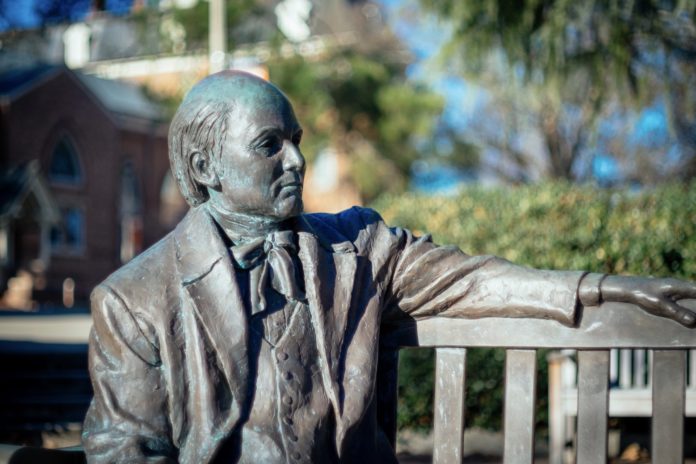 MACON — Mercer University alumnus and former Trustee A.V. Elliott has made a $1 million gift to the University to endow the annual A.V. Elliott Conference on Great Books and Ideas. The annual conference, coordinated by the University's Center for the Teaching of America's Western Foundations, attracts prominent senior scholars to campus to lecture and lead discussions on thinkers central to the Western tradition.
"We are especially grateful to A.V. for his making this annual conference possible," said Mercer President William D. Underwood. "It will enrich the lives of future generations of Mercer students, who will learn to think critically while being exposed to the ideas and ideals that have shaped our civilization, much as A.V.'s life has been enriched by his exposure to the humanities while at Mercer decades ago."
Elliott, a 1956 graduate of the College of Liberal Arts, majored in history and Christianity. He said he gave the gift because of his love for the humanities, a love that was sparked at Mercer. Elliott is secretary and treasurer of Elliott Machine Shop in Macon, a 100-employee company he founded. His success, he said, was in part due to his ability to think critically at important moments and it was a skill honed in his humanities courses at Mercer.
"You can learn the hard sciences anywhere, but the interactions I had in my humanities courses with Mercer professors made a tremendous difference in my life," Elliott said. "I learned to think for myself and I have been able to use those skills to become successful in my life. I wanted to share that success by helping Mercer to continue its great tradition in the humanities."
The Center for the Teaching of America's Western Foundations is committed to helping its students to become just such critical thinkers, said Center co-director Dr. Charlotte Thomas, a professor of philosophy and director of the philosophy, politics and economics program. The endowment makes the conference permanent and continues its rigorous nature, which includes reading groups among professors and students who study the texts to be presented at the conferences, and then engaging the top scholars in those disciplines at the event.
"This endowment will ensure not only that we are able to attract the top scholars in the country to the conference, but that we have the ability to tie this co-curricular activity to the curricula of our majors and programs affiliated with the Center for the Teaching of America's Western Foundations," Dr. Thomas said. "We are deeply grateful to Mr. Elliott for this wonderful gift, which will enable us to continue the important work of exploring the significance of the humanities for the American founders and for our own understanding of what it means to be an American citizen in the contemporary world."
The gift will only enhance the conference's burgeoning reputation said Dr. Will R. Jordan, co-director of the Center and associate professor of political science.
"Over the last five years, the Center's annual Conference on Great Books and Ideas has grown into one of the very best gatherings in the Southeast for the serious study of the history of ideas," Dr. Jordan said. "We've had panelists from across the region, and keynote speakers from Harvard, Notre Dame, Emory and Baylor. This generous gift will enable us to expand this Conference, making it one of the very best events of its kind in the nation. The conference gives Mercer students a chance to share their own research with some of the nation's best scholars."
The conference will also have a wider impact, said Dr. Lake Lambert, dean of the College of Liberal Arts. "We are convinced that the Elliott Conference will be a nationally recognized event in humanities scholarship and further support Mercer's long-standing commitment to preparing students for leadership in our democratic society."
About the Mercer Center for the Teaching of America's Western Foundations
Mercer's Center for the Teaching of America's Western Foundations seeks to provide a new generation of citizens with knowledge of, and appreciation for, the founding principles, values and history of our nation. The Great Books of the West were the education of the American Founders, and America's freedom and prosperity fundamentally come from the ideas, values, and principles that the Founders' Great Books explore. To that end, the Center seeks to promote the study and teaching of these foundational works and strengthen the knowledge and understanding of the cultural-intellectual inheritance of America. Mercer is one of a select few colleges or universities in the country and the only one in Georgia that has a Great Books of Western Civilization program as part of its general education curriculum. The Center complements this curriculum with programs including lecture series and campus conferences, and seeks to reinforce the importance of traditional liberal-arts education. www.foundationscentermu.com
About Mercer University
Founded in 1833, Mercer University is a dynamic and comprehensive center of undergraduate, graduate and professional education. The University enrolls more than 8,300 students in 11 schools and colleges – liberal arts, law, pharmacy, medicine, business, engineering, education, theology, music, nursing and continuing and professional studies – on campuses in Macon, Atlanta and Savannah – and four regional academic centers across the state. The Mercer Health Sciences Center launched July 1, 2012, and includes the University's medical, nursing and pharmacy schools and will add a fourth college – the College of Health Professions – on July 1, 2013. Mercer is affiliated with four teaching hospitals — Memorial University Medical Center in Savannah, the Medical Center of Central Georgia in Macon, and The Medical Center and St. Francis Hospital in Columbus. The University also has educational partnerships with Warner Robins Air Logistics Complex in Warner Robins and Piedmont Healthcare in Atlanta. It operates an academic press and a performing arts center in Macon and an engineering research center in Warner Robins. Mercer is the only private university in Georgia to field an NCAA Division I athletic program. www.mercer.edu
— 30 —