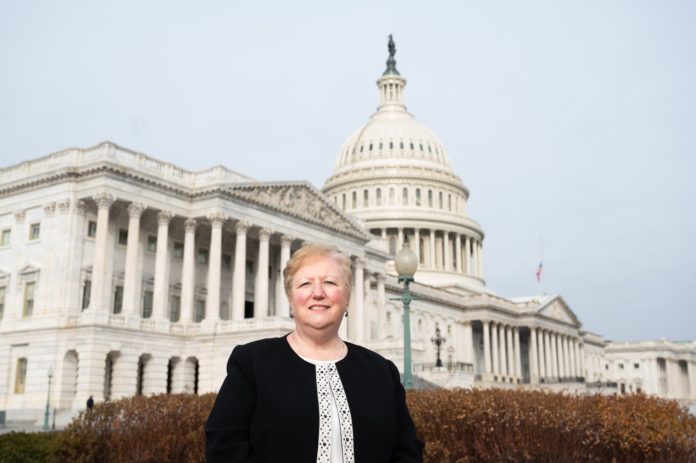 A Mercer University alumna is now the first woman to serve as chief administrative officer for the U.S. House of Representatives.
Catherine Szpindor, who earned a Master of Science in technology management from the Stetson-Hatcher School of Business in 2000, previously served as chief information officer for the House and has a decades-long career as a leading expert in information technology.
But her entrance into the field was not planned. In fact, it started with a bet.
In the 1970s, she said, South Carolina Electric & Gas Co. was starting to build up its information technology department — at the time called data processing — and was administering the IBM aptitude test for data processing to anyone interested in joining the utility.
"It was a bet between me and my husband to go take the test because he didn't think I could do it, and I told him I could," said Szpindor, who was studying to be a teacher at the time.
Not only did Szpindor pass the test, but she was offered a job that same day.
"After I found out how much money they were willing to pay me, which at the time was more than twice what teachers were making in South Carolina in the mid-'70s, I decided I would give it a try, and I loved it," she said.
"I've always loved thinking through issues and problems and coming up with solutions, and you certainly have to do that in any kind of information technology field."
As CAO of the House, Szpindor oversees nearly 800 employees, plus contractors, who support thousands of House members, officers and staff. Her non-partisan office is responsible for running the day-to-day House operations, including finances, logistics, procurement, information technology and other support services.
She said one of her primary goals as CAO is to have her staff work cohesively as part of a larger team.
"There's very little we do anymore that doesn't require all aspects of the organization to work together to make it extremely successful," Szpindor said. "I want to really put an emphasis on the CAO staff being informed of what is going on at any point in time and help the team come together in a cohesive way to provide excellent services to our members and staff."
Szpindor first joined the House in 2011 as director of enterprise applications and rose through the ranks to deputy chief information officer (CIO), acting CIO and then CIO, which she held from December 2015-December 2020.
On Jan. 1, House Speaker Nancy Pelosi announced Szpindor was chosen as CAO, following the departure of Phil Kiko.
"As a leading expert on innovation and technology, she will be a trusted and effective force as our institution continues to adjust to remote and virtual work during the pandemic and to continue to meet the needs of the American people," Pelosi said in a statement.
By fall 2019, before the COVID-19 crisis forced most operations to go virtual, Szpindor already had fully implemented Microsoft Office and Teams in the House, which allowed for video conferencing and virtual collaboration. Her office already had been looking into other tools from Cisco and Zoom as well and accelerated their implementation with the onset of the pandemic.
Prior to joining the House, Szpindor served as vice president of information technology for Thomas Nelson Community College and vice president of information technology for Nextel, Sprint and Sprint/Nextel. In addition to her master's degree from Mercer, she has a certificate in strategy and innovation from the Sloan School of Management at the Massachusetts Institute of Technology and a certificate in strategic business leadership form Georgetown University. She earned her undergraduate degree in human resources from Brenau University.
As a woman working in technology — a male-dominated field — Szpindor has faced her share of adversity. Sometimes she was the only female manager in the room.
"I never let it get to me, or tried not to," she said. "I was never afraid to speak up and speak my piece. There were a couple times where they tried to silence me … and I just went back that much harder. …
"I worked hard. I worked with the men, and I never really paid much attention to it."
Szpindor credits her mother with teaching her that she could do whatever she wanted when she grew up. Now, Szpindor's living out that lesson for her own granddaughters to see.
"Being able to show my granddaughters that they can do whatever they want to do — they have the opportunity to do what they want to do — that is extremely important to me," she said.
Do you have a story idea or viewpoint you'd like to share with The Den?
Get in touch with us by emailing
den@mercer.edu
or submitting this
online form
.