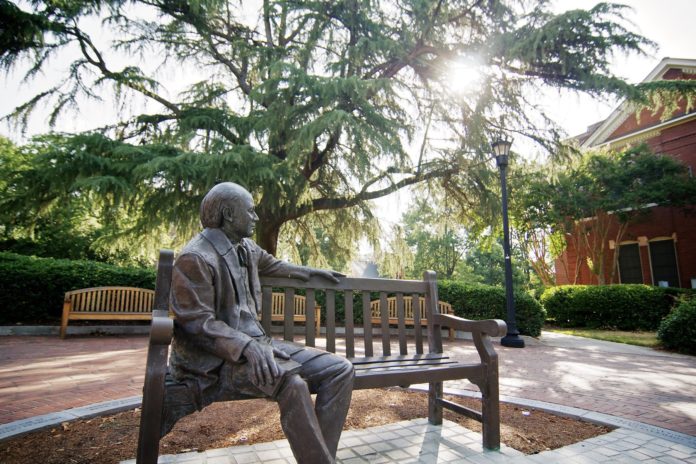 College of Continuing and Professional Studies

Dr. Thompson Biggers, associate professor in the liberal studies department, has been elected to the Board of Directors of the American Communication Association.
Dr. David Lane, professor of counseling in the College of Continuing and Professional Studies, presented "Ethical Legacy: Carrying the Banner of Counseling Forward," at the Licensed Professional Counselor Association of Georgia's Annual Convention in Savannah, June 16. He was also appointed to the Governor's Office of Children and Families Task Force on Domestic Minority Sex Trafficking.
Dr. Karen Rowland, associate professor of counseling, attended the 2013-2014 Georgia School Counselors Association (GSCA) Leadership Team Learning Development Institute and presented on "Publishing Successfully in the GSCA Professional School Counselors Journal" May 31-June 1.Dr. Rowland also served as a reviewer for the textbook, "The Essential School Counselor," by Jeannine R. Studer to be published in 2014 by Sage Publications. Dr. Rowland was also selected to serve on the Georgia Assessments for the Certification of Educators (GACE) School Counseling Standard Setting Study to make recommendations for the passing scores for the new school counselor certification examination.
Dr. Lynn Tankersley, associate professor and public safety program coordinator, presented a general interest session on the pathway from career academies to Mercer's Working Adult Programs at the 2013 Georgia Association for Career and Technical Education Summer Leadership Conference held July 10-13 in Atlanta.
College of Health Professions

Dr. Joseph Donnelly, clinical associate professor, served as the Practice Committee chair for the Orthopaedics Section Meeting of the American Physical Therapy Association in Madison, Wisc., in July.
Martha Sikes, professor, received the 2013 Faculty Achievement Award from the Georgia Association of Physician Assistants (GAPA).
College of Liberal Arts

Dr. James Eric (Jay) Black, assistant professor in the Journalism and Media Studies Department, had his article, "In Defense of Vespertilio-homo: Finding the Truth in the 1835 Moon Hoax," reprinted in August as a book chapter in "Sensationalism: Murder, Mayhem, Mudslinging, Scandals, and Disasters in 19th Century Reporting."
Dr. David A. Davis, assistant professor of English, gave a presentation, titled "Narrative Cookbooks and the Myth of the Groaning Table," at the American Literature Association in Boston, May 27-30. He published the essay, "Abjection and White Trash Autobiography," in the collection "Storytelling, History, and the Postmodern South." In July, he accompanied four students who gave presentations at the Southern Writers, Southern Writing conference at the University of Mississippi: Brandon Brock presented "'Better than Ben-Hur': Sutpen's Design and Violent Spectacle in Faulkner's Absalom, Absalom!" Beth Manley presented "Faulkner's Women: How They Deconstruct the Southern Honor Code." Alex Mooring presented "Architectures of Power in Absalom, Absalom!" and C. J. Triplett presented "Inheritance of the Past: Absalom, Absalom! and the Law of the Father."
Dr. John Marson Dunaway, professor of French and interdisciplinary studies, published a translation of a poem by Paul Claudel, "Eleventh Station–Christ Nailed to the Cross," in Commonweal Magazine, April 22. It is available online. He published a short essay, titled "'God at Work:' A Reflection on Vocation," in "Toward Human Flourishing: Character, Practical Wisdom, and Professional Formation," ed. Mark L. Jones, Paul A. Lewis and Kelly E. Reffitt (Macon, Mercer UP, 2013), 134-138. He also spoke to Mercer's African Students Association on the life and work of the recently deceased "father of African literature," Chinua Achebe, April 10, and won a $2,000 grant from Georgia Humanities Council in collaboration with Laura Botts, head of Jack Tarver Library's Special Collections, to support the International Vladimir Volkoff Colloquium scheduled for Nov. 15-16.
Dr. Achim Kopp, professor of foreign languages and literatures, presented a paper on "Moravian Missionary Activities among the Native Americans of Coastal Colonial Georgia" at the 37th Annual Symposium of the Society for German-American Studies in New Orleans May 10. In addition, he served as moderator of one of the conference sessions and, in his capacity as treasurer of the Society, delivered the annual treasurer's report.
Dr. Paul Lewis, associate professor in the Roberts Department of Christianity, co-edited a book with Mark Jones, professor at the Walter F. George School of Law, and Kelly Reffitt, assistant professor in the Tift College of Education. The book is titled "Toward Human Flourishing: Character, Practical Wisdom, and Professional Formation."
Dr. Frank Macke, professor of communication studies, received a special (funded) invitation to participate in the Seventh Social Uncertainty, Precarity, and Inequality Conference, which was held April 4-7 in Graz, Austria. The conference theme was "Social Vulnerability: Hyperprecarisation and Socio-structural Transformations in European Societies." S.U.P.I. is a European research group composed by European and international scholars and experts and is supported by grants from the European Union. He presented a paper, titled "Understanding Merleau-Ponty's Concept of Dehiscence in the Context of Precarity: Reflections on the Vulnerability of Self and Subjectivity." Macke also presented a paper titled, "The Problematic of Group Dynamics and Culture: An Investigation of Some Fundamental Questions Concerning the Existential Phenomena of Group Affiliation and Group Order," at the 2013 Convention of the Eastern Communication Association in Pittsburgh, April 24-28. He also participated in the Annual Phenomenology Symposium of The Simon Silverman Phenomenology Center at Duquesne University in Pittsburgh, Penn., April 24-28. The theme of the symposium was "Merleau-Ponty: Into the Future."
Scot J. Mann, associate professor of communication and theatre, served as a master instructor and adjudicator for the National Stage Combat Workshop. This three-week workshop was organized by the Society of American Fight Directors and hosted by the North Carolina School of the Arts and culminated with the SAFD Skills Proficiency Test. While there, he also taught the SAFD Theatrical Firearms Safety Course to the Advanced Workshop students and staff. A recognized fight master with the Society of American Fight Directors, Mann adjudicated a Skills Proficiency Test for DePaul University and the University of South Florida in June.
Dr. Anya Silver, professor of English, had "Valentine Gode-Darel (1875-1915): Five Paintings by Ferdinand Hodler" published in The Georgia Review (Spring 2013), 191-192. She was interviewed and featured on The Georgia Review website. She also had her poetry featured and was interviewed on the radio program, "Melodically Challenged," on April 28. That interview can be found here.
Margaret Symington, associate professor, was awarded the 2013 Trevor Evans Award and $1,000 for the expository article, "Euclid Makes the Cut." The article appeared in Math Horizons, a publication of the Mathematical Association of America.
Dr. Bridget Trogden, associate professor of chemistry and director of first-year integrative studies, attended and presented research at the National Organic Chemistry Symposium in Seattle in June. The presentation was titled "Synthesis of Fluorophore-Conjugated Carbohydrates and Polymer-Linked Carbohydrates" and included the work of undergraduate researchers Cory J. White, Grant Geist, Kelly Ferrill and Jamesa Hogges. Dr. Trogden also received an Outstanding Undergraduate Faculty Travel Award, sponsored by the American Chemical Society's Division of Organic Chemistry.
Dr. Bryan J. Whitfield, associate professor of Christianity, wrote five lessons on the book of Hebrews for the May-August 2013 issue of the "Adult Bible Study Formations Learner's Study Guide" and "Formations Teaching Guide," both published by Smyth and Helwys.
Marian Zielinski, professor in the Department of Communication Studies and Theatre, published a photograph of her art quilt, "Goodnight, Sweet Prince,"in the book titled "Quilt National 2013: The Best in Contemporary Quilts.""Goodnight Sweet Prince" was also selected for publication in the spring 2013 issue of the journal Fiber Art Now in the article "Uncommon Threads." The actual quilt is on display at the Dairy Barn Arts Center in Athens, Ohio until Sept. 2. Another of her art quilts, "Here and Now," is published in the August/September 2013 issue of Quilting Arts Magazine.
College of Pharmacy

Dr. Ajay K. Banga, professor, Dr. Ayyappa Chaturvedula, assistant professor, and doctoral student Mehtab J. Abla co-authored "Transdermal delivery of methotrexate for pediatrics using silicon microneedles" in Therapeutic Delivery, 2013;4(5):543-551. Dr. Banga and doctoral student Neha D. Singh also co-authored "Controlled delivery of ropinirole hydrochloride through skin using modulated iontophoresis and microneedles" in the Journal of Drug Targeting 2013;21(4):354-366.
Dr. James W. Bartling, associate dean for student affairs and admissions,was presented with the Cardinal Health Generation Rx Champions Award for long-time efforts in identifying and treating health professional colleagues who struggle with chemical dependency and assist them move into a healthy and productive life in recovery from addiction. The award was presented at the Annual Georgia Pharmacy Association Convention held on Amelia Island.
Dr. Annesha W. Lovett, assistant professor, co-authored "Review of community pharmacy-based pharmacologic interventions and methods for smoking cessation" intheJournal of Pharmaceutics and Pharmacology2013; 1(1):8.Dr. Lovettwas alsoappointed to the editorial board for the Universal Journal of Public Health, an international peer-reviewed journal by Horizon Research Publishing.
Dr. Lisa M. Lundquist, clinical associate professor, co-authored "Experience and evaluation of oral examinations in a therapeutics course for second year pharmacy students" in Currents in Pharmacy Teaching and Learning 2013; 5(4):321-30 DOI: 10.1016/j.cptl.2013.01.006. She was also appointed to the 2013-14 Education Steering Committee of the American Society of Health-System Pharmacists.
Dr. Kathryn M. Momary, associate professor, was appointed associate editor for the journal BMC Pharmacology and Toxicology.
Dr. Nader H. Moniri, associate professor, co-authored "Evolution of preprofessional pharmacy curricula" in the American Journal of Pharmacy Education 2013; 77(5):95. He was also appointed to the editorial board of the Journal of Pharmacology and Clinical Toxicology.
Dr. Gina J. Ryan, clinical professor, and Dr. Nader H. Moniri, associate professor, co-authored "Clinical effects of once-weekly exenatide for the treatment of type 2 diabetes mellitus" in the American Journal of Health-System Pharmacy 2013; 70(13):1123-1129. Dr. Ryan was also appointed to the 2013-14 Education Steering Committee of the American Society of Health-System Pharmacists.
Dr. Chad M. VanDenBerg, clinical associate professor, Dr. Renee L. Hayslett, assistant professor, Dr. Leisa L. Marshall, clinical professor, and Dr. Vanthida Huang, associate professor, received a $607,965 grant from Eli Lilly and Co. for "Effect of passive immunization on the progression of mild Alzheimer's disease: Solanezumab (LY2062430) versus placebo, protocol H8A-MC-LZAX." VanDenBerg also received a $144,294 grant from Eli Lilly and Co. for "Continued efficacy and safety monitoring of solanezumab, an anti-amyloid beta antibody, in patients with Alzheimer's disease."
Eugene W. Stetson School of Business and Economics

Jody Blanke, professor, spent six weeks at Worcester College of Oxford University teaching two courses titled "Business Ethics" and "Technology Law and Ethics" in the Georgia Tech at Oxford Program. He also published an article, titled "No Doubt About It – You've Got to Have Hart: Simulation Video Games May Redefine the Balance Between and Among The Right of Publicity, The First Amendment, and Copyright Law," published this past spring in The Boston University Journal of Science and Technology Law. He has another article, "The Legislative Response to Employers' Requests for Password Disclosure," accepted for publication for this fall in The Journal of High Technology Law.
Dr. Linda Brennan and Dr. Faye Sisk wrote and edited a textbook for the M.B.A. capstone course, "Strategic Management for Results," published by Cognella in 2013. They were able to revise and refine a subset of the material to create "Principles and Practices of Strategic Management" for the B.B.A. capstone course. The publishers have since received over two dozen requests for review copies. Students have the option of using the text as an e-book to promote environmental responsibility.
Dr. Linda Brennan and Dr. Robert D. Perkins had their study matching Mercer students with business mentors, which was titled "Can virtual mentors add value to business ethics education? A case-based exploratory study," published in the Journal of Business Ethics Education, 9: 165-192.
Dr. Tammy Crutchfield led 25 marketing students in a project to increase awareness for Mercer's baseball team.
Dr. Kimberly A. Freeman, assistant professor, and Patrick J. Madison, the former director of the College Hill Alliance, had their article, titled "A successful community development initiative with the formation of the College Hill Alliance in Macon, Georgia," accepted for publication in the International Economic Development Council Economic Development Journal. Dr. Freeman and Katherine C. Jackson, student, had an article, titled "In Pursuit of Happiness, Bhutan Opens to Globalization and Business," published in the International Journal of Business and Social Research, Vol. 2(5), p.132-143.
Dean Susan Gilbert wrote a column for the Atlanta Business Chronicle, titled "Employers demand entrepreneurial skills," that was published July 26. She was also a guest blogger for The Huffington Post, writing a blog, titled "Should Universities Mimic Netflix and Encourage Binge Learning?," on May 29. Dean Gilbert was also named to the "Top 25 in Higher Education" by the Atlanta Business Chronicle.
Dr. Nancy Jay and Mark Bayless co-authored an article, titled "What motivates seasoned equity offerings? Evidence from the use of issue proceeds," in Managerial Finance, Vol. 39 Iss: 3, pp.251-271.
Dr. Allen Lynch was interviewed, along with several of his co-authors, by Time Magazine for work related to the NCAA basketball tournament.
Dr. Kathy Mack, assistant professor, had her article, titled "Taking an aesthetic risk in management education: Reflections on an artistic-aesthetic approach," published in Management Learning Vol. 44 Issue 3, July 2013. She also presented her paper, titled "Daring to do arts-based learning with MBAs," at the Organizational Behavior Teaching Conference held at the University of North Carolina at Asheville in June.
Dr. Gina Miller co-authored a manuscript, titled "Customer Reactions to Conflict Management: A Review and Empirical Evidence from Two Service Industries," that was accepted for publication in Review of Marketing Research, Vol. 10, 2013.
Stephanie Morris, professor, developed a new class for spring: Tax Service Learning.
Dr. Etienne Musonera, Michel Ndahimana and Dr. J. Michael Weber had an article, titled "Assessment of Marketing Strategies for Ecotourism Promotion: A Case of RDB/Tourism and Conservation in Rwanda," accepted for publication in the Journal of Marketing Development and Competitiveness, Vol. 7 (2).
Dr. Geoffrey Ngene had an article, titled "Does venture capital Portfolio Size matter?," published in Studies in Economics and Finance, Vol. 30 Iss: 3, pp.192-208. He also had an article, titled "Trading strategies in Futures Markets," published in The Global Journal of Finance and Economics, Vol. 10, No. 1 (2013). Dr. Ngene also developed a new hybrid course for economics and finance majors: Market Analysis and Portfolio Management.
Dr. Robert D. Perkins, associate professor in the practice of management, authored an article, titled "Leading an Ethical Corporate Culture? Apply Seven Lessons from the U.S. Marines," published on the website CasePlace.org, a curated site for business school faculty and other educators hosted by the Aspen Institute's Business and Society Program.
Dr. Julie Petherbridge brought a student team to a case competition hosted by the Institute for Internal Auditors. The team finished in the top 10.
Dr. J. Michael Weber had an article, titled "Defining the Constructs of Making, Enabling, and Keeping Promises: A Focus Group Application," accepted for publication in the Journal of Services Research, Vol. 13 (2). He also had an article, titled "A New but Old Business Model for Family Physicians: Cash," accepted for publication in Health Marketing Quarterly, Vol. 30 (3). Dr. Weber also led a program for the American Financial Services Association in the new Center for Executive Education. The center's debut offering had 84 participants in Atlanta for four days.
Georgia Baptist College of Nursing

Dr. Virginia Dare Domico, professor and associate dean for graduate programs, presented "Women's Health and Stroke Risk" at Women and Strokes: Unique Risks and Uncommon Symptoms on May 31 at Northside Hospital in Atlanta.
Fran Kamp, clinical associate professor and coordinator of learning, received honorable mention for her poster, "The House Always Wins! Creating and Managing a Home Health Care Simulation Experience," at the 12th International Nursing Simulation/Learning Resource Center Conference held in Las Vegas in June. Her poster was about creating simulations to mimic homecare settings that were developed for senior-level nursing students. She was part of the conference planning committee, scholarship committee and an abstract reviewer for the conference.
James and Carolyn McAfee School of Theology

Dr. Nancy L. deClaissé-Walford, Carolyn Ward Professor of Old Testament and Biblical Languages, was the Sunday speaker for Founder's Day at First Baptist Church of Christ in Macon on Feb. 3. On Feb. 26 and March 16, she participated in panel discussions by the writers of the 20th anniversary edition of "Women's Bible Commentary" at the Interdenominational Theological Consortium in Atlanta and at the Southeast Conference for the Study of Religion in Greenville, S.C. On May 29-31, she participated in an American-German Psalm Symposium at Baylor University in Waco, Texas, and presented a paper titled "Finding the Feminine in Psalms 90, 91, and 92."

School of Engineering


Dr. George Hayhoe, professor of technical communication, was recognized by the Institute of Electrical and Electronics Engineers Professional Communication Society for his 20 years of service on the society's administrative committee by naming an award in his honor. The Hayhoe Fellow Award is given to the author of the best student conference paper presented at the society's annual International Professional Communication Conference. The first Hayhoe Fellow, recognized at the conference in Vancouver, British Columbia, Canada in July, is Maria José Herrera Barrera, a student in the audiovisual communication and multimedia program at Universidad de La Sabana in Bogotá, Colombia.
Dr. Behnam Kamali, professor of electrical and computer engineering, published and presented an article titled, "IEEE 802.16j Multihop Relays for AeroMACS Networks and the Concept of Multihop Gain," at the IEEE Integrated Communications Navigation and Surveillance (ICNS 2013) Conference in Washington, D.C., in April. The article was co-authored by Robert J. Kerczewski of NASA's Glenn Research Center.
Dr. Richard O. Mines Jr., director of engineering masters programs and professor of environmental engineering, was inducted into the inaugural class of Fellows of the Environmental and Water Resources Institute (EWRI) May 19 at the 2013 World Environmental and Water Resources Congress in Cincinnati, Ohio. He also made a poster presentation on"Design, Operation, and Analysis of a Biological Sand Filter using Copper as a Disinfectant' which was published in the conference proceedings. Co-authors of the paper included: Dr. Laura Lackey, Cassie Smith, Timothy Poole, Arneshia Fair, Elizabeth Hyde, and Dr. Philip McCreanor.
School of Medicine

Dr. Hamza Awad co-authored a paper, titled "Management and outcomes of patients presenting with ST-segment elevation myocardial infarction by use of chronic oral anticoagulation: results from the GRACE registry," which was published in the European Heart Journal. The paper describes the characteristics, treatment and mortality in patients with ST-elevation myocardial infarction (STEMI) by use of chronic oral anticoagulant (OAC) therapy.
Dr. Christy Bridges, Dr. Rudy Zalups and Lucy Joshee, of the Division of Basic Medical Sciences, published an article, titled "Glutathione Status and the Renal Elimination of Inorganic Mercury in the Mrp2-/- Mouse," in PLOS One, a medical journal.
The laboratory of Dr. David Gu, assistant professor of physiology, gave a presentation, titled "Modulation of BK channel activities by calcium sensing receptor in rat bronchopulmonary sensory neurons," at the Experimental Biology 2013 Annual Meeting held in Boston, April 20-24. Dr. Zhanna Vysotskaya, a postdoctoral researcher, Randal Moss, a master's program student, and Carolyn Gilbert, a research technician, participated in the study. In addition, Dr. Gu has recently published an article, titled "Acid-sensing by airway afferent nerves," in the peer-reviewed journal Pulmonary Pharmacology and Therapeutics (doi: 10.1016/j.pupt.2013.03.010). Drs. Lu-Yuan Lee and Ju-Lun Hong, from University of Kentucky, and Dr. Fadi Xu, from Lovelace Respiratory Research Institute, are other authors of the publication.
Dr. John C. Hawkins, associate professor, was named the new director of clinical cardiology operations for Mercer Medicine.
Dr. Warren Hutchings, director of student health and assistant professor in family medicine, was named the 2013 Practitioner of the Year by the National Medical Association.
Dr. W. Klugh Kennedy, clinical professor, waspromoted to professor of psychiatry and behavioral medicine in the Mercer School of Medicine.
Dr. Edward C. Klatt, professor, gave a focus group session, titled "Who Passes the Test," presented a poster, titled "Formative Practice Examinations Can Support Summative Examination Performance," and moderated the discussion group, "Student Assessment," on June 9-11 at the 2013 Annual Meeting of the International Association of Medical Science Educators held in St. Andrews, Scotland. He, along with Dr. Tina L. Thompson, associate dean of academic affairs and associate professor, published "Can PBL Group Assignment Affect Examination Performance?" in Medical Science Educator: The Journal of the International Association of Medical Science Educators. 2013;23(2):244-249.
Dr. Robert J. McKallip, assistant professor of immunology, and Dr. Olga N. Uchakina, research assistant III, had their manuscript, titled "Development of a novel treatment for leukemia directed at tumor-associated mRNA splicing," published in Leukemia Research. Dr. McKallip, Hao Ban, postdoctoral scientist, and Dr. Uchakina, had their manuscript, titled "Targeting hyaluronic acid production for the treatment of leukemia: Treatment with 4 methylumbelliferone leads to induction of MAPK-mediated apoptosis in K562 leukemia," accepted for publication in Leukemia Research.
Dr. Eric K. Shaw, associate professor of community medicine, published the main effects paper from a five-year, National Cancer Institute-funded quality improvement study aimed at improving colorectal cancer screening in primary care practices. He co-wrote the paper, titled "Effects of Facilitated Team Meetings and Learning Collaboratives on Colorectal Cancer Screening Rates in Primary Care Practices: A Cluster Randomized Trial," published in Ann Fam Med in the May/June issue 11:220-228.
Dr. Qian Wang, associate professor of anatomy, Division of Basic Medical Science, MUSM, is a co-corresponding author of a paper titled "Mass spectrometric U-series dating of Huanglong Cave in Hubei Province, central China: Evidence for early presence of modern humans in eastern Asia." The article was published in the August issue of Journal of Human Evolution and can be read here:http://dx.doi.org/10.1016/j.jhevol.2013.05.002.
Dr. Yudan Wei,associate professor in the Department of Community Medicine, published a research article, titled "Urinary concentrations of dichlorophenol pesticides and obesity among adult participants in the U.S. National Health and Nutrition Examination Survey (NHANES) 2005-2008," in the International Journal of Hygiene and Environmental Health. An Nguyen, summer research scholar in 2011 and currently a fourth-year medical student, was co-author of the paper.
Staff and Administration

Ken Boyer, associate vice president of auxiliary services, was elected to a three-year term on the board of directors for the National Association of Campus Card Users in March. At the April board meeting, Boyer was elected co-treasurer for the organization and will take over as treasurer in 2014.
Melissa McCants Cruz, director of administrative services, successfully defended her dissertation titled "Undocumented Students and Higher Education in the State of Georgia: The 'Don't Ask, Don't Tell' Policy of Illegal Immigrant Children."
Melissa McCants Cruz, Betsy Johnson, director of the Office of Career Management, and Maj. Willie A. Woolfolk, associate director of Mercer Police, received their Doctor of Philosophy degrees in educational leadership from the Tift College of Education on Aug. 10.
Sharon Lim Harle, assistant vice president for alumni services and an alumna of the Stetson School of Business and Economics, was named one of the Georgia Asian Times' 25 Most Influential Asian Americans in Georgia. In addition to Harle, fellow Mercerians Farooq Mughal (CLA '00) and Bryan Ramos (LAW '99) were named to the list and presented with an award as part of a ceremony at the Happy Valley Restaurant in Gwinnett County.
Tift College of Education

Dr. William Lacefield, professor, presented "Matric Logic Puzzles: Providing Opportunities for Meaningful Critical Thinking" at the Annual Conference of the United Kingdom's Association of Teachers of Mathematics, held in April in Sheffield, England. At the same conference, he and Cathy Costello, head mathematics teacher at the British Recording Industry Trust School of London, presented "Tangrams for Beginners: Who Knew Seven Polygons could Possess such Power?" Dr. Lacefield also presented "Exploring Multiple Ways to Multiply: Ideas for Engaging All Learners" at the Annual Conference of the National Council of Teachers of Mathematics, held in April in Denver. He also attended the Annual Conference for the Advancement of Mathematics Teaching, held in July in San Antonio.
Townsend School of Music

Amy Schwartz Moretti, director of the Robert McDuffie Center for Strings, associate professor and Caroline Paul King Violin Chair, was guest artist for several concerts and recorded live works by Barber, Ives and Shostakovich for Onyx Records at the Summer Festival of the Seattle Chamber Music Society at Benaroya Hall in Seattle, July 13-28, as well as a commissioned work by Kevin Puts, "Seven Seascapes," for the 30th Anniversary of the Bridgehampton Chamber Music Festival in New York, Aug. 6-12. She also performed many concerts as guest artist at ChamberFest Cleveland June 25-30, the Fayetteville Chamber Music Festival in Texas, May 10-18, and the Rome Chamber Music Festival, June 6-14, where she coordinates its Young Artist Program. With James Ehnes, she recorded Prokofiev and Bartók duos for Chandos Records, Colchester, in the U.K. June 17-22.
University Libraries

Rachel Gordon, access services librarian at the Furman Smith Law Library, presented a poster session, titled "Enhancing Citator Reports with User-Generated Content," at the Annual Meeting of the American Association of Law Libraries held in Seattle in July.
Ismael Gullon, associate law librarian for collections and technical services at the Furman Smith Law Library, was elected in July 2013 to the position of vice-chair/chair-elect of the Innovative Law Users Group (ILUG). ILUG is an association of 122 law school libraries that use the Innovative Interfaces Inc. integrated library software.
Walter F. George School of Law

Zack Buck, assistant professor, gave a presentation, titled "Caring Too Much: Misapplying the False Claims Act to Target Overtreatment," at the American Society of Law, Medicine and Ethics Health Law Professors Conference at Seton Hall University School of Law in Newark, N.J., June 8. He was also selected as Health Law Scholar for the upcoming Health Law Workshop at Saint Louis University. Buck also published an article, titled "Caring Too Much: Misapplying the False Claims Act to Target Overtreatment," in the Ohio State Law Journal. He has an article, titled "The Indefinite Quarantine: A Public Health Review of Chronic Inconsistencies in Sexually Violent Predator Statutes," accepted for publication in the St. John's Law Review.
David Hricik, professor, served as law clerk to Chief Judge Randall R. Rader of the United States Court of Appeals for the Federal Circuit. He co-authored an op-ed published in the New York Times with Chief Judge Rader and Professor Colleen Chien of Santa Clara Law School. Hricik also completed the second editions of his co-authored case book on property law and his treatise for lawyers on ethical issues in patent prosecution and was recently appointed to the Professionalism and Ethics Committee of the American Intellectual Property Law Association.
Mark L. Jones, along with Dr. Paul Lewis and Kelly Reffitt, co-published "Toward Human Flourishing: Character, Practical Wisdom, and Professional Formation" (Mercer University Press) in May. The book consists of a collection of essays and other materials growing from a series of interdisciplinary initiatives undertaken between 2005 and 2010 within Mercer University's Professionalism and Vocation Across the Professions Project and Phronesis Project for the Exploration of Character, Practical Wisdom, and Professional Formation. These initiatives involved more than 150 faculty and a significant number of students from Mercer's 11 colleges and schools.
Jeremy Kidd, assistant professor, along with Todd Zywicki, published an article, titled "Does Increased Litigation Increase Justice in a Second-Best World," in American Illness (Frank Buckley, ed., Yale University Press 2013). Kidd, along with Michael Krause, had another article, titled "Rich, Smart, Honest?: Does Success Lead to Unethical Lawyering," accepted for publication in St. Thomas Law Journal. Kidd gave a presentation, titled "It's an investment, not a loan," before the National Conference of Insurance Legislators in Philadelphia, July 11, and was on a panel, titled "Money, Politics, and State Courts: A Threat to a Fair and Impartial Judiciary?," at the American Constitution Society National Convention, June 14.
Patrick Longan, W.A. Bootle Chair in Ethics and Professionalism, gave a presentation, titled "The Use of All Your Powers Along Lines of Excellence," at the Georgia Trial Lawyers Association Professionalism Luncheon in Atlanta in May. He also gave a presentation, titled "Incivility in Litigation: Causes, Contours and Cures," at the State Bar of Georgia Labor and Employment Law Section CLE in Atlanta in March. He gave another presentation, titled "An Introduction to Professionalism Through the Life and Vision of the Honorable Harold G. Clarke," as part of the John Marshall Law School Professionalism Series in Atlanta.
Dr. David Ritchie, professor, spoke at the inaugural event of a program developed by the Federal Magistrates School in Rio de Janeiro, Brazil, on comparative aspects of immigration policy. His talk was titled "The Moral and Rhetorical Aspects of the Immigration Policy Debate in the U.S." He has also been made a Distinguished Fellow in the Institute for Social and Cultural Research at the Macau University of Science and Technology, where he is consulting on programs that explore the colonial similarities between Macau and Brazil. While in Asia, he also taught a short course, titled "Economic Constitutionalism in Asia," at the Nankai University School of Law.
Michael Sabbath, professor and SBLI/W. Homer Drake Jr. Endowed Chair in Bankruptcy Law, was the keynote speaker at the South Carolina Bankruptcy Law Association's 23rd Annual Seminar that was held in Myrtle Beach, S.C., May 3-5. Sabbath presented papers titled "Bankruptcy and the Elderly," "Issues Involving Student Loans in Bankruptcy" and "The Supreme Court's Decision in Stern v. Marshall and Fraudulent Conveyances."
Jennifer Sheppard, associate professor, presented "Aspen's Custom Publishing: Why Legal Writing Faculty Should Take Advantage of This Opportunity" at the Southeast Regional Legal Writing Conference in April.
Karen Sneddon, associate professor, received the Reynold J. Kosek Jr. Excellence in Teaching Award during the Walter F. George School of Law's 2013 commencement. She spoke at the AALS Workshop for Beginning Legal Writing Law School Teachers held June 20 in Washington D.C. Sneddon also published an article, titled "Measuring Student Progress: Assessing and Providing Feedback," in Transactions: The Tennessee Journal of Business Law.
Scott Titshaw, associate professor, co-authored "Immigration and the LGBT Client" in the "Immigration and Nationality Law Handbook, 2013-14 Edition." He also wrote an article, titled "Immigration for Same-Sex Couples in a Post-DOMA World," for The Huffington Post on July 26. He was on a panel titled "Immigration and the LGBT Client" at the American Immigration Lawyers Association (AILA) Annual Conference in San Francisco in June. He was on a panel, titled "Immigration Law Following the Supreme Court Decisions," as part of the National LGBT Bar Association webinar in July. He was on a panel, titled "Womb With a View: Surrogacy Issues and Immigration for Children," as part of the American Immigration Lawyers Association national podcast in August. He was on a panel, titled "The Future of LGBT Immigration: A Discussion of Immigration Issues in Light of Comprehensive Immigration Reform and Judicial Action on DOMA," at the National LGBT Bar Association Annual Conference in San Francisco in August. He is set to make a presentation, titled "The Implications of United States v. Windsor in States Like Georgia," at the Savannah College of Law in October. He is set to be on a panel, titled "U.S. Supreme Court Update," at the State Bar of Georgia in Atlanta in October. He is also set to be on a panel, titled "International ARTs and Immigration: Time for a Treaty?," at the American Academy of Assisted Reproductive Technology Attorneys (AAARTA) Conference in Charleston, S.C., in November. Additionally, he has been interviewed by two local television stations and GPB and quoted or cited in Reason magazine, The Wall Street Journal, the National Review, CNN, ABC News, and the American Constitution Society's ACSblog over the past six months.