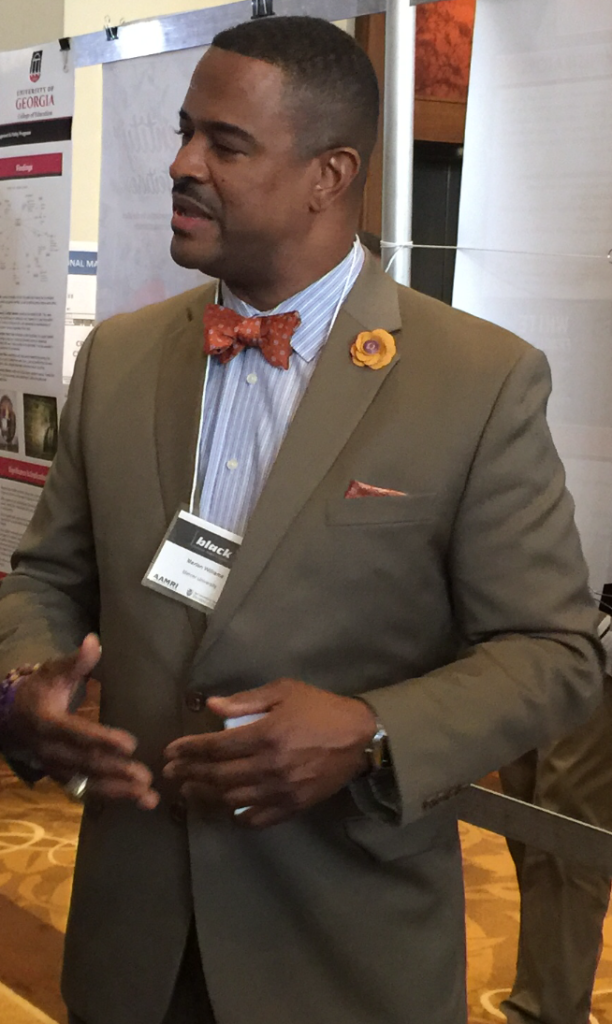 ATLANTA – Mercer University's Center for the Study of Narrative (CSN) will host its seventh annual Narrative Showcase on April 14, featuring a lecture by Marlon Williams at 5 p.m. in the Atlanta Administration and Conference Center, Room 280.
Williams' lecture, "Truth in Storytelling: Ownership, Authorship, and Authenticity," will explore how individuals can proactively write their own self-stories instead of playing roles in narratives others have written. Using concepts of narrative therapy and interdisciplinary approaches to narrative, he will share his journey of reclaiming his story and the benefits and wisdom for all in listening to the author within.
Williams is a 2021 graduate of Mercer's Ph.D. program in counselor education and supervision. His qualitative dissertation focused on the grief Black former college football players experience when their athletic careers end.
A poet and published author, he is currently writing a book based on his research and his personal experience as a college football player navigating his transition out of sport. In addition to his undergraduate and graduate academic accomplishments, Williams was a four-year letterwinner at Georgia Tech, a Butkus Award nominee and the only freshman starter on Georgia Tech's 1990 national championship-winning football team.
Williams also serves as a member of the planning committee for the 10th Narrative Matters Conference to be hosted by Mercer in Atlanta in May 2022.
CSN's Narrative Showcase will also include College of Professional Advancement faculty members Dr. Sabrina Walthall, associate professor of science, who will discuss her podcast interviews of women of color in STEM fields; and Dr. Arla Bernstein, assistant professor of communication, who will discuss her ongoing qualitative interviewing project, titled "A Narrative Approach to Community Journalism."
Additionally, Dr. Richard LaFleur, of the University of West Georgia, will discuss the intersection of narrative and moral injury, and Dr. Aimee Hicks will discuss her recently completed dissertation, "The Impact of Trauma Narrative Treatment on Mandated Substance Abuse Groups."
The program will conclude with digital narrative presentations from graduate counseling students in the areas of earned adult attachment, overcoming the incarceration of a parent, adolescent resilience, first-time international travel, and the intersection of wrestling and mental health from a former female professional wrestler.
Because of social distancing requirements, attendance at this in-person event will be limited. Contact Dr. Don Redmond, associate professor of counseling and director of the Center for the Study of Narrative, at redmond_db@mercer.edu to RSVP or for additional details.
The Center for the Study of Narrative is a multidisciplinary initiative housed within the College of Professional Advancement incorporating counseling, theology, psychology, sociology and literary studies, among others. Faculty and student collaborators emphasize qualitative research methods and "story listening" to study the lives of individuals and larger populations.
About the College of Professional Advancement
Mercer University's College of Professional Advancement is committed to serving post-traditional learners. Undergraduate, graduate and certificate programs are offered to adult learners seeking professional advancement into leadership roles in and beyond their communities. Programs provide students with distinctive, multidisciplinary experiences that integrate theory and practice. In addition to providing general education and elective courses for various colleges and schools at Mercer, the College of Professional Advancement offers degree programs in areas including technology, public safety, public and human services, leadership and administration, health care and liberal arts. Programs are offered on Mercer's campuses in Atlanta and Macon, as well as Regional Academic Centers in Douglas County and Henry County, and online. To learn more, visit professionaladvancement.mercer.edu.