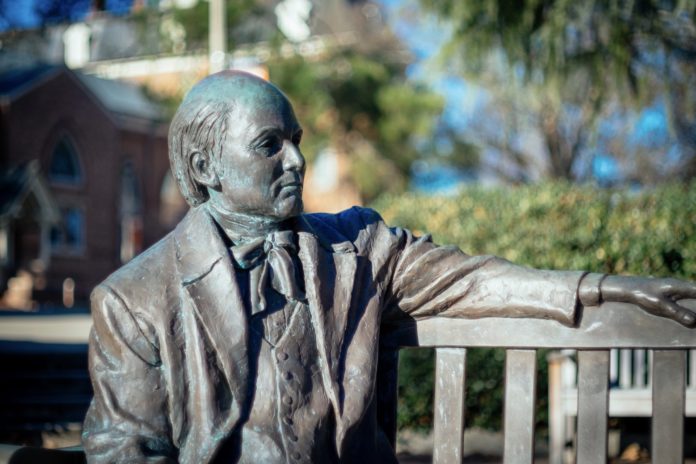 Dr. Karyn Allee-Herndon, assistant professor of elementary education, will serve as an invited research roundtable panelist at the upcoming Learning Ally Spotlight on Early Literacy Conference to be held virtually on Dec. 4. Other participants include faculty members from Florida State University, Harvard University and New York University. Dr. Allee-Herndon will present her related research further on Jan. 13 for a conference follow-up presentation, titled "Being receptive to literacy research: Finding a balance between direct instruction and play-based pedagogy." She presented "Just pedagogies: Social justice education through integrated thematic K-3 units" with colleagues from SUNY Cortland and the University of Maine at the 2020 Fall Virtual Conference of the National Association for Early Childhood Teacher Educators on Nov. 4.
Dr. Mary Kay Bacallao, professor of education, presented as part of a roundtable session Nov. 5 at the online Education Law Association Annual Conference. The title of the paper presented was "Software Management for Legal Workflow: Online Tools for Education Law."
Dr. Robbie J. Marsh, assistant professor of special education, presented twice at the Teacher Educators for Children with Behavior Disorders annual conference hosted by the Council for Children with Behavior Disorders and Arizona State University. The first presentation was titled "Integrating Multiple Methods in Juvenile Justice Research" and included faculty from Mercer and Georgia State University as well as Tift College of Education doctoral student Casey Christenson. The second presentation was titled "Strategies for How to be an Effective Advocate for Students with EBD on a Comprehensive Campus" and was a collaboration with a special education teacher he mentored in Las Vegas.
Dr. Leah Panther, assistant professor of literacy education, presented in November at the National Council of Teachers of English Annual Conference with high school English teacher Selena Hughes. Their presentation was titled "'The old Black ram': Using Othello to study racializing language."
Dr. Katherine Perrotta, assistant professor of middle grades and secondary education, presented "Emphatically our battle: A content analysis of the New York City African Free School curriculum, 1789-1840" and "Can't fight this feeling: The origins of historical empathy during the new social studies era, 1950s-1970s" at the annual conference of the History of Education Society, held virtually Nov. 6-8.
Dr. Peter C. Brown, professor emeritus of philosophy, published Listening for God: Malamud, O'Connor, Updike, and Morrison with Mercer University Press on Dec. 1. His article, "An Unlikely Influence," detailing the New Urbanism of the Beall's Hill revitalization project in Macon, will appear March 1 in Visions of Seaside, Vol. 2, edited by Peter Hetzel and Dhiru Thadani and published by Rizzoli. Dr. Brown recently self-published a pamphlet summing up everything he knows – and some things he doesn't – which is titled "Really? How Religion and Philosophy finally agree – and Science is wrong – about Reality."
Mark Dehler, lecturer of political science, was interviewed Nov. 19 for a story, titled "Are Georgia's votes being audited or recounted?," on WGXA in Macon.
Dr. Jonathan C. Glance, Benjamin W. Griffith Jr. Professor and chair of English, presented a paper, titled "Periphery and Process: Studying Adaptation Through Screenplays," Nov. 14 at the South Atlantic Modern Language Association virtual conference as part of a roundtable on "The Scandal of Adaptation."
Dr. Rachael Goodman, assistant professor of global development studies, authored "Getting Creative with Data: Managing Relations and Quantitative Proof in an Indian NGO" in American Anthropologist.
Dr. Anita Gustafson, dean and professor of history, authored the article "Jenny Lind and New York: The Nightingale, the Showman, and the Making of a Celebrity" in Sacred Migrations: Borderlands of Community and Faith, edited by Hauna Ondrey and Mark Safstrom. She spoke on this topic for the 2020 Association of Swedish Teachers and Researchers in America in October and the South Atlantic Modern Language Association conference in November.
Dr. Linda Hensel, professor and chair of biology, and Dr. David Goode, associate professor and director of biochemistry and molecular biology, had four undergraduate researchers invited to present a poster Nov. 21-22 at the 2020 Southeastern Medical Scientist Symposium, a virtual conference for M.D./Ph.D. and MSTP students and their mentors sponsored by Emory University. Luke Jones (neuroscience major), Vy Nguyen (biochemistry and molecular biology major), Gabriella Longway (biochemistry and molecular biology major) and Katelyn Crumbley (neuroscience major) presented a poster, titled "Genetic analysis of Staphylococcus aureus biofilm production pathways inhibited by novel lead compounds," which was awarded second place in the conference. Three teams of their undergraduate researchers received grants for research supplies from the National Biology Honor Society, Tri-Beta Research Foundation. Arnith Eechampati (biology major) and Gautham Mudireddy (biochemistry and molecular biology major) were awarded a $200 grant for their work, titled "Synthesis and Combination of Novel Anti-Biofilm Compounds." Longway and Nguyen were awarded a $100 grant for their work, titled "Genetic Analysis of Biofilm Production Pathways in Streptococcus mutans Inhibited by Novel Lead Compounds." Sutton Scarboro (neuroscience major) and Natalie Yaeger (neuroscience major) were awarded a $100 grant for their work, titled "Growth of Cryptococcus neoformans and Biofilm Analysis Using Crystal Violet and XTT Reduction Assays (2020)."
Dr. James Davis May, director of creative writing, published his essay, "The Value of Fear: Why We Should Listen to Robert Frost During the Pandemic," in On the Seawall.
Dr. Chinekwu Obidoa, associate professor of global health, delivered a presentation, titled "Culture Shock: Embrace, Transform and Leverage," Nov. 4 at the WINA Wellness for International Students Virtual Seminar organized by the Welcoming Intercultural Newcomers Association in Alberta, Canada. She also organized an exhibit with students in her INT 301: Globalization: Africa's Experiences course on Nov. 18 to raise awareness at Mercer of the Coltan mineral crisis in the Democratic Republic of the Congo and e-waste Dumping in Africa.
Dr. Clinton Canal, assistant professor, was appointed grant reviewer for the Agencia Nacional de Investigación y Desarrollo de Chile, part of the Comisión Nacional de Investigación Científica y Technólogica of the Chilean government. He was also appointed reviewer for American Chemical Society publication ACS Chemical Neuroscience.
Dr. Leisa Marshall, clinical professor, Dr. Diane Nykamp, professor, and Dr. Kathryn Momary, associate professor published a manuscript, titled "Evaluating Practice Readiness of Advanced Pharmacy Practice Experience Students Using the Core Entrustable Professional Activities: A Pilot Project in American Journal of Pharmaceutical Education," Oct 2020; 84(10): ajpe7853.
Dr. Greg Baugher, associate professor of mathematics, and Dr. Arla Bernstein, assistant professor of communication, led a virtual faculty forum and development workshop, titled "Best Practices for Teaching High Content Courses" on Nov. 13 for the College of Professional Advancement. The workshop was co-led by Dr. Dee Fink, founding director of the University of Oklahoma's Instructional Development Program and author of Creating Significant Learning Experiences: An Integrated Approach to Designing College Courses. The focus of Dr. Fink's presentation and the accompanying discussion was front-end course design and team-based learning. Nineteen faculty members attended the forum, one of a series of faculty development workshops scheduled by the College's Faculty Welfare and Development Committee for the current academic year.
Yolanda Fountain, adjunct professor of counseling, was honored by the National Coalition of 100 Black Women (Northwest Georgia chapter) with the Women of Impact in Health Award on Nov. 1. Fountain completed the M.S. Counseling/Master of Divinity dual degree program in pastoral care and counseling in 2009 and the Ph.D. in counselor education and supervision in 2015 with a cognate in trauma and play therapy.
Jody Blanke, Ernest L. Baskin Jr. Professor of Computer Science and Law, presented his paper, "A 'Pacademic' [pandemic academic] Case Study for Privacy Law and Ethics," Nov. 13 at the annual conference of Southeastern Academy of the Legal Studies in Business.
Dr. Andrés Marroquín, associate professor of economics, co-edited a volume, titled A Companion to Douglass North, published by Universidad Francisco Marroquín on Nov. 10.
Dr. Geoffrey Ngene, associate professor of financial economics, co-authored "Overreaction in the REITs Market: New Evidence from Quantile Autoregression Approach" in the Journal of Risk and Financial Management. Dr. Ngene also co-authored "Dynamic linkages between U.S. and Eurodollar interest rates: new evidence from causality in quantiles" with Dr. Kenneth Tah,  assistant professor and director of risk management and insurance, in the Journal of Economics and Finance.
Dr. Dorina Marta Mihut, associate professor of mechanical engineering, and Dr. Arash Afshar, assistant professor of mechanical engineering, had their paper, titled "Study of Electrically Conductive Structures Consisting of Copper Thin Films Deposited on Water Filter Papers and Their Antibacterial Activity," selected for publication as contributed original article for the Fall-Winter edition 2020 of the Society of Vacuum Coaters Bulletin, pgs. 66-73.
Dr. Joanna Thomas, assistant professor of biomedical engineering, and students Sagar Patel, Leia Troop and Nicholas Faist served as co-authors on "3D Printed Model of Extrahepatic Biliary Ducts for Biliary Stent Testing," published in and featured on the cover of Materials, Vol. 13, Issue 21.
Elizabeth A. Carr, assistant dean of career services, was a moderator for the panel "Administrative Law Job Opportunities for Young Lawyers" at the Annual ABA Administrative Law Conference, held virtually.
Cathy Cox, dean and professor of law, was a panelist for the virtual discussion "Recounts, Runoffs and Maneuvering" hosted by Mercer's Political Science Department on Nov. 18. Cox was also a panelist for "Political Rewind" on Georgia Public Broadcasting with host Bill Nigut on Nov. 16 and "Election 2020: Post-Election Analysis" for the National Council of Jewish Women, Atlanta chapter, on Nov. 9.  She served as a speaker for "Election 2020: What You Need to Know and What You Can Expect" for Mercer Law School's Master Class Series on Oct. 30. Cox was interviewed for "After audit, Trump could request recount in Georgia, Mercer expert explains," on The Den, by Jennifer L. Borage on Nov. 20, "'Going to have a hard time': Thinking of moving to Georgia just to vote? Think again," on WGXA-TV by Erin Wise on Nov. 16,  "All Things Considered" on National Public Radio with host Michel Martin on Nov. 15, "Power and Politics" with Vassy Kapelos on the Canadian Broadcasting Corporation on Nov. 5 and "Former Ga. Secretary Of State Cathy Cox Calls Out Republicans Over Election Fraud Accusations" on WABE 90.1 FM Radio, "All Things Considered," on Nov. 10 with Jim Burress. She was quoted in "Lindsey Graham's Alleged Attempt to Toss Georgia Ballots is Felony Election Fraud" in Slate on Nov. 19 by Mark Joseph Stern, "Trump campaign's challenge of election results in Pennsylvania, Michigan and Arizona push U.S. toward 'loss of democracy'" in USA TODAY on Nov. 12 by Donovan Slack, Kevin McCoy, Dennis Wagner, Kevin Johnson and Kristine Phillips, "Georgia's U.S. Senators: Profiles in Cowardice" in the Atlanta Journal-Constitution on Nov. 11 by Bill Torpy, "An expensive nightmare: Former Georgia state official describes hand recount in Biden-Trump election race" in the Savannah Morning News and Augusta Chronicle on Nov. 11 by Rana L. Cash, "As states press forward with vote counts, Trump advisers privately express pessimism about heading off Biden's win" on Nov. 10 by Amy Gardner, Tom Hamburger, Jon Swaine and Josh Dawsey in the Washington Post, "Trump Campaign Seeks Hand Recount in Georgia, Could Get It" in the Associated Press on Nov. 10 by Jeff Amy and Kate Brumback, "Georgia's unusual laws spark humor, curiosity" by Carolyn Crist in Georgia EMC Magazine in November, "False Alarm: How the Voter-Fraud Fallacy is Manufactured" on Oct. 22 by Vera Bergengruen in TIME Magazine, pgs. 44-45, and "2020 Daily Trail Markers: …Battlegrounds in the Battlegrounds, Georgia – Gwinnett County" on Oct. 7 by Caitlin Conant for CBS News.
David Hricik, professor, gave presentations on the ethical issues created by artificial intelligence, the Internet of Things, and 3D printing at conferences in Houston, Texas, and Seattle, Washington. He also gave a presentation on conflicts of interest in patent practice to two Ohio conferences.  An article he co-authored with Karen Sneddon, professor of law, describing "technology fails" in legal writing was published in the Delaware Lawyer. In addition, Hricik and Sneddon continued their regular "Writing Matters" column with the Georgia Bar Journal.
Linda Jellum, associate dean for faculty research and development and Ellison Capers Palmer Sr. Professor of Tax Law, presented "Lessons and Enduring Impacts of 'Emergency' Relaxation of Licensing and Other Regulatory Requirements in Response to COVID-19" on Oct. 28 at the 15th meeting of the American College of Business Court Judges for the Law and Economics Center in Savannah.
Billie Jo Kaufman, interim law library director and visiting professor of law, was appointed to the Judicial Council of Georgia's Ad Hoc Committee on Improving Community Access to Legal Resources.
Jeremy Kidd, associate professor of law, wrote the article "Public Perceptions of Insider Trading" for Seton Hall Law Journal, 51. The article was co-authored with George Mocsary (University of Wyoming College of Law) and John Anderson (Mississippi College School of Law).
Karen J. Sneddon, professor of law, and David Hricik, professor of law, authored "Technology Fails, for 26 No. 2 Georgia Bar Journal 66 (Oct. 2020). Sneddon was also selected as a member of the 2020-2022 Legal Writing Institute Discipline Building Working Group.
Pam Wilkins, associate professor of law, authored a book review on The Soul of Storytelling: Review of Philip Pullman's Daemon Voices: On Stories and Storytelling in 17 Legal Communication and Rhetoric (2020).
Dr. Jennifer L. Barkin, associate professor of community medicine and obstetrics and gynecology, received a research education award for $3,000 from SAGE Therapeutics that will be used for up to two scholarships for medical students at Mercer who are interested in conducting research focused on perinatal mental health under her mentorship.
Dr. William N. Hannah, associate professor of medicine, and Columbus campus M.D. student Shayla Amos co-authored an article accepted for publication in the Journal of Graduate Medical Education in February. Amos serves as lead author on the paper.
Dr. Edward C. Klatt, professor of pathology, authored the fourth edition of the Robbins and Cotran Atlas of Pathology, one of the Robbins and Cotran series of textbooks used worldwide in medical education. Dr. Klatt and Dr. Rick Mitchell of Harvard University authored the second edition of the Robbins and Cotran Flash Cards now released in a Russian language version.
Dr. Eric K. Shaw, professor of community medicine, served as lead author and presenter of a poster, titled "Care coordination between primary and oncology care: A qualitative study of a nurse coordinator role and external coaching," and co-author of a poster, titled "Role Confusion in Coordinating Care for Complex Cancer Survivors: The Need for a Multiteam System." This research is a collaboration with colleagues from the University of Texas Southwestern, Department of Population and Data Sciences and the School of Public Health. Posters were presented at the North American Primary Care Research Group annual conference in November.
Dr. David Keith, dean, was invited to speak to the Macon Morning Music Club at its monthly meeting in November. His speech was titled "A View From the Other Side of the Podium" and had as its theme the transformational power of music in the lives of the performer and listener.
Dr. Nancy L. deClaissé-Walford, Carolyn Ward Professor of Old Testament and Biblical Languages, published the book Psalms, Books 4-5 in Liturgical Press's Wisdom Commentary Series.
Dr. Chanequa Walker-Barnes, associate professor of practical theology, facilitated a virtual writing workshop, titled "Writing for Mystic Activists," which invited clergy and faith-based activists to reflect upon writing as a contemplative practice for social change. The weeklong workshop was sponsored by the Collegeville Institute for Ecumenical and Cultural Research in partnership with the Southern New England Conference of the United Church of Christ.
Chris Fuller, campus minister with Baptist Collegiate Ministries, was selected as a participant feature by Mercer's Recreational Sports and Wellness staff. Recognition is reserved for those who participate in intramural sports, show good sportsmanship, create a great sport-playing environment and someone who the office would love to see participate in other sports.