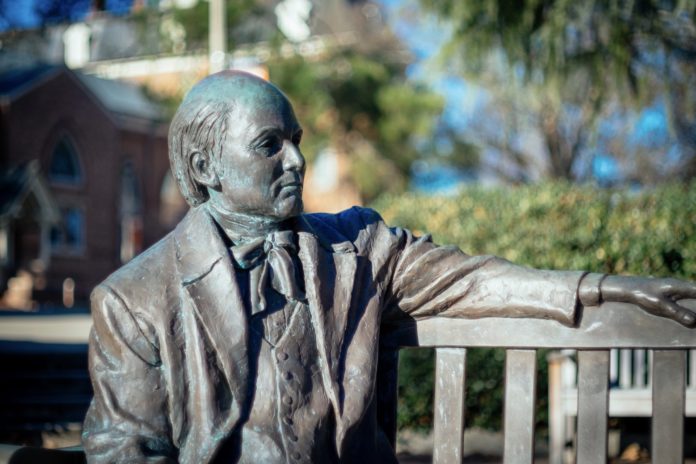 College of Liberal Arts
Dr. Jonathan Addleton, adjunct professor of international and global studies, gave presentations on his book, titled The Dust of Kandahar: A Diplomat Among Warriors in Afghanistan, at the Ralph Bunche Library in Washington, D.C., the Thomas Balch Library in Leesburg, Virginia, and the Boston Council on World Affairs in Boston, Massachusetts. Dr. Addleton presented a lecture to several dozen Navy aviators as part of the leadership development program at Jacksonville Air Station in Jacksonville, Florida. He also was formally inducted – along with five other alumni, including two Pulitzer prize winners, the publisher and editor-in-chief of the Chicago Tribune, and the executive editor for National Public Radio – into Northwestern University's Medill School of Journalism "Hall of Achievement" in a ceremony held at the Chicago History Museum.
Dr. John Marson Dunaway, professor emeritus of French and interdisciplinary studies, was an invited panelist for the 21st Pan African Festival of Georgia on April 29 at the Tubman Museum. The panel's theme was "Race, Religion and Economics" as part of the Empowerment Experience during the festival. He also coordinated the Beloved Community Paired Clergy's seventh biennial communitywide Unity Service, held April 30 at Forest Hills United Methodist Church. Guest preacher was Pastor Jason McClendon of Community Church of God.
Scot J. Mann, associate professor of communication and theatre arts, served as an adjudicating fight master for stage combat skills tests at Miami University, the University of Central Florida, Lamar University, Louisiana Tech University and the University of North Carolina School of the Arts. He also served as master instructor for the Theatrical Firearms Safety Course with the Society of American Fight Directors hosted by Louisiana Tech. In May, he served as master instructor of broadsword and special topics instructor for the Fredricksen Stage Combat Intensive hosted by Michigan State University.
Tim Regan-Porter, visiting assistant professor and executive director of the Center for Collaborative Journalism, was selected as a 2017-18 John S. Knight Journalism Fellow at Stanford University.
Dr. Anya Silver, professor of English, had five poems – "Return," "Blue Slippers," "Epithalamium," "Late Summer" and "August" – published in Peacock Journal. She also had four poems – "Holy Saturday, 1945," "Lenten Crocuses," "Poetry Belongs to the Dying" and "A Walk in November" – published in St. Katherine Review 5:2. She gave readings at the Poetry by the Sea Conference on May 24 in Bridgeport, Connecticut, and the KGB Bar on May 24 in New York City.
Dr. Doug Thompson, associate professor of history, represented Mercer and the Journal of Southern Studies at the biannual Religion and American Culture Conference June 1-4 in Indianapolis, Indiana. Hosted by the Center for the Study of Religion and American Culture and underwritten by the Lilly Endowment, the interdisciplinary conference examines current trends in the study of religion in American life.
College of Pharmacy
Dr. Ajay K. Banga, professor and chair of pharmaceutical sciences, was promoted to senior editor of Therapeutic Delivery. He previously served as associate editor.
Dr. Joshua Kinsey, clinical assistant professor and director of the Community Pharmacy Residency Program, co-authored "Dangers of Nonprescription Medicines: Educating and Counseling Older Adults" in The Consultant Pharmacist: The Journal of the American Society of Consultant Pharmacists, 32(5), 269–280.
Eugene W. Stetson School of Business and Economics
Dr. Eric Kushins, assistant professor of entrepreneurship and director of executive programs, was featured in a recent WalletHub article about credit cards for new businesses.
James and Carolyn McAfee School of Theology
Dr. Nancy L. deClaissé-Walford, Carolyn Ward Professor of Old Testament and Biblical Languages, presented a Festschrift to William H. Bellinger Jr. of Baylor University, her dissertation adviser, at the National Association of Baptist Professors of Religion annual meeting May 23 in Nashville, Tennessee. Dr. deClaissé-Walford edited the volume, which is Perspectives in Religious Studies, Vol. 44. In addition, she delivered a paper, titled "The Importance of Place in Book Five of the Psalter," in the Old Testament section of the conference.
Penfield College
Dr. Colleen Stapleton, associate professor and chair of mathematics, science and informatics, and Dr. Zipa Vokhiwa, associate professor of science, participated in the National Science Foundation-sponsored workshop on "Pan-African Approaches To Teaching Geosciences" May 23-25 at Morehouse College in Atlanta. Participants explored ways to deeply connect African-American students to learning about the earth by framing instruction around important questions in Pan-African studies and produced curricular materials for public use. The workshop is part of the InTeGrate Program, funded by a five-year STEP Center grant from the National Science Foundation, which aims to develop a citizenry and workforce that can address environmental and resource issues facing our society.
School of Engineering
Dr. Makhin Thitsa, assistant professor of electrical and computer engineering, and undergraduate researcher Runyu Cai co-authored an article, titled "Chirp-free direct modulation of 550nm emission in Er3+-Doped Fluoroindate glass by nonlinear feedback control" in Optical Materials. Cai is the first author, and Dr. Thitsa is the second author, while other co-authors include research collaborators from the Army Research Laboratory and Hampton University. Following its release, the article was one of the most downloaded articles on the Elsevier webpage.
School of Law
David Hricik, professor, gave the closing speech to the plenary session of the spring meeting of the American Intellectual Property Law Association in May in San Diego, California. He also gave a presentation in April in San Francisco, California, to the Practicing Law Institute, both on privilege and ethical issues arising in patent transactions. In addition, Bloomberg published the annual cumulative supplement to the second edition of the book Drafting Patents for Licensing and Litigation, which includes a chapter by Hricik.
School of Medicine
Dr. Jennifer L. Barkin, assistant professor of community medicine and obstetrics and gynecology, had her Barkin Index of Maternal Functioning (BIMF) licensed for an expanded clinical trial by Sage Therapeutics. The company requested translations and licenses for use of the BIMF in Spain, the Netherlands, Australia, France, Canada, South Korea, Taiwan and the United Kingdom. Dr. Barkin also co-authored a presentation that was given at the International Innovation in Psychiatry Conference (INNOPSY) May 17 in Milan, Italy.
Dr. Susan D. Cline, associate professor of biochemistry and director of the Master of Science in Preclinical Sciences Program, assumed the office of president of the Association of Biochemistry Educators (ABE) at the biennial conference in May following two years of service as president-elect of the organization. Dr. Cline has served on the ABE Board of Directors for the past four years. The ABE is an international organization of biochemistry educators from colleges and schools of medicine, pharmacy and dentistry in the U.S., Canada and the Caribbean.
Dr. Hemant Goyal, assistant professor and assistant director of the Internal Medicine Residency Program, served as principal author on "Blood urea nitrogen-to-creatinine ratio and prognosis of acute heart failure: more confounding factors should be considered," an invited editorial published in the April edition of the Journal of Laboratory and Precision Medicine.
Dr. David Gu, assistant professor of physiology, gave a presentation, titled "Activation of bitter taste receptors has distinct modulatory effects on different lung afferent signaling in rats," at the Experimental Biology 2017 annual conference April 22-26 in Chicago, Illinois. Carolyn Gilbert, research technician, and Dr. Hugh McLaurin, professor of family medicine, participated in this study.
Anna Krampl, library assistant professor and head of public services, and Carolann Curry, library assistant professor and reference and outreach librarian at the Skelton Medical Library, co-authored "Expert Searching: Strategies for Locating Resident Education Information in PubMed" in the April 2017 edition of the Medical Library Association's MLA News.
Judy Meirose, library instructor and systems and electronic resources librarian, and Carolyn Klatt, library associate professor, associate director of the Savannah library, and reference and electronic resources librarian at the Skelton Medical Library, published "Jeopardy Games: A Comparison of Three Free Resources" online on April 27 in the Journal of Electronic Resources in Medical Libraries.
Dr. J. Paul Seale, professor of family medicine and director of research, gave an invited lecture, titled "Medication Assisted Therapy for Opioid Use Disorder: Current Status and Research Needs Regarding Treatment Access/Needs, Barriers and Payer Policies," to the Division of Viral Hepatitis at the Centers for Disease Control and Prevention on May 5 in Atlanta.
Dr. Mike U. Smith, professor of medical education and director of AIDS education and research, gave an invited paper presentation, titled "'Patient Zero' and the origins of HIV," to the School of Medicine on April 20 as part of a national exhibit from the National Libraries of Medicine. He also gave that presentation on May 4 for the Science on Tap group at Georgia Southern University in Statesboro. Dr. Smith authored "How does evolution explain blindness in cavefish?" in American Biology Teacher, 79(2):95-101, and "Teaching the Hardy-Weinberg Equilibrium: A 5E Lesson Plan" in American Biology Teacher, 79(4):288-293.
Dr. Kristjan Thompson, assistant professor of gross anatomy, presented a poster, titled "Student Performance in and Perception of Gross Anatomy in Varied Curricular Material Organization in Multiple Cohorts," at the American Association of Anatomists annual meeting April 24 in Chicago. Dr. Thompson also successfully completed the American Association of Medical Colleges LEAD (Leadership Education and Development) Certificate Fellowship Program on April 21.
Dr. Wei-Hsiung Yang, associate professor of physiology, co-authored a peer-review article, titled "MicroRNA-200c and 141 are regulated by a FOXP3-KAT2B axis and associated with tumor metastasis in breast cancer," in Breast Cancer Research.
Staff and Administration
LaTanya Foster, interim assistant director of the Upward Bound Program, was promoted from her previous role as educational specialist.
Tony Kemp, senior associate director of academic and advising services, recently completed his fifth year of volunteer service as a member of the Georgia High School Musical Theatre Awards program, where he continues to serve on the advisory committee. This year's experience celebrating Georgia high school theatre students culminated in a performance at the Cobb Energy Center in April.
Scott Mahone, assistant director of regional academic center operations, was presented the Heart of Henry Award by his classmates in the Leadership Henry program. The award is given to a member of the current class who has exemplified a spirit of leadership and community focus while participating in the events and activities of the class. In addition to the award, Mahone earned a one-year seat as a voting member of the Henry County Chamber of Commerce Board of Directors.
Tift College of Education
Dr. Justus Randolph, associate professor, and Dr. Rose Prejean-Harris, a graduate of the College's Ph.D. in Curriculum and Instruction program, co-authored "The negative consequences of using percent of free and reduced lunch as a measure of poverty in schools: The case of the State of Georgia" in Child Indicators Research, 10(2), 461-471, doi:10.1007/s12187-016-9391-1.
Townsend School of Music
Amy Schwartz Moretti, director of the Robert McDuffie Center for Strings, associate professor and Caroline Paul King Chair in Strings, performed for the Bridgehampton Chamber Music Festival May 6 at Bridgehampton Presbyterian Church on Long Island in New York. Moretti presented Dvořák and Brahms string sextets with violinist Ani Kavafian, violists Tien-Hsin Cindy Wu and Che-Yen Chen, and cellists Peter Wiley and Nicholas Canellakis.