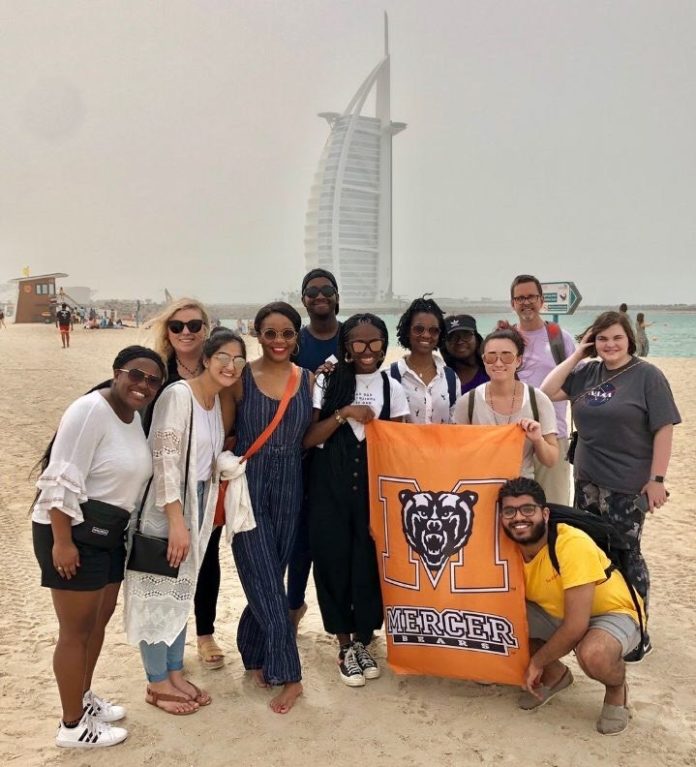 Mercer encourages students and new graduates to see the world and provides a host of opportunities for them to do so. While traveling abroad, they have their horizons expanded and their eyes opened to once unimaginable possibilities for their futures.
For some Mercerians, that exposure ignites an interest in careers related to international affairs and education. They are ready to change the world, and that global view has led alumni to jobs as U.S. diplomats, university study abroad coordinators, White House staff and more.
"Study abroad was the single thing at Mercer that affected me the most in a positive way," said Johna Wright, who graduated in 2020 with a psychology degree.
Building confidence and independence
Many alumni traveled outside the United States for the first time as Mercer students. Wright, who has a visual disability, said she never saw herself as someone who could study or volunteer abroad. So, she was anxious and hesitant when she embarked on a Mercer On Mission trip to South Africa with Mercer Service Scholars in 2018.
"Once I got there and was able to start doing my service work, it started to all fade away, and it felt like I belonged in the group," said Wright, who is now the global education programs coordinator for Mercer's Office of Global Engagement. "It was a totally new experience, new emotions, new feelings. That got the ball rolling and started my love and passion for study abroad and international education in general."
She spent the next summer in Sweden for an exchange program through the Gilman Scholarship and a semester at the University of Essex in England as a Global Leader Scholar. Following graduation, she earned her master's degree in comparative social policy and welfare at Tampere University in Finland through a Fulbright Award.
As Wright saw the world, she built up her confidence and expanded upon her advocacy work as she learned about disability laws and policies in other countries. Her experiences abroad combined her passions for disability rights and advocacy with her interests in global politics and international education. A few months after completing her master's degree, she began her position at Mercer, where she advises students on study abroad opportunities.
"Every experience I had pointed me in the direction of international education," she said. "I was so set on having a career abroad in politics that I didn't consider (a career in) education abroad as an option. I was able to put together all the pieces I really needed for a career in international education without realizing that was what I was doing.
"I'm very excited to contribute to the university that gave me so many opportunities and built me into the person I am today."
Hoor Qureshi, a 2019 graduate who double-majored in global health studies and global development studies, moved to the United States from Pakistan at age 3, but she didn't travel outside the U.S. again until she was a Mercer student. A trip back to Pakistan as a sophomore sparked her desire for more travel, and with her first global development course, she was hooked on learning more about the world through academic study.
"It all just spiraled from there," she said. "I wanted to keep traveling and doing it from the perspective of cultural immersion and experiential learning, not just tourism."
Qureshi participated in the Kakehashi exchange program in Japan, a Mercer On Mission trip to South Africa and a faculty-led spring break trip to Dubai. She was also a finalist for a Fulbright Award to South Africa.
"It's really incredible to put yourself in a different place than you're used to," Qureshi said. "It forces you to learn things like resiliency. Everywhere has sunrises and sunsets, but everywhere looks different. There's so much beauty across the world."
Following graduation, she served as a life skills educator for the Peace Corps in Botswana until March 2020, when her assignment was cut short by the pandemic.
Searching for a job back in the United States, she took a position on the online communications team for the Joe Biden presidential campaign and then Jon Ossoff's Georgia Senate runoff campaign. In January 2021, Qureshi became chief of staff for the White House's Office of Digital Strategy, which oversees presidential and White House social media accounts and whitehouse.gov.
"The ability to go with whatever is thrown at me is something I learned from all the trips I took. I like to be busy and have hands in different projects," Qureshi said. "I always want to have something where I feel like the work I'm doing matters. That is going to be a central theme (of my career)."
Teaching and learning
Like Wright and Qureshi, Bryant Harden had never traveled outside the country when he began his studies at Mercer. He was interested in American politics, but his focus shifted to international relations after a Mercer On Mission trip to South Africa.
"That program was literally a 180 in my life focus," said the 2010 political science graduate. "The day I landed (back in the U.S.), I started my application for the Peace Corps."
Harden taught English at a secondary school in Mongolia for two-and-a-half years with the Peace Corps and then earned a master's degree in international relations at the University of Warwick in England. Following a few months working on Capitol Hill, he returned to Mercer for three years as the study abroad coordinator and an instructor for INT 301: Engaging the World and Introduction to International Relations.
Inspired by his experience as a student, he developed a Mercer On Mission program to Mongolia. The first trip occurred in 2019, and the second is planned for 2023.
"Politics are ultimately about people," said Harden, who is now a Ph.D. candidate at the University of Florida and became a visiting instructor of political science at Mercer in fall 2022. "Exposing our students to other people, histories, culture, focus and locations is the point of our education."
Will Darragh also helped to create a new Mercer On Mission program. The 2020 computer science graduate said study abroad opportunities helped solidify his decision to go to Mercer, and he took advantage early on in college. He went on a spring break service trip to Puerto Rico, a spring break study abroad trip to Sicily, and a Mercer On Mission trip to South Africa with Mercer Service Scholars.
Seeing a need for computer science education for children during the South Africa trip, Darragh collaborated with computer science professor and chair Dr. Bob Allen to start a new Mercer On Mission program in Cape Town. Darragh served in a leadership role for the inaugural trip in 2019, and the second trip was hosted this past summer.
"That is so amazing to me, that something that I did at Mercer is still going on and will potentially keep going on," Darragh said. "Dr. Allen wants to do it every year if he can. They feel like it's such a good, powerful experience."
In summer 2020, Darragh was selected for a Fulbright Award to serve as an English teaching assistant in South Africa. The program was postponed in 2021 due to the COVID-19 pandemic and canceled in 2022, so Darragh was instead deployed to Botswana in January. After his 10-month assignment, he plans to apply to graduate school and work toward a Ph.D. He wants to be a professor and do international research, and his Mercer On Mission experiences helped define his focus for graduate school.
"I wanted to find something that meshed well with my desire to do something impactful in the world and work the soft skill side of computer science," he said. "With the opportunities that I had, I realized that what I really want to do is study computer science education from the perspective of underserved communities and how we can improve computer science education in those communities."
Combining interests and passions
Travel experiences while at Mercer helped pave the way for the diplomatic work that alumni like Donald Williams Jr. and Aaron Scherf are now doing.
Williams, a 2020 graduate who double-majored in international business and economics, did a month-long trip to Spain, supported by Gilman and Fund for Education Abroad scholarships, and was among 23 students who participated in the eight-day Kakehashi exchange program in Japan. He said those experiences showed him that he wanted a career that combined business, international affairs and economics and also introduced him to the role of a U.S. Foreign Service Officer.
"You have to challenge yourself in order to grow, and study abroad is a surefire way to do that," he said.
Williams was selected to participate in the six-week Charles B. Rangel International Affairs Summer Enrichment Program in Washington, D.C., in 2019. Then through the Thomas R. Pickering Foreign Affairs Fellowship, he earned a master's degree in international economic policy at George Washington University before beginning his work as a diplomat for the U.S. Foreign Service.
An economics officer, he wrapped up his first overseas assignment in Panama in September and will go to Mexico in summer 2023. He will now move to a new country every two to three years.
"The three things I enjoyed — business, international affairs and economics — this job allows me to mix it all and use all the skills I learned," Williams said. "I love it. I'm able to work on topics that really matter. The work I do is geared toward promoting peace, supporting prosperity and protecting American citizens abroad while advancing U.S. interests."
Williams' study abroad experiences at Mercer also inspired him to create an online resource called Adulting Starts Here to help young people transition from college to the adult world.
Scherf, a 2017 graduate who triple-majored in international business, finance and economics, became interested in travel and international issues as a child growing up in a multicultural household. Study abroad was one of the biggest draws to attend Mercer for Scherf, whose first trips overseas were made possible through support from the Stamps Scholarship.
Scherf spent a semester studying abroad in Sweden and participated in a Mercer On Mission trip and internship in South Africa. Following a month-long Humanity in Action Fellowship in Amsterdam after graduation, they conducted research related to the cultural integration and well-being of refugees for 10 months at Heidelberg University in Germany as a Fulbright Scholar.
"I didn't see myself as an academic at the time, but that year really helped me understand the importance of research in shaping policy and public administration," Scherf said. "Before Fulbright, I was more focused on immediate impact and social good, but working at the Centre for European Economic Research in Germany showed me the connection between scholarship and government policy."
It was Scherf's experiences at Mercer that ultimately led them to apply for the Donald M. Payne International Development Fellowship, which helped fund graduate study at University of California, Berkeley, and placed Scherf in a position as a Foreign Service Officer with the U.S. Agency for International Development (USAID) upon graduation in summer 2020.
"All the volunteering, community engagement and applied research I did at Mercer were what made me a potential candidate for the Foreign Service," Scherf said. "My travel experiences also helped me understand who I was, particularly in terms of coming out as pansexual and gender nonbinary. Embracing these aspects of my identity enabled me to use them to make a positive difference, to advocate for things like LGBTQI+ sensitive asylum policies in Germany and stronger legal protections for transgender people here in Colombia, where I work now. My community at Mercer was very welcoming and encouraging, but living abroad showed me both how extensive the LGBTQI+ community is and how we can unite to push for further legal and social protections everywhere."
After joining USAID, Scherf spent a year-and-a-half working remotely and learning Spanish. In January 2022, Scherf started their first overseas position in Colombia, where the main focus of their work is helping to integrate gender equality, anti-racism and participatory methods into USAID's development activities.
"I'm very grateful to be part of USAID and the Foreign Service. It's an amazing way to contribute to our shared global goals," Scherf said.
Do you have a story idea or viewpoint you'd like to share with The Den?
Get in touch with us by emailing
den@mercer.edu
or submitting this
online form
.