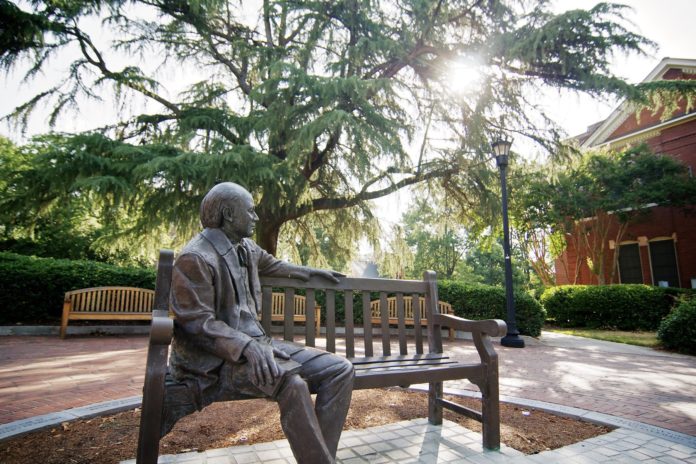 MACON – Mercer University and Mercer's Student Government Association (SGA) have launched a student design competition to help brand the University initiative to integrate research and service. The theme of the design competition is "Research that Reaches Out," and the student who submits the winning concept will be awarded a reserved parking spot on campus for the upcoming spring semester.
The winning concept will be incorporated into the logo for the "Research that Reaches Out" campaign for the University's Quality Enhancement Plan (QEP), which focuses on the integration of research and service. The QEP is a component of Mercer's process of securing reaffirmation of its accreditation through the Southern Association of Colleges and Schools Commission on Colleges. The logo will appear on promotional materials for the awareness campaign to begin in January, and will also be used through the five-year duration of the QEP.
"Research that Reaches Out" draws upon the University hallmark of putting new knowledge generated in classrooms and laboratories into practical use to solve real-world problems. Examples range from the efforts of Mercer On Mission and the School of Engineering to provide inexpensive, durable prosthetic legs to victims of land mines in Vietnam to the work of a Senior Capstone class that spurred a comprehensive revitalization plan for Macon's College Hill Corridor. With the new QEP initiative, the University aims to create more meaningful research opportunities for students across all Macon traditional undergraduate programs.
All Macon campus undergraduate students are eligible to enter the competition and may submit their designs on Facebook, Twitter or Instagram using the hashtag #MUReachesOut or by sending an email to MUReachesOut@mercer.edu from Oct. 7 to Oct. 21.
Submissions may be in the form or digital artwork as well as scanned or photographed images. These files will be shared in an album on the Mercer University Student Government Association Facebook page, where the Mercer community can vote on its favorites by liking the submissions.
The University's QEP Leadership Committee will take these votes into consideration, and will ultimately choose the winner, who will be recognized on the field at the Homecoming football game vs. The Citadel on Nov. 1.
The winner will be able to choose a parking space on campus where only the vehicle bearing the winner's permit number will be allowed to park for the spring 2015 semester. A sign indicating that the space is reserved 24/7 will be installed.
All entries submitted to the contest become property of the University to be reproduced and repackaged at the discretion of University officials. For questions related to the contest, contact MUReachesOut@mercer.edu.