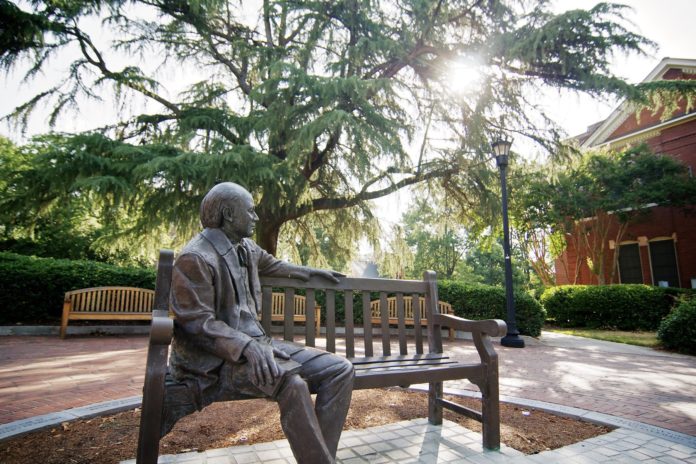 ATLANTA – Mercer University Life Trustee and longtime friend of the institution James H. Cowart died Saturday at the age of 82. His funeral will be at noon Tuesday at Mt. Pisgah United Methodist Church in Johns Creek.
A committed and generous supporter of the University since the early 1970s, Cowart served six terms as a trustee before being elected a Life Trustee in 2010.
"Jim Cowart was a quiet leader at Mercer for more than four decades," said President William D. Underwood. "He played an instrumental role in the founding of Atlanta Baptist College, which merged with Mercer in 1972. He was an early and strong supporter of Mercer On Mission, the University's global service-learning initiative. I will miss him, as will the University as a whole."
Cowart was president and owner of Jim Cowart, Inc., a Dunwoody-based land development firm. His commercial development began with assembling 91 acres on I-285 that is now known as Perimeter Center and marked the beginning of Perimeter Mall. He served on the board of the North Fulton Chamber of Commerce, the Gwinnett Chamber of Commerce, the Gwinnett Foundation, the Council for Quality Growth of Gwinnett County, and the Metropolitan Atlanta YMCA. In 1987, he received the Lewis Cenker Award from the Atlanta Home Builders Association, the highest honor given by the organization for lifelong contribution to the home building industry. He was also a Life Member of the Mercer President's Club.
Cowart is survived by his wife, Linda; four children; a step-daughter; and 20 grandchildren.
Visitation will be Monday from 2-4 p.m. and from 6-8 p.m. at the Roswell Funeral Home.