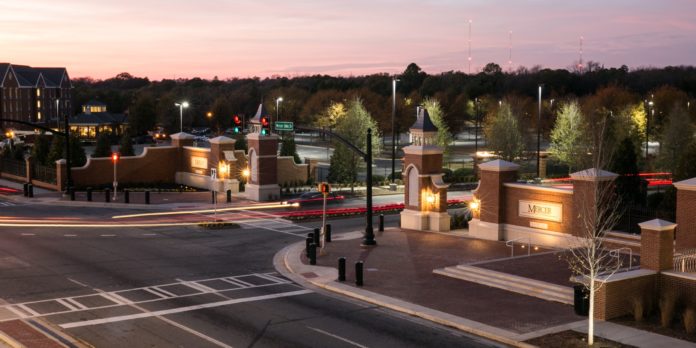 MACON – Mercer alumnae Anna Cizek and Sterling Conyers were recently awarded prestigious Fulbright U.S. Student Awards, bringing the University's overall tally of Fulbrighters to 15 since 2010. Additionally, alumna Nicola Tirpak was a semifinalist for a Fulbright Award.
"As Fulbright scholars, these students will make an immediate impact as cultural ambassadors between the United States and their host countries," said Dr. Edward Weintraut, Fulbright Program adviser and professor of foreign languages and literatures at Mercer. "This is consistent with Mercer's mission to empower students to change the world for the better."
Cizek, from Naperville, Illinois, graduated in 2017 with a triple-major in French, global health and international affairs. She will serve as a Fulbright English Teaching Assistant (ETA) in Morocco.
Cizek was a member of Mercer's softball team, earning a four-year athletic scholarship, First-Year Athletic Award and recognition as a National Fastpitch Coaches Association Division I All-America Scholar-Athlete.
She held multiple leadership positions in Mercer's French Club, was awarded Best Delegate in the American Mock World Health Organization, and represented her sorority, Alpha Gamma Delta, on the Order of Omega Executive Council.
In 2016, Cizek was selected to present her research on developments in Mali at the World Congress on Undergraduate Research in Doha, Qatar. She also participated in a traditional study abroad to Ifrane, Morocco, where she studied French, Arabic and the politics of North Africa. Additionally, she was awarded Distinguished Delegate and Vice Chair honors at Model Arab League conferences, and was selected as secretary general for the Summer Model Arab League conference in 2017.
Cizek promoted bilateral trade missions as an intern for the Québec Government Office in Chicago and worked in international education programs through Mercer On Mission trips to Greece and South Africa.
Recently, she was awarded the Findley Fellowship for being the top academic achiever at the National Council on U.S.-Arab Relations' summer internship program. At the National Council, she wrote a book chapter for the Emirates Center for Strategic Studies, discussed political developments with regional experts from around the world, and was invited to speak at the 2017 U.S.-Arab Policymakers Conference in Washington, D.C.
After graduating cum laude with international affairs, Pi Sigma Alpha and Phi Beta Kappa honors, Cizek accepted a teaching position in France through the French Ministry of Education's TAPIF program.
She spends her free time traveling and publishing articles for the geopolitical risk consulting firm Gulf State Analytics. She plans to defer her admission to the Middlebury Institute of International Studies' Master of Arts in International Education Management until 2019 and eventually pursue a career in the foreign service.
"It is a great honor to be selected as a Fulbright Scholar to promote cultural exchange in a country with such rich history, hospitable people and delicious tagine," said Cizek. "I must thank all of those who have mentored and encouraged me along the way. I hope that this experience enables me to further improve my French and Arabic language skills, while achieving a better understanding of Moroccan Islamic culture."
Conyers, from Fayetteville, earned her Bachelor of Arts degree earlier this month with majors in international affairs and Spanish and minors in Asian studies and global health. She will serve as a Fulbright ETA in Taiwan.
Conyers has participated in multiple study abroad programs, including an intensive language immersion program at Nanjing University in China, a semester study abroad at Université Al Akhawayn in Morocco, and an internship as a journalist with Cape Community Newspapers in Cape Town, South Africa.
She served as historian on the executive board for Mercer's chapter of Amnesty International. She was inducted into Phi Sigma Iota international foreign language honor society and was a study abroad ambassador and peer tutor at the Academic Resource Center.
She plans to pursue master's degrees in Asian and European affairs.
"I cannot quite articulate how thrilled I am to have received this opportunity to represent the United States as an ETA in Taiwan," said Conyers. "I plan to facilitate cross-cultural exchange through English teaching, improve my Mandarin Chinese capabilities, and above all, learn and absorb everything I can in order to better understand and appreciate my fellow man."
Tirpak, from Mount Pleasant, South Carolina, also earned her Bachelor of Arts degree earlier this month with majors in math and Spanish. She plans to attend Winthrop University to pursue a master's degree in teaching for secondary mathematics.
Tirpak held membership in Mercer's Zeta of Georgia Chapter of The Phi Beta Kappa Society and Alpha Delta Pi sorority, and was former president of the Mercer Maniacs. She participated on the University's women's track and field team for three years and received a Presidential Scholarship.
The Fulbright Program is the flagship international educational exchange program sponsored by the U.S. government and is designed to build relations between the people of the United States and the people of other countries that are needed to solve global challenges. The program is funded through an annual appropriation made by the U.S. Congress to the U.S. Department of State. Participating governments and host institutions, corporations and foundations around the world also provide direct and indirect support to the program, which operates in more than 160 countries worldwide.
The program was established in 1946 under legislation introduced by U.S. Senator J. William Fulbright of Arkansas. Since then, it has given more than 380,000 students, scholars, teachers, artists and scientists the opportunity to study, teach and conduct research, exchange ideas and contribute to finding solutions to shared international concerns.
Fulbright alumni have achieved distinction in many fields, including 59 Nobel Prize winners, 82 Pulitzer Prize winners, 71 MacArthur Fellows, 16 Presidential Medal of Freedom recipients and thousands of leaders across the private, public and non-profit sectors.
For more information on the Fulbright Program or the U.S. Department of State, visit eca.state.gov/fulbright.