Mercer University students are playing a major role in administering COVID-19 vaccines to the Atlanta community.
For the past two Saturdays, March 6 and 13, students in the physician assistant program in the College of Health Professions gave a combined 2,000 vaccinations at the mass vaccination site located at Mercedes-Benz Stadium.
Students are scheduled to serve March 20, as well, and could help even more in the future.
"Being part of the vaccination site was like being part of something that's bigger than yourself," said Sara Kaplan, a second-year student in the physician assistant program. "Every shot that goes in an arm is hopefully one less person that ends up in the hospital. …
"This disease has really torn the fabric of America, and it's just really, really powerful to be part of the process that is helping end this pandemic."
As of March 15, Georgia had administered nearly 2.8 million doses of the COVID-19 vaccine, with about 16% of the population receiving at least one dose, according to the Centers for Disease Control and Prevention's COVID Data Tracker.
Many students have wanted to help since the beginning of the pandemic but were unable to do so, said Arlene Salmon, a clinical assistant professor in the Department of Physician Assistant Studies.
"They were just in a unique position because they were getting all this medical training, but there wasn't an opportunity because they weren't fully qualified," she said.
Then, when the vaccines came out, they were "uniquely positioned" to be able to administer them, said Salmon.
The students already knew how to give intramuscular injections, which is required for the three COVID-19 vaccines available in the U.S., as it was a core lab skill that they learned during their first year in the physician assistant program.
Salmon reached out to Fulton County officials to see if they could help. In addition to giving shots at the mass vaccination site, plans are in the works for students to go out in mobile units to vaccinate underserved populations.
"Our program is very service-oriented, and we felt a little bit like a fish out of water when we weren't able to go out there and help with the pandemic," said Dr. Jill Mattingly, chair and clinical associate professor in the Department of Physician Assistant Studies. "We supported from behind the scenes, but now with this, the students feel empowered to be part of the effort across the country."
Students jumped at the chance to help, quickly filling the 20 volunteer slots available each Saturday at the mass vaccination site. They work 8 a.m.-4 p.m. at tables of two set up in the concessions area of Mercedes-Benz stadium.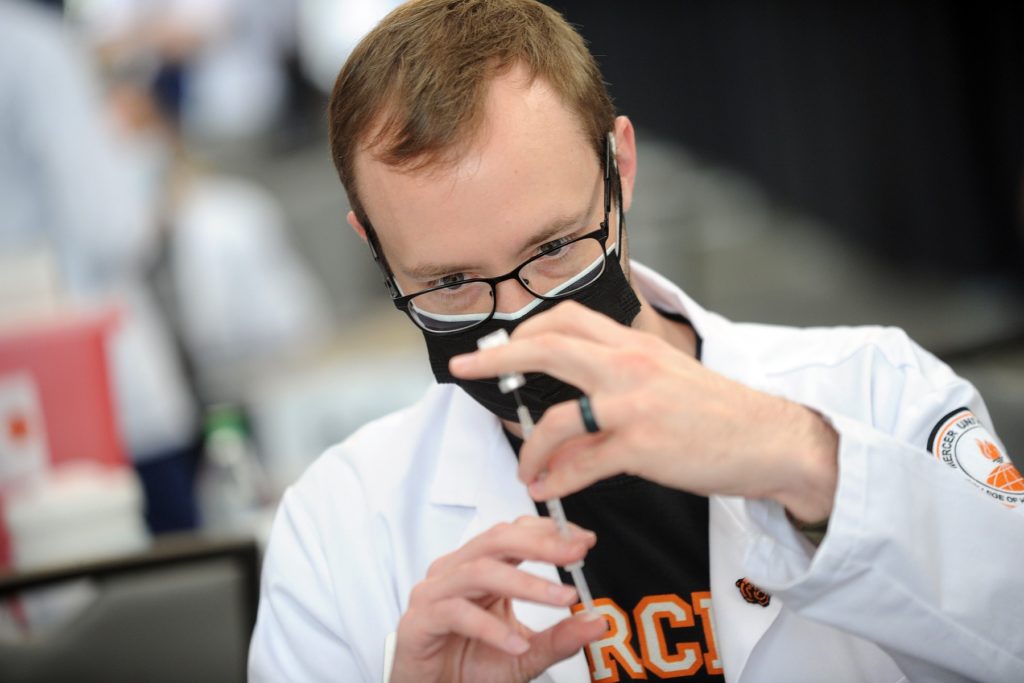 "It's just a stream of people coming in, and it's really like one after another after another," Kaplan said.
Not only do students give the shots, but they also prepare the vaccine for injection. This involves bringing the main portion of the vaccine from frozen to room temperature, reconstituting it with a diluent and drawing single doses of the vaccine out of the vial, said Tyler Fredlund, a second-year student who helped with the process.
"It just feels really rewarding to be able to know that the vaccine that you're giving these people is really going to make a big difference," he said.
The students have met all sorts of people at the site — from the grandfather eager to see his grandchildren for the first time in a year to the hesitant woman whose daughter made her come.
"I've given so many shots, but I've never given a shot that made me feel like I was actually, really changing lives," Kaplan said.
Do you have a story idea or viewpoint you'd like to share with The Den?
Get in touch with us by emailing
den@mercer.edu
or submitting this
online form
.