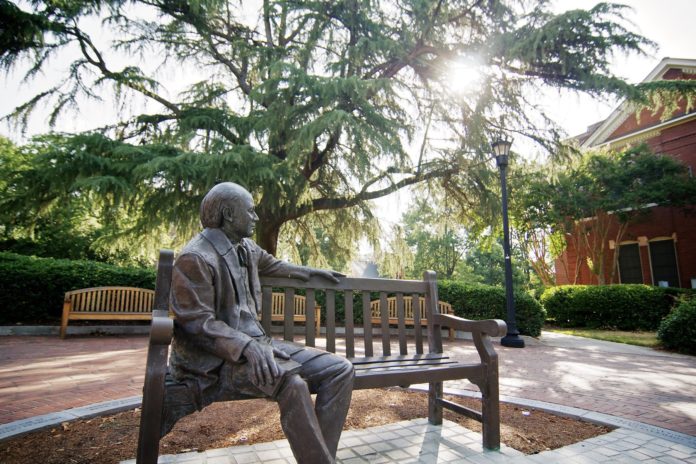 ATLANTA/MACON – The website Online Accounting Degree Programs recently ranked Mercer University No. 4 on its list of 30 Great Small College Business Degree Programs for 2015.
Mercer's Eugene W. Stetson School of Business and Economics, established in 1984, provides career-focused business education to develop entrepreneurial leaders and responsible global citizens on the University's campuses in Macon and Atlanta, Regional Academic Centers in Douglas and Henry counties and online.
Online Accounting Degree Programs devised its ranking of top small college business degree programs based on criteria such as organization, student opportunities, awards and recognition, and variety of business-related majors.
Business schools considered for the list must have an undergraduate population of less than 4,000 students.
"It is gratifying to see a ranking of business schools based on the quality of the student experience. Mercer University provides so many opportunities for its students, while preserving its 'small college' intimacy and flexibility," said Dr. Susan P. Gilbert, dean of the Stetson School of Business and Economics.
The website's profile of Mercer reads, "(T)he Stetson School of Business and Economics offers more than 10 business-related majors, as well as the unique opportunity to tailor a major to meet one's own personal goals. Business students also have a variety of impressive internship and study abroad opportunities to prepare themselves for careers in the real world."
The profile goes on to laud school initiatives and programs such as the BB&T Center for Undergraduate Research in Public Policy and Capitalism, the Center for Executive Education and the Executive Forum.
To view the full list of the website's 30 Great Small College Business Degree Programs for 2015, click here.
About the Eugene W. Stetson School of Business and Economics
Established in 1984, Mercer University's Eugene W. Stetson School of Business and Economics is named for Eugene W. Stetson, a 1901 Mercer graduate and business pioneer who leveraged the first major buyout in corporate history. Over the past 80 years, Mercer has granted over 12,000 business degrees, and many of its graduates hold senior leadership positions in companies around the world. Mercer's business school delivers career-focused business education programs and develops entrepreneurial leaders and responsible global citizens. It holds accreditation from the prestigious Association to Advance Collegiate Schools of Business (AACSB), which places it among the top five percent of all top business schools worldwide. Mercer's business school has been recognized by the Princeton Review for "Greatest Opportunity for Minority Students" and "Greatest Opportunity for Women" as well as being one of its "Best Business Schools." In addition, it has been recognized among the "Top 15 Schools in the Nation for Marketing and Accounting." The School offers the following programs: Atlanta (Evening BBA, Full-Time (One-Year) MBA, Evening MBA, Executive MBA, Professional MBA, Master of Accountancy, M.S. in Business Analytics), Macon (Traditional BBA and Evening MBA), Douglas County and Henry County (Evening BBA). www.mercer.edu/business