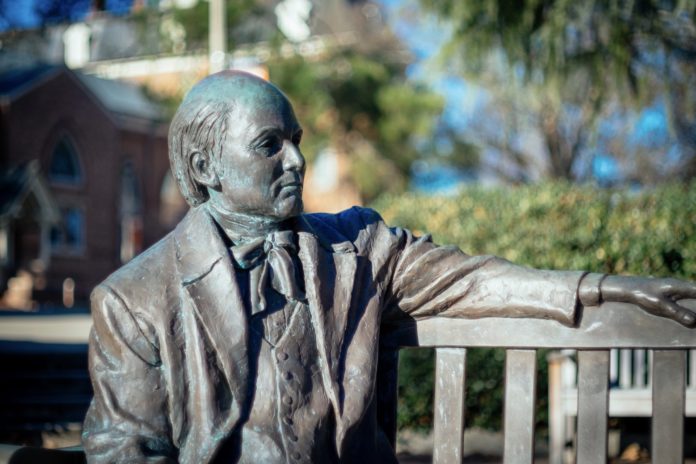 College of Liberal Arts
Dr. Gordon Johnston,
professor of English and director of the creative writing major, had his poems "Durable Goods," "Sweep" and "Ash Monday" accepted for publication in the fall issue of Southern Poetry Review.
Dr. Randall D. Peters, professor emeritus, gave a seminar at Auburn University's Samuel Ginn College of Engineering on Aug. 23 to the departments of electrical and computer engineering and mechanical engineering. The title of his presentation was "Power Spectral Densities (PSD) calculated with the Fast Fourier Transform (FFT)."
Dr. Caryn Seney, professor of chemistry, mentored two students who wrote and presented their research at the National American Chemical Society Meeting in San Diego, Calif., March 26-28. Lara E. Smith, a biochemistry and molecular biology major, and Andrew C. Weems, an undergraduate engineering student, presented "The Determination of Binding Properties of Protein/Au Conjugates using Calorimetry" and "The Investigation of Stability in Ag Nanoparticle Solutions using Zeta-Sizer Measurements."
Dr. Anya Silver, associate professor of English, had two poems, "The Overcoat" and "The Firebird," published in Crazyhorse (Number 81. Spring 2012. P. 134-135).
Dr. Bridget Trogden, associate professor and director of INT 101 Program, was selected to participate in The Transylvania Seminar on 21st Century Liberal Education in July 2012.
College of Pharmacy and Health Sciences
Dr. Michell B. Butler, clinical assistant professor, co-authored the "Report of the 2011-2012 AACP Professional Affairs Committee: Addressing the teaching excellence of volunteer pharmacy preceptors," in American Journal of Pharmaceutical Education 2012; 76(6):S4.
Dr. W. Klugh Kennedy, clinical associate professor, published "When and how to use long acting antipsychotics" in Current Psychiatry 2012; 11(8):40-43.
Dr. Chad M. VanDenBerg, clinical associate professor, published "The transdermal delivery system of monoamine oxidase inhibitors" in the Journal of Clinical Psychiatry 2012; 73(1):25-30. Dr. VanDenBerg also co-authored "Discussion: A fresh look at monoamine oxidase inhibitors for depression" in the Journal of Clinical Psychiatry 2012; 73(1):42-45. Dr. VanDenBerg, completed his recertification as a Board Certified Psychiatric Pharmacist.
Eugene W. Stetson School of Business and Economics
Jody Blanke, professor of computer information systems and the law, was a panelist in a session, titled "Privacy Law & Technology: Cutting Edge Issues," at the annual conference of the Academy of Legal Studies in Business in Kansas City, Kan. Blanke also presented a paper about the balance between and among the First Amendment, copyright law and the rights of publicity, titled "The 'Transformative Test' and the Right of Publicity: No Doubt About It – You've Got to Have Hart."
Georgia Baptist College of Nursing

Fran Kamp, clinical associate professor and coordinator of the Learning Resource Center, was the first author and presenter for a pre-conference workshop, titled "Boots, Chaps, and Cowboy Hats…Making Simulation Real," at the 11th Annual International Nursing Simulation /Learning Resource Centers Conference held in San Antonio, Texas, on June 20. Kamp was also part of the conference planning committee, abstract reviewer and chair of the conference scholarship committee.
Dr. Tanya Sudia-Robinson, professor, gave a podium presentation, titled "Expanding Ethical Insight and Skill Development among Nursing Students, Faculty, and Practicing Nurses," at the 23rd International Nursing Research Congress: Creating a Legacy Through Nursing Research, Innovation, and Global Collaboration held July 30-Aug. 3 in Brisbane, Australia. Dr. Sudia-Robinson is also lead investigator, with co-investigators Dr. Laura P. Kimble and Dr. Susan S. Gunby on "Ethical Insight and Skill Development among Nursing Students: Pilot Project for Instrument Development," which received $3,050 from the Mercer SEED Grant program.
School of Engineering
Dr. Behnam Kamali, professor of electrical and computer engineering, had his joint article, titled "Application of Multihop Relay for Performance Enhancement of AeroMACS Networks," published as a NASA technical memorandum "NASA/TM-2012-217658" in August. This document, which was reviewed by NASA technical management, is now posted on NASA publications website as a one of the "scientific and technical findings that are preliminary or of specialized interest."
School of Medicine

Dr. Paul Gallant, associate professor, co-presented with Dr. Maureen Duffy at a one-day workshop at the 2012 Annual Conference of the Florida Association for Marriage and Family Therapy at the Wyndham Lake Buena Vista, Orlando, Fla., on June 22. The title of the workshop was "Narrative Therapy with Couples: Integrating Ideas from Interpersonal Neurobiology and Narrative Therapy while Addressing High Conflict in the Room."
Dr. Melton Strozier, chair of the Department of Psychiatry and Behavioral Sciences, has been accepted as a member in the Association of State and Provincial Psychology Boards. ASPPB is an organization that consists of psychologists who are licensing board members throughout the United States and Canada. ASPPB facilitates the standardization of licensure standards among the regional licensure boards.
Tift College of Education
Theodorea Regina Berry, assistant professor, presented a research paper, titled "Auto-Ethnography, Critical Race Feminism, and Reconceptualist Notions of Curriculum Theory: Revolutionary Inquiry," at the annual conference of the Curriculum Studies Summer Collaborative held in Savannah in June.
Dr. Martha Lee Child, assistant professor of education at the Newnan Regional Academic Center, was invited to conduct pre-service learning workshops for Community Action for Improvement Head Start and Early Head Start. Instructors and workers from 12 Head Start/Early Head Start Centers attended the pre-service workshops that were held at LaGrange Callaway Conference Center on Aug. 3. The Head Start/Early Head Start centers are located in Carroll, Coweta, Harris, Heard, Meriwether and Troup counties and in the city of Carrollton. Dr. Child's workshop, titled "Storytelling and Read aloud Techniques and Props," focused on interactive play and early literacy activities, highlighting what she referred to as "old fashioned storytelling read aloud gimmicks." Dr. Child emphasized to the participants how early literacy is the key to success.
Townsend School of Music

Amy Schwartz Moretti, associate professor and director of the Robert McDuffie Center for Strings, and Caroline Paul King, chair of violin, served as guest artists and as education coordinator at the Rome Chamber Music Festival held at Pallazo Barberini Salone Pietro da Cortona, Italy, performing works by Beethoven, Piazzolla, Chausson, Prokofiev and Schubert June 5-14. Participating Mercer faculty from the McDuffie Center were: Robert McDuffie, Jennings Distinguished University Professor; Julie Albers, Yates Cello Chair; Lawrence Dutton, distinguished artist; and Elizabeth Pridgen, Fabian Chair of Music and Piano Chair. Albers and Moretti again collaborated at Chamberfest Cleveland, performing octet pieces of Mendelssohn and Shostakovich, as well as Mozart's Clarinet Quartet with Cleveland Orchestra principal clarinet Franklin Cohen. Performances at Chamberfest were at four different venues including Mixon Hall, Cleveland Institute of Music, held June 27- July 1. In addition, Moretti was guest artist at the Summer Festival of the Seattle Chamber Music Society at Benaroya Hall in Seattle, Wash., July 12-29. She premiered Adam Neiman's String Quartet performing with Augustin Hadelich, Richard O'Neill and Ronald Thomas, and a new work commissioned by the festival: Gary Kulesha's "Piano Quartet," appearing with Orion Weiss, Marcus Thompson, and Seattle Symphony new principal cellist Efe Baltacigil. She also performed works by Dvorák, Mozart, Ravel, Schubert, Tchaikovsky and Rachmaninov.
University Libraries
Laura M. Botts, head of special collections, moderated "Finding Missionary Voices: Capturing the Stories of SBC Foreign Missionaries," at the 2012 meeting of the Association of Librarians and Archivists at Baptist Institutions, held in Wake Forest, N.C., June 5-7. Botts was also elected vice president/president-elect for the organization.
Hannah Rogers, public services librarian and liaison to the College of Pharmacy and Health Sciences, was a presenter at the American Association of Colleges of Pharmacy Annual Conference on July 15. As a participant in the Libraries/Educational Resources Section: Lightning Librarians session, she presented a paper titled "The Non-Clinical Embedded Librarian."
Walter F. George School of Law

David Ritchie, professor, gave a lecture, titled "Blowback: Sisyphus Meets Modern American Law Students," as part of a panel on Globalization Across the Law School Curriculum at the 2012 Southeast Association of Law Schools (SEALS) conference in Amelia Island, Fla., in June. While at the conference, Ritchie also participated in roundtable discussions on "Pursuing Academic and Scholarly Opportunities Abroad" and "SEALS Global Outreach Initiatives." Ritchie has joined the board of directors of the Office of Evaluation and Investigation, a funding organ at the Pontifical University of Peru.