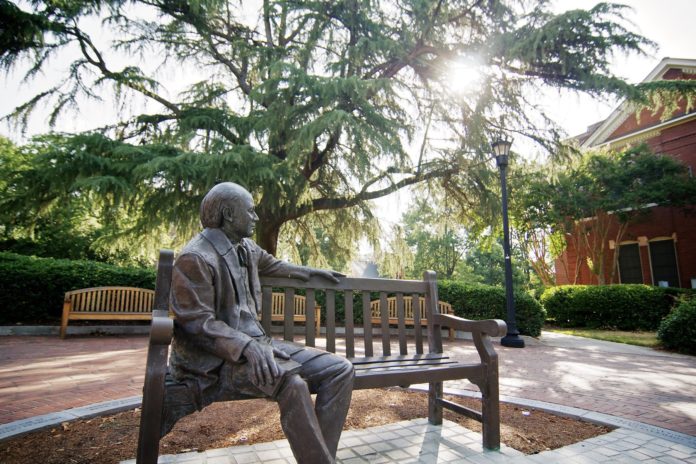 MACON – Michael Thurmond, former Georgia commissioner of labor and 2010 Democratic nominee for United States Senate, will speak at Mercer University on Wednesday at 7 p.m. in the Presidents Dining Room of the University Center. The speech is the keynote event of the 2012 Leadership MU Conference, sponsored by Mercer's Office of Campus Life and Division of Student Affairs.
Today, at noon, there will also be a panel discussion on leadership in Connell Student Center Conference Room 1. The panel includes Macon Mayor Robert Reichert, Macon City Council members Nancy White, Virgil Watkins and Larry Schlesinger, Bibb County Democratic Party Chair Danny Glover and Macon Judicial Circuit District Attorney Greg Winters.
The conference provides students with information and practical applications of leadership within the community and society as a whole. The conference began on Monday with a leadership fair.
About Mercer University
Founded in 1833, Mercer University is a dynamic and comprehensive center of undergraduate, graduate and professional education. The University enrolls more than 8,200 students in 11 schools and colleges – liberal arts, law, pharmacy, medicine, business, engineering, education, theology, music, nursing and continuing and professional studies – on major campuses in Macon, Atlanta and Savannah and at four regional academic centers across the state. Mercer is affiliated with two teaching hospitals — Memorial University Medical Center in Savannah and the Medical Center of Central Georgia in Macon, and has educational partnerships with Warner Robins Air Logistics Center in Warner Robins and Piedmont Healthcare in Atlanta. The University operates an academic press and a performing arts center in Macon and an engineering research center in Warner Robins. Mercer is the only private university in Georgia to field an NCAA Division I athletic program. For more information, visit www.mercer.edu.
— 30 —