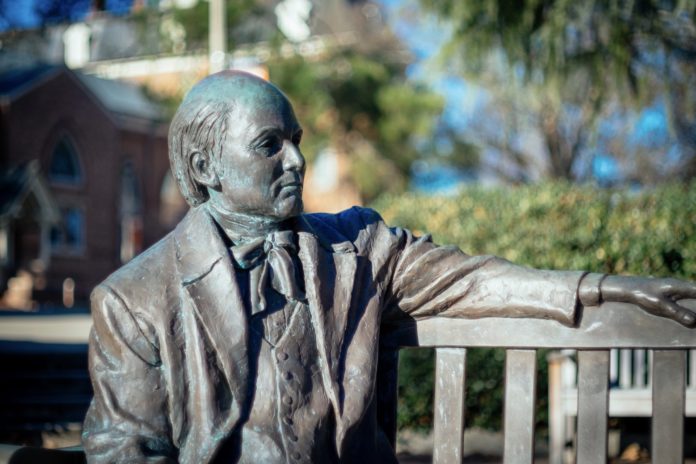 MACON, Ga. – Dr. Jacob Warren, director of the Center for Rural Health and Health Disparities in the School of Medicine, has been awarded a $1.3 million contract focused on research, training, and community engagement surrounding rural health disparity issues. The funds are part of a National Institutes of Health (NIH) Center of Excellence grant for which Dr. Warren serves as joint principal investigator, and result from a partnership between Mercer's Center for Rural Health and Health Disparities and Georgia Southern University's Rural Health Research Institute.
The contract supports several initiatives, primary among them the development of Project EDUCATE, a telehealth intervention designed to provide chronic disease self-management skills to patients with diabetes and/or hypertension who live in rural areas. EDUCATE will be developed in partnership with Georgia Southern University and East Georgia Healthcare Center, a network of federally-qualified health centers providing care to the uninsured and under-served residents of a seven-county rural region of Southeast Georgia. Phase One of the project will develop the new telehealth-based intervention, and Phase Two will test its effectiveness.
As part of the contract, Dr. Warren will also co-lead community capacity building initiatives in four rural Georgia counties designed to empower the counties to study and address the most pressing health concerns in their communities. He will also co-lead implementation of rural health-focused training initiatives for undergraduate students, graduate students and new faculty members designed to increase the number of researchers focused on rural health disparity issues.
Dr. Warren joined the faculty in August as the Rufus Harris Endowed Chair in Rural Health and Health Disparities and the director of the Center for Rural Health and Health Disparities in the Department of Community Medicine.
About the Mercer University School of Medicine (Macon, Savannah and Columbus):
Mercer University's School of Medicine was established in 1982 to educate physicians and health professionals to meet the primary care and health care needs of rural and medically underserved areas of Georgia. Today, more than 60 percent of graduates currently practice in the state of Georgia, and of those, more than 80 percent are practicing in rural or medically underserved areas of Georgia. Mercer medical students benefit from a problem-based medical education program that provides early patient care experiences. Such an academic environment fosters the early development of clinical problem-solving and instills in each student an awareness of the place of the basic medical sciences in medical practice. The School opened a full four-year campus in Savannah in 2008 at Memorial University Medical Center. In 2012, the School began offering clinical education for third- and fourth-year medical students in Columbus. Following their second year, students participate in core clinical clerkships at the School's primary teaching hospitals: The Medical Center of Central Georgia in Macon; Memorial University Medical Center in Savannah; and The Medical Center and St. Francis Hospital in Columbus. The School also offers master's degrees in family therapy, preclinical sciences and biomedical sciences and a Ph.D. in clinical medical psychology.
About Mercer University
Founded in 1833, Mercer University is a dynamic and comprehensive center of undergraduate, graduate and professional education. The University enrolls more than 8,300 students in 12 schools and colleges – liberal arts, law, pharmacy, medicine, business, engineering, education, theology, music, nursing, health professions, and continuing and professional studies – on campuses in Macon, Atlanta and Savannah – and four regional academic centers across the state. The Mercer Health Sciences Center, launched July 1, 2012, includes the University's medical, nursing, health sciences and pharmacy schools. Mercer is affiliated with four teaching hospitals – Memorial University Medical Center in Savannah, the Medical Center of Central Georgia in Macon, and The Medical Center and St. Francis Hospital in Columbus. The University also has educational partnerships with Warner Robins Air Logistics Center in Warner Robins and Piedmont Healthcare in Atlanta. It operates an academic press and a performing arts center in Macon and an engineering research center in Warner Robins. Mercer is the only private university in Georgia to field an NCAA Division I athletic program. www.mercer.edu