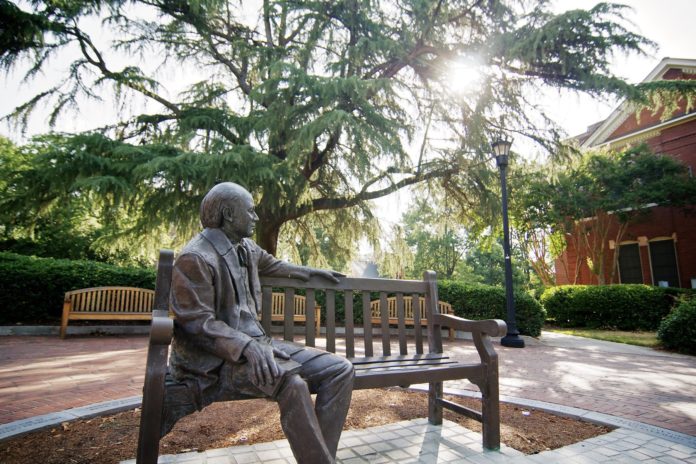 MACON – Mercer University's debate team recently received a bid to the National Parliamentary Tournament of Excellence (NPTE), March 19-22, at William Jewell College in Missouri.
The team will be the first from Mercer to compete in the NPTE, as well as the first from any institution in the state of Georgia to compete in the tournament.
The single most prestigious and competitive parliamentary debate tournament in the nation, the NPTE is limited to the top 64 teams in the United States. In order to earn a bid, a team must accumulate 18 points over the course of the season. One-quarter of a point is earned for winning a single round in a tournament, while one point is earned for winning the final round of a tournament.
For the second straight year, Mercer is ranked among the top 50 teams in the nation for parliamentary-style debate, which is an extemporaneous, generally policy-oriented form of two-person debate that values audience adaptation.
Mercer currently outranks more than 90 percent of the 663 parliamentary debate teams in the country, including all other teams in Georgia.
Only two students from each institution are allowed to represent their team at NPTE. Two senior team members, Hunter Pilkinton and Lindsey Hancock, will compete for Mercer. Additional team members who helped the team to the national tournament include senior Caleb Maier, junior Gabriel Ramirez and freshmen Jazmine Buckley and Kyle Bligen.
In order to qualify for the national tournament, Mercer had to reach the elimination rounds of the ninth annual Mile High Swing, the nation's largest parliamentary debate invitational, hosted by The University of Utah, Jan. 9-11. Thanks in part to an impassioned personal narrative by Hancock, Mercer advanced beyond the preliminary rounds, and the senior was rated the 17th best speaker out of 160 competitors.
Director of Debate Dr. Vasile Stănescu, who also serves as visiting assistant professor in the Department of Communication Studies and Theatre Arts, credits Mercer faculty across many academic disciplines for the success of the team.
"Our team brings expertise not only in English and creative writing, but philosophy, psychology, political science, education, French and even engineering," said Dr. Stănescu.
"Debate is a competitive academic activity based on the students' preexisting knowledge and their ability to think quickly and effectively with this knowledge. In every single round, we were almost impossibly outweighed in terms of coaches, experience and funding; the only aspect that helped to even the odds was the education – and ethical standards – that our faculty have instilled into everyone on the team."
Dr. Stănescu also credits Dr. Lake Lambert, dean of the College of Liberal Arts, for his support of debate at Mercer, as well as Dr. Kevin Cummings, associate professor and chair of the Department of Communication Studies and Theatre Arts, for his mentorship of Dr. Stănescu in his new role as director of debate.