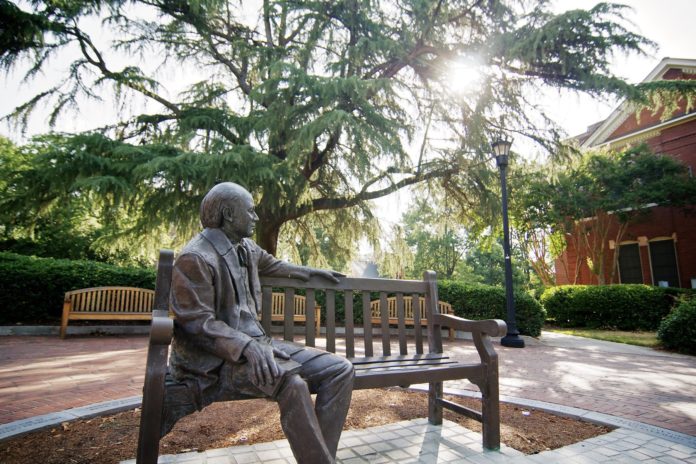 College of Continuing and Professional Studies

Dr. Caroline M. Brackette, assistant professor of counseling, completed the United Way V.I.P training, which is a 10-month non-profit Board of Directors leadership training. She served as a conference program proposal reviewer for the 2014 American Counseling Association Annual Conference. She also participated as a subject matter expert and test item author for an international counseling exam for Prometrics, a subsidiary of the Educational Testing Services (ETS). Dr. Brackette was also invited to present at the Natural Resources and the Environment National Conference on Diversity in Blacksburg, Va. Her presentation was titled "Increasing Multicultural Competence for NRE Professionals." Dr. Brackette served as the Metro Atlanta Red Cross Disaster Mental Health Counselor Officer on Call May 12-19.
Dr. Kevin Freeman, assistant professor of counseling and substance abuse training coordinator, presented on "The Ethical and Clinical Supervision Considerations for In-Home and Community Based Counseling" at the Licensed Professional Counselors Association's 25th Annual Convention and Regional Conference on June 25 in Savannah with counselor education and supervision Ph.D. student Megan Boyd. Dr. Freeman also completed part one of the certification requirements for Eye Movement Desensitization Reprocessing (EMDR) training June 7-9.
Dr. Kenyon Knapp, assistant dean for graduate programs and associate professor of counseling, presented a poster on "Suicide in Older White Men: Assistance, Understanding, and Prevention" at the American Association of Christian Counselors World Conference in Nashville, Tenn., on Sept. 13. Dr. Knapp also presented on "Helping Children with Grief and Loss" to the administration and staff of Dominion Classical Christian Academy in Lawrenceville, Ga. He presented "Cyber Infidelity: How, Why & Prevention" with Ph.D. student Mayi Dixon at the International Better Marriages conference in Raleigh, N.C. Dr. Knapp presented "Little Foxes in the Vineyard" at the International Association for Certified Sexual Addiction Specialists (IACSAS) conference in Nashville, Tenn., and served as the Track Coordinator for the Sex Therapy/Healthy Sexuality track on May 10.
Dr. David Lane, professor of counseling and human sciences, was appointed to the Board of Directors of the Licensed Professional Counselors Association of Georgia. Dr. Lane will serve as membership chair and editor of the Georgia Journal of Professional Counseling. He and
Dr. Donna Lane, adjunct professor of counseling and human sciences, presented "Grief, Loss, Attachment, and Faith" at the American Association for Christian Counselors (AACC) World Conference in Nashville, Tenn. on Sept. 14.
Dr. Suneetha B. Manyam, associate professor of counseling and human sciences, was appointed to the Board of Directors of the Licensed Professional Counselors Association of Georgia (LPCAGA). Dr. Manyam will serve as professional development co-chair. Dr. Manyam's manuscript, "Marital Adjustment Trend in Asian Indian Families," was accepted for publication in the Journal of Couples and Relationship Therapy on Sept. 22. She is the first author for the peer-reviewed article that will be published in the next issue of the Journal.
Dr. Richard H. Martin, associate professor of public safety, published "A comparison of police chief essential police candidate attributes in Georgia, Alabama, and South Carolina" in Law Enforcement Executive Forum.
Dr. Michael Roty, associate professor of mathematics, served as a reviewer for "Statistics The Art and Science of Learning from Data, Third Edition" by Agresti & Franklin, Pearson, 2013.
Dr. Lynn Tankersley, associate professor of criminal justice in the Department of Leadership Studies, presented a general interest session on the pathway from career academies to Mercer University's Working Adult Programs at the 2013 Georgia Association for Career and Technical Education Summer Leadership Conference in Atlanta from July 10-13.
Dr. Kevin B. Williams, assistant professor of health care leadership in the Department of Leadership Studies, was selected as a recipient of the 2013 Center for Disability Access and Resources (CeDAR) Trailblazer Award. He will be presented the award at the fourth annual CeDAR Honors Program on Oct. 23 at 6 p.m. at Florida A&M University in Tallahassee, Fla. Dr. Williams will also present part of his research from his dissertation study, titled "A Study of Self Determination Skills of Students with Learning Disabilities at Selected Historical Black Colleges and Universities," at a lunch-and-learn before the Honors Program on Oct. 23.
College of Health Professions

Dr. Ann Lucado, assistant professor, was appointed as vice research division director for the National American Society of Hand Therapists by the Board of Directors for 2014-2017.
College of Liberal Arts

Dr. Jamie Cockfield, Willis Borders Glover Professor of History, will appear in a French documentary about Eugene Bullard, America's first black military aviator. Dr. Cockfield's article, titled "General Aleksei A. Brusilov and the Great Retreat, May-November 1915," will appear in the December issue of The Journal of Slavic Military History.
Craig Coleman, associate professor of art, was included in "GLUE," an international survey exhibition exploring contemporary trends in the art of collage. The show featured 21 leading artists and academics from Europe, Asia and America, and was on display April 11-May 4 at the Down Arts Center, Downpatrick, Northern Ireland. Coleman also exhibited artwork in "Behind the Minds," at the 567 Center for Renewal, which featured work by art faculty from around Middle Georgia, including Georgia College, Georgia Military College, Mercer and Middle Georgia State College. The exhibit was on display from June 7-June 30.
Dr. David A. Davis, assistant professor of English, presented a paper, titled "God's Little Acre and Poor White Spectacle," at the Southern Studies Forum in Szczecin, Poland, from Sept. 12-14.
Dr. John Marson Dunaway, professor of French and interdisciplinary studies, published an essay, titled "The Majesty of Intersubjectivity: Maritain and Marcel contra Cartesian Subjectivity," in Distinctions of Being: Philosophical Approaches to Reality, edited by Nikolaj Zunic (Washington, D.C.: American Maritain Association, 2013), 145-156.
Dr. Gordon Johnston, professor and director of the creative writing major and minor in the English Department, had four poems published in the May issue of Southern Poetry Review. Another poem, titled "Oil," was published in the September issue of The Mulberry Quarterly. Dr. Johnston also taught a four-week study on the short stories of Flannery O'Connor, "Flannery O'Connor and Faith," at Mulberry Street United Methodist Church in June. He organized Macon Poets Out Loud, a celebration of the anthology "Writing on Napkins at the Sunshine Club" (Mercer University Press), which featured five local poets performing their work at Theatre Macon on April 16. Dr. Johnston also organized and hosted a memorial celebration of the life and work of Dr. Ferrol A. Sams Jr. on April 30.
Dr. Charlotte Thomas, professor of philosophy, served as discussion leader for "Finance, Democracy, and Empire in Classical Athens," a colloquium sponsored by Liberty Fund in Tucson, Ariz., from Sept. 12-15.
Dr. Douglas Thompson, associate professor of Southern Studies accepted a position as co-editor of the Journal of Southern Religion. The JSR is the first scholarly journal devoted to the study of religion in the American South. The journal is fully peer-reviewed, reflecting the best traditions of critical scholarship. It is an open-access publication, published free of cost in its entirety at
www.jsr.fsu.edu.
Dr. Bryan J. Whitfield, associate professor of Christianity, published a book, titled "Joshua Traditions and the Argument of Hebrews 3 and 4" (Berlin: De Gruyter, 2013), in the series Beihefte zur Zeitschrift für die Neutestamentliche Wissenschaft und die Kunde der Älteren Kirche, one of the oldest and most highly regarded international scholarly book series in the field of New Testament studies.
College of Pharmacy

Dr. Ashish A. Advani, clinical assistant professor, was appointed to the 2013-2014 Georgia Pharmacy Association Public Affairs Standing Committee.
Dr. Ajay K. Banga, professor, co-authored "A novel electronic skin patch for delivery and pharmacokinetic evaluation of donepezil following transdermal iontophoresis" in International Journal of Pharmaceutics, 2013;453(2):395-399. Dr. Banga, Gaurav Bhatia, Ph.D. student, and Yingcong Zhou, Ph.D. student, co-authored "Adapalene microemulsion for transfollicular drug delivery" in the Journal of Pharmaceutical Sciences, 2013;102(8):2622-2631.
Dr. Michell B. Butler, clinical assistant professor, received certification in comprehensive motivational interviewing from Berger Consulting LLC.
Dr. W. Klugh Kennedy, clinical professor, was appointed to the Mercer Medical Center-Mercer Research Day Steering Committee.
Dr. Annesha W. Lovett, assistant professor, was appointed as an invited reviewer for the American Journal of Men's Health. Dr. Lovett was also appointed to the Editorial Board of the Journal of Pharmacology & Clinical Toxicology.
Dr. Gina J. Ryan, clinical professor, and
Dr. Nader H. Moniri, associate professor, co-authored "Clinical effects of once-weekly exenatide for the treatment of type 2 diabetes mellitus" in American Journal of Health-System Pharmacy, 2013;70(13):1123-1131. Dr. Ryan also co-authored "Medication Reconciliation: Comparing a Customized Medication History Form to a Standard Medication Form in a Specialty Clinic (CAMPII 2)" in Journal of Patient Safety, 2013;9(3):160-168.
Dr. Chalet Tan, associate professor, received a $1,595,707 grant in collaboration with the investigators at Emory University and Georgia State University for "Discovery of Chemical Probes for Uveal Melanoma" from the National Institute of Health and the National Cancer Institute.
Dr. Maria M. Thurston, clinical assistant professor, was appointed to the 2013-2014 Georgia Pharmacy Association Continuing Professional Education Standing Committee. Dr. Thurston was also appointed as an invited reviewer for the Annals of Pharmacotherapy.
Georgia Baptist College of Nursing

Dr. JoEllen Dattilo, professor and associate dean of the undergraduate program, and
Elaine Harris, clinical associate professor, presented their research about the use of adjunct clinical faculty at the National League for Nursing Education Summit in Washington, D.C. on Sept. 20. More than 200 deans and directors from colleges of nursing across the country were in attendance.
Susan Estes, clinical assistant professor, was co-investigator for "The New Normal: The Use of Adjunct Clinical Faculty: The Adjunct Perspective."
McAfee School of Theology

Dr. R. Alan Culpepper, dean, chaired the first meeting of the Colloquium Ioanneum, an international group of Johannine scholars, on the island of Patmos from Sept. 13-15, and presented a paper, titled "The Prologue as Theological Prolegomenon to the Gospel of John."
Dr. Nancy L. deClaissé-Walford, Carolyn Ward Professor of Old Testament and Biblical Languages, attended the International Organization for the Study of the Old Testament in Munich, Germany, from Aug. 4-8, and presented a paper, titled "Finding the Feminine in the Psalter." At the end of August, she served on an External Evaluation Committee that examined the Old Testament Department at the University of Pretoria in South Africa, and then attended and participated in a Psalm Symposium at the University.
Dr. Thomas Slater, professor of New Testament, published "Apocalypticism and Eschatology: A Study of Mark 13:3-37" in Perspectives in Religion 40, pp. 7-18.
Dr. Chanequa Walker-Barnes, assistant professor of pastoral care and counseling, was elected to the board of the Christian Community Development Association.
School of Engineering

Dr. Susan Codone, associate professor of technical communication, presented a paper on "The Twitter Activity of Megachurch Pastors" at the Southern Baptist Research Fellowship annual meeting in New Orleans, La., from Sept. 19-20.
Dr. Richard O. Mines Jr., director of engineering graduate programs and professor of environmental engineering, recently earned six credit hours for an online course, titled "Biological Wastewater Treatment offered by UNESCO-IHE Institute for Water Education in the Netherlands," that ran from March to August.
School of Medicine

Dr. Arthur Grigorian, associate professor of surgery, was recognized as a 2012 recipient of Armenia's Presidential Award. This honor is bestowed to a select few candidates each year in fields ranging from the arts and Armenian studies to physics, computer/information sciences, literature and medicine.
Dr. Edward C. Klatt, professor in the Department of Biomedical Sciences, presented a workshop on Sept. 20, 2013, titled "Revitalize Your Teaching," at the American Society for Clinical Pathology Annual Meeting in Chicago, Ill.
Dr. Darren D. Moore, licensed marriage and family therapist and assistant professor of psychiatry and behavioral sciences, presented a poster, titled "Life after Bariatric Surgery: Men's Perspectives on Self-concept, Intimate relationships, and Social Support," at the National Institutes of Health, National Institute of Diabetes and Digestive and Kidney Diseases (NIDDK), Network of Minority Health Research Investigators, Annual Conference, in Bethesda, Md., from April 18-20. He also presented an eight-hour continuing education workshop training program for mental health professionals in the state of Georgia, titled "Obesity and Mental Health," at The Methodist Home for Children in Macon on April 30. Dr. Moore was appointed to serve as an associate board member for the National Association of African American Studies and Affiliates (NAAAS) on July 30. He was also appointed to the editorial board of the Journal for Marital and Family Therapy (JMFT), the flagship publication of the American Association for Marriage and Family Therapy (AAMFT) on July 30. His term starts in January.
Dr. Robyn Mowery, assistant program director for the Master of Family Therapy Program in Atlanta and assistant professor in the Department of Psychiatry and Behavioral Sciences, was appointed co-chair for the Piedmont Hospital Ethics Committee, effective September 2013.
Dr. Sateesh R. Prakash, clinical assistant professor of medicine, wrote a manuscript, titled "Improving Quality of Colonoscopy Bowel Preparation with an Educational Video," which was accepted for publication by the Canadian Journal of Gastroenterology. The study was funded by an educational grant from Braintree Labs and received a 2009 Presidential Poster Award at the American College of Gastroenterology conference in Las Vegas, Nev. It is the first published study to demonstrate that colonoscopy instructional videos can improve the quality of bowel preparation.
Dr. Paul Seale, professor and director of research in the Department of Family Medicine, was awarded a grant to train nurse practitioners in screening, brief intervention and referral to treatment (SBIRT). Training will take place at Mercer, Emory University, the University of Alabama at Birmingham, Johns Hopkins University, South University, Georgia College, Armstrong Atlantic State University and the University of North Georgia.
Dr. Mike U. Smith, director of AIDS Education and Research and professor of medical education in the Department of Community Medicine/Public Health, was a book reviewer for "International Perspectives on Evolution Education" (ed. A. Ashgar), Springer Publishers. Dr. Smith is a copy editor for Science and Education, and he is a member of the dissertation committee in the Department of Science Education at the University of Georgia. In July-August, he co-led a Mercer on Mission trip to Chulochosema Orphanage in Zomba, Malawi. His article, "The role of authority in science and religion with implications for introductory science teaching and learning," was published in Science & Education, 22(3):605- 634. His articles, "On the relationship between belief and acceptance of evolution as goals of evolution education: Ten years later," "21st Century Genetics and Genomics: Contributions of HPS-Informed Research and Pedagogy, "Mendel in the Modern Classroom," and "Relating Science and Religion: An Ontology of Taxonomies and Development of a Research Tool for Identifying Individual Views" have all been published. He gave a presentation on "The GAENE – Generalized Acceptance of Evolution Evaluation: Development of a new measure of evolution acceptance" at the annual meeting of the National Association for Research in Science Teaching in Rio Grande, Puerto Rico, in April and at the biennial meeting of the International History and Philosophy of Science Teaching Group in Pittsburgh, Pa., in June. In March, he presented workshops on "Mendel in the Modern Classroom" and "Genetics Education for the 21st Century" in Utrecht, The Netherlands.
Staff and Administration

Kenneth G. Donnelly was named director of audiovisual services in the Office of Information Technology Client Support Services.
Erin Keller, formerly on the admissions staff, joined the alumni services staff on May 13 in the new position of coordinator of alumni programs.
April M. Mills was promoted to director of help desk and communications in the Office of Information Technology Client Support Services.
C. Brent Walker was promoted to director of field support services in the Office of Information Technology Client Support Services.
Stetson School of Business and Economics

Jody Blanke, professor of computer information systems and law, presented a paper, titled "The Legislating Response to Employers' Requests for Password Disclosure," at the Annual Conference of the Academy of Legal Studies in Business in Boston, Mass. in August.
Dr. Elizabeth Chapman, assistant professor of management, published "Ten years of career success in relation to individual and situational variables from the employee development literature" in the Journal of Vocational Behavior, 83, 450-465.
Dr. Kim Freeman, assistant professor of management, and
Dr. Patrick J. Madison, former director of the College Hill Alliance initiative, wrote a paper, titled "A successful community development initiative with the formation of the College Hill Alliance in Macon, Georgia," which has been accepted for publication in the IEDC Economic Development Journal.
Dr. Kathy Mack, assistant professor of management, wrote an article, titled "Breaching or Disturbing the Peace? Organizational Aesthetic Encounters for Informed and Enlivened Management Learning Experiences," which was accepted for publication in Management Learning.
Dr. Gina L. Miller, professor of marketing, co-authored a journal article, titled "Customer Reactions to Conflict Management: A Review and Empirical Evidence from Two Service Industries," which was published in the Review of Marketing Research (2013), Emerald Group Publishing Limited: Volume 10, 63–96.
Dr. Ania Izabela Rynarzewska, visiting assistant professor in sports business, gave a presentation, titled "Middle Class Consumers and their Evaluations of Foreign Services," presented at the Middle Class Phenomenon in Emerging Markets International Conference in Atlanta, Ga., on Sept. 28.
Dr. Antonio Saravia, visiting assistant professor of economics, wrote a paper, titled "Productivity, Structural Change and Latin American Development," that was accepted on July 18 for publication at the Review of Development Economics. The paper will be published this fall.
Dr. Faye A. Sisk, director of executive and professional M.B.A. programs, served on an educational panel for the Global Women's Executive Network (GWEN). She was invited to discuss graduate degree options for women. The panel was hosted by Edelman International and invited participants included deans and educators from other universities such as Emory University, Spelman College and Georgia Tech.
Dr. Vijaya Subrahmanyam, professor of finance, co-authored "Determinants of Capital Expenditures Across Nations" in the Indian Journal of Economics and Business, Vol. 12 (1), 2013; and "The Stock Market Impact of Government Interventions on Financial Services Industry Groups: Evidence from the 2007-2009 Crisis," in the Journal of Economics and Business, forthcoming, 2013.
Tift College of Education

Dr. Martha Lee Child, assistant professor and chair of the Georgia Reading Association (GRA) Community Projects Committee,
Dr. Karen Davis, associate professor of education,
Dr. Michelle Vaughn, assistant professor, and
Barbara McWethy, instructor, were invited to a photo opportunity on Oct. 24 in Atlanta with Gov. Nathan Deal as part of the Come Read with Georgia Program. Come Read with Georgia is a month-long literacy project aimed at increasing literacy, citizenship and pride in the state of Georgia.
Townsend School of Music

Patty Crowe transitioned to the full-time position of administrative assistant to the director of the Robert McDuffie Center for Strings.
Amy Schwartz Moretti, director of the Robert McDuffie Center for Strings, associate professor and Caroline Paul King Violin Chair, was featured as a guest artist with the Omaha Symphony at the Holland Performing Arts Center on Sept. 20 and 21 in the Brahms Double Concerto with music director Thomas Wilkins conducting. She performed concerts with the Ehnes Quartet for the Maestro Foundation in Santa Monica, Calif. on Sept. 7 and the Miami Friends of Chamber Music in Coral Gables, Fla., on Sept. 23. Her recording of Prokofiev's Sonata for Two Violins, Op. 56, for Chandos Records with Canadian virtuoso James Ehnes, was released in a two-CD set on Sept. 3: "James Ehnes Plays Prokofiev: Complete Works for Violin." Through the generous efforts of the Stradivari Society of Chicago, Moretti was recently awarded the use of a J.B. Guadagnini violin from Piacenza known as the "Canadian."
Walter F. George School of Law

Jim Fleissner, professor of law, gave a presentation at a meeting of the Young Lawyers Division of the State Bar of Georgia, titled "Balancing National Security and the Free Flow of Information: The Legal Landscape for Leakers and Publishers of Classified Information," on Aug. 23 in Chicago.
Scott Titshaw, professor of law, wrote "Revisiting the Meaning of Marriage: Immigration for Same-Sex Spouses in a Post-Windsor World" for the Vanderbilt Law Review En Banc, forthcoming, 2013.