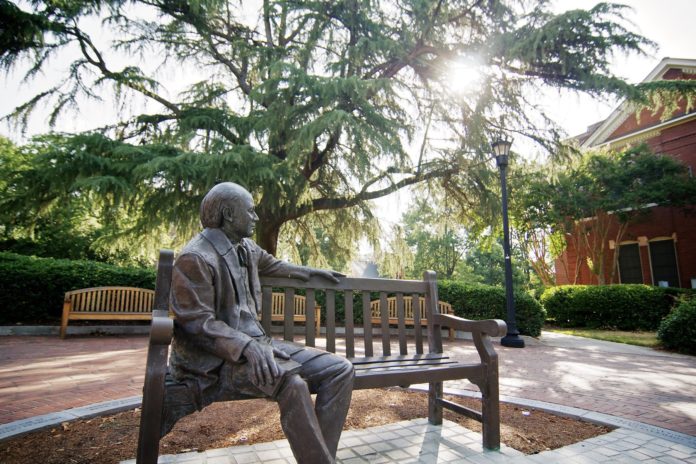 MACON – Mercer will host its first Visionary Student Panel Oct. 13-14, 6 p.m., in Willingham Auditorium, as part of the Grand Challenges programming in the University's new Quality Enhancement Plan (QEP).
Mercer's QEP, which began in August, is based on the theme "Research that Reaches Out," drawing upon the University hallmark of putting new knowledge generated in classrooms and laboratories into practical use to solve real-world problems. As part of "Research that Reaches Out," Mercer aims to create more meaningful research opportunities for students across all Macon traditional undergraduate programs.
The panel, which will take place each fall during Mercer's five-year plan, allows students to present proposals for exploring local, national or global issues or problems tied directly to the Grand Challenge topics.
"The idea of the Visionary Student Panel comes from a yearlong discussion with students and student groups. The opportunity to share their ideas publicly was very empowering to them," said Dr. Bridget Trogden, associate professor of chemistry and director of "Research that Reaches Out." "Students indicated that events such as this set a high bar for connecting their knowledge to real-world issues they care about, and that they look forward to rising to the challenge."
Grand Challenges are broad conceptual issues that span disciplines and colleges, and are intended to help focus thought and analysis around central themes. The concept of Grand Challenges is prevalent in national engineering education and has recently been adopted by organizations such as the White House and the Bill and Melinda Gates Foundation.
Mercer's Grand Challenge topic for the 2015-2016 academic year is social responsibility.
Participants in the Visionary Student Panel will have 10 minutes to pitch their ideas and respond to questions from a panel of judges and the audience. For this year's panel, students have been asked to respond to one of the following issues posed to the Mercer student body, or suggest their own:
How can we live in more environmentally sustainable ways?How can social media be utilized to combat bias and communicate accurate information?How can we help disrupt poverty cycles in a variety of areas?
A total of 14 participants have been divided into two categories. Nine will take part in the competitive category on Tuesday, which is for those who would like to share their idea and have it funded. Five will take part in the showcase category on Wednesday, which is for those who would like to share their idea but are not competing for funding.
Creation and implementation of a QEP is one component of securing reaffirmation of accreditation by the Southern Association of Colleges and Schools Commission Colleges, which takes place every 10 years.
For more information on "Research that Reaches Out" and the 2015 Visionary Student Panel, click here.