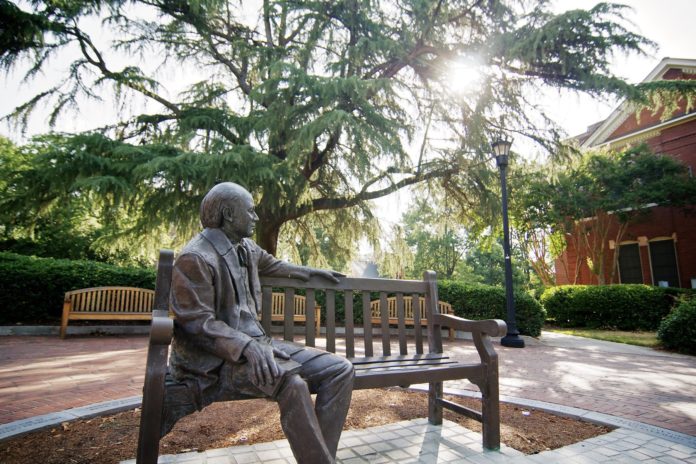 MACON – Mercer will welcome thousands of alumni and friends of the University to the Macon campus Oct. 23-25 for Homecoming 2015.
The Office of Alumni Services is offering more than 50 events, ranging from the annual Alumni Career Speaker Series to athletic events to music performances and much more.
A sell-out crowd is anticipated for the annual Homecoming football game, as the Bears host Southern Conference foe VMI at Five Star Stadium on Saturday at 3 p.m.
"Traditional events such as class reunions, along with new events each year, keep Homecoming fresh and fun," said Jill Kinsella, executive director of the Mercer University Alumni Association. "Homecoming is by far our largest annual alumni event, and it continues to grow because our graduates value the connections and relationships they made as students."
The Alumni Speaker Series kicks off activities on Friday with presentations by Andy DuVall (BUSM '97), Ray McDonald (EGR '92), Shantrice L. Jones (CLA '06) and Hollie McIntosh (CLA '95, PHA '99) at locations across campus beginning at 10 a.m.
Homecoming Headquarters opens at noon at the Athletic Desk on the lower level of the University Center, directly adjacent to Black Field. Registration information will be available at this location until 7 p.m. on Friday and 8 a.m.-3 p.m. on Saturday.
New this year, an alumni awards dinner in the University Center at 6:30 p.m. on Friday will celebrate the accomplishments of Mercer alumni in these categories: Alumni Chapter Awards, Greek Challenge, Athletic Hall of Fame, Alumni by Choice and the three traditional university-wide service awards.
This year's pep rally will take place in Tattnall Square Park, 8-8:30 p.m., as the University partners with Macon Octoberfest for a party in the park. Friday night admission to Octoberfest is free for pre-registered alumni and friends. The event lasts until 10 p.m., and all proceeds benefit the Alzheimer's Association, All About Animals Rescue and LH Harris Ecology Center.
Saturday's events begin with the annual 5K road run at 8 a.m.
The Townsend School of Music will host a free Homecoming Kaleidoscope Concert, featuring students, ensembles and faculty, 11 a.m.-noon, in Fickling Hall.
A day of tailgating throughout campus will lead up to men's soccer vs. VMI at noon on Bear Field and football at 3 p.m.
Sunday's events are headlined by women's soccer vs. Furman at 2 p.m. on Bear Field.
For a complete schedule, visit homecoming.mercer.edu.