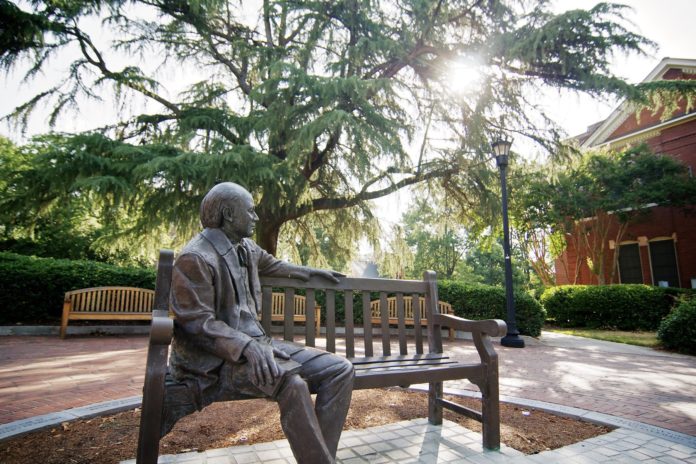 MACON — Mercer University's College of Liberal Arts will kick off it "Spotlight on China Series" at 6:30 p.m. on Thursday, Oct. 11, with a lecture by China expert and Mercer Economics Professor Penelope Prime, Ph.D., entitled "China's Economic Rise: Context and Implications." Held in Medical School Auditorium, the event, co-sponsored by Mercer's Department of International Programs, is free and open to the public.
A professor of Economics at the Eugene W. Stetson School of Business and Economics Atlanta, Prime teaches international economics and business in the MBA and Executive MBA programs. She is also director of the China Research Center, which she founded in 2001. The Center has associates from numerous institutions in Georgia, with its base of operations at Mercer. The China Research Center provides expertise on contemporary China and promotes research and education about greater China.
Prime's research focuses on China's economy and business environment, including such topics as: China's foreign trade and investment, industrial and technological progress, and provincial development, as well as applied business and economics cases on China and Asia. Her articles have been published in Applied Economics, Economic Development and Cultural Change, Pacific Economic Review, Osaka Economic Papers, and Business Economics, among others, as well as in journals in China. She serves on the editorial boards of China Economic Review and the Indian Journal of Economics and Business. She has received numerous grants, including from the American Council of Learned Societies, the National Academy of Sciences Committee on Scholarly Communications with the PRC, and the Alfred P. Sloan Foundation.
Prime's lecture is the first among a number of free events in the "Spotlight on China Series" at Mercer. Two ongoing events the Series are: a Chinese Art and Artifacts Exhibit, on display from Oct. 16 – Nov. 16 at the Hardman Gallery, and, a Chinese Book Expo, Oct. 16 – Nov. 16 at the Jack Tarver Library.
Other free events in October include a presentation by Art Professor Beth Stewart, Ph.D., at 4 p.m. on Oct. 23, in Hardman Hall room 201 entitled "Consulting the I Ching," and a Chuan-style Tai Chi lesson led by Master Nick Yang, at 5 p.m. on Oct. 24 on the Porter Patch, co-sponsored by QuadWorks of Mercer University.
Free events in November include a lecture by Stewart entitled "Recent Internationally Known Chinese Artists" at 6 p.m. on Nov. 8 in Hardman Hall, room 201, and a Chinese Calligraphy Workshop led by Ge Wei and Linda Chen at 4 p.m. on Nov. 14 in Hardman Hall room 203.
The Series concludes with a Chinese Buffet Luncheon in the Trustees Dining Room in the Connell Student Center from 11 a.m. to 2 p.m. on Nov. 15, with tickets sold in advance for $8.50. Call 301-2936 to reserve.
About Mercer University:
Founded in 1833, Mercer University is a dynamic and comprehensive center of undergraduate, graduate and professional education. The University has 7,300 students; 11 schools and colleges – liberal arts, law, pharmacy, medicine, business, engineering, education, theology, music, nursing and continuing and professional studies; major campuses in Macon and Atlanta; four regional academic centers across the state; a university press; two teaching hospitals — Memorial Health University Medical Center and the Medical Center of Central Georgia; educational partnerships with Warner Robins Air Logistics Center in Warner Robins and Piedmont Healthcare in Atlanta; an engineering research center in Warner Robins; a performing arts center in Macon; and a NCAA Division I athletic program. For more information, visit www.mercer.edu.
— 30 —