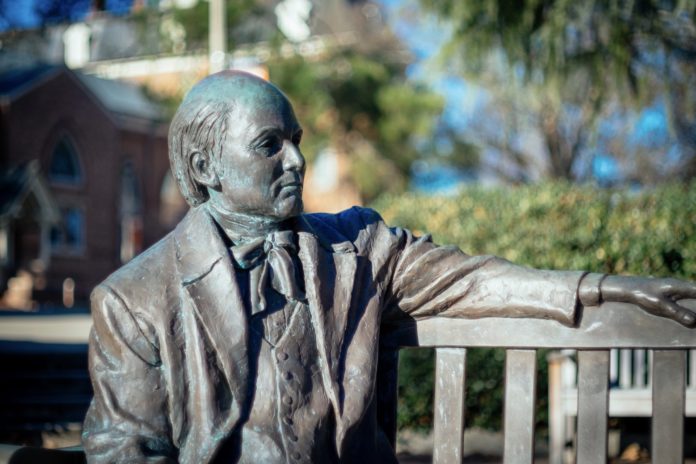 ATLANTA – Jewish New Testament scholar Amy-Jill Levine, Ph.D., of Vanderbilt University will be 2008 presenter of the William L. Self Preaching Lectures, Feb. 18-19, at McAfee School of Theology of Mercer University on the University's Atlanta campus. Levine will give three lectures on "Jesus, Judaism and Anti-Jewish Preaching" over the two days: "Christians Say the Darndest Things: Mistakes about Judaism Mean Mistakes about Jesus," "Telling Different Stories: How the Bible both Unites and Divides Jews and Christians," and "Getting Past Guilt and Politeness: The Bible and Jewish-Christian Relations."
Also speaking during the series will be David P. Gushee, Distinguished University Professor of Christian Ethics at Mercer, on "Integrating Ethical Concerns in Preaching," and Dr. Peter Rhea Jones, professor of Preaching, at McAfee School of Theology, on "How to Write a Sermon."
Levine is the E. Rhodes and Leona B. Carpenter Professor of New Testament Studies at Vanderbilt's Divinity School. She describes herself as a "Yankee Jewish feminist who teaches in a predominantly Protestant divinity school in the buckle of the Bible Belt." Her website states she "combines historical-critical rigor, literary-critical sensitivity, and a frequent dash of humor with a commitment to eliminating anti-Jewish, sexist, and homophobic theologies."
"Dr. Levine is unique in that she's a Jewish professor turned New Testament scholar who is in frequent dialogue with Christian ministers," said Dr. R. Alan Culpepper, dean of McAfee School of Theology.
Levine's most recent publications include The Misunderstood Jew: The Church and the Scandal of the Jewish Jesus (HarperSanFrancisco, 2006), the edited collection, The Historical Jesus in Context (Princeton University Press, 2006) and the 14-volume series, Feminist Companions to the New Testament and Early Christian Writings (Continuum). She has recorded "Introduction to the Old Testament," "Great Figures of the Old Testament" and "Great Figures of the New Testament" for the Teaching Company.
Holding a bachelor's degree from Smith College, and a master's and Ph.D. from Duke University, and an honorary Doctor of Ministry from the University of Richmond, Levine has been awarded grants from the Mellon Foundation, the National Endowment for the Humanities and the American Council of Learned Societies. She has held office in the Society of Biblical Literature, the Catholic Biblical Association and the Association for Jewish Studies.
Prior to joining the Vanderbilt faculty, she served as chair of the Department of Religion at Swarthmore College.
Registration for the Self Lectures, which includes dinner on Monday and coffee on Tuesday, is $50 and $20 for students and spouses. The registration deadline is Feb. 8 and registration forms are online at http://theology.mercer.edu under "Special Events." For more information, contact Diane Frazier at (678) 547-6470 or (888) 471-9922 or at frazier_d@mercer.edu.
About the William L. Self Lectureship:
The William L. Self Lectureship at McAfee School of Theology of Mercer University was established to promote the practice of faithful and effective preaching of the gospel. The series is named in honor of Dr. William L. Self, who has a national reputation as a gifted preacher, pastor, author, lecturer, motivational speaker and innovator in church growth. Self achieved considerable acclaim by leading Atlanta's Wieuca Road Baptist Church to a place of prominence in Georgia and the nation. As senior pastor of Johns Creek Baptist Church in Alpharetta, Ga., he has provided strong leadership that has brought this church to the vanguard of fast-growing churches.
About Mercer University:
Founded in 1833, Mercer University is a dynamic and comprehensive center of undergraduate, graduate and professional education. The University has 7,300 students; 11 schools and colleges – liberal arts, law, pharmacy, medicine, business, engineering, education, theology, music, nursing and continuing and professional studies; major campuses in Macon and Atlanta; four regional academic centers across the state; a university press; two teaching hospitals — Memorial Health University Medical Center and the Medical Center of Central Georgia; educational partnerships with Warner Robins Air Logistics Center in Warner Robins and Piedmont Healthcare in Atlanta; an engineering research center in Warner Robins; a performing arts center in Macon; and a NCAA Division I athletic program. For more information, visit www.mercer.edu.
— 30 —