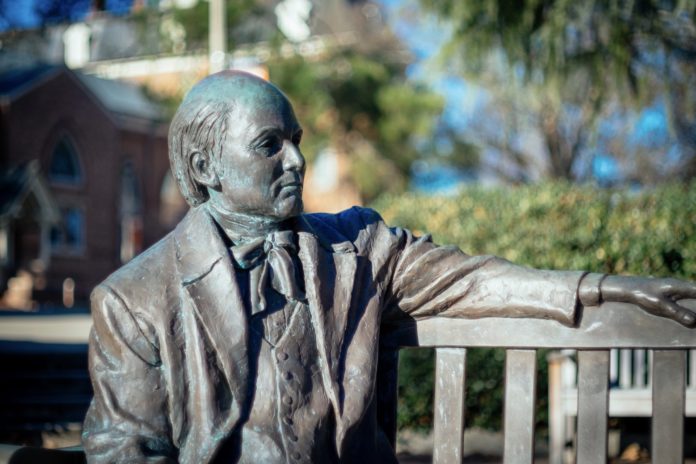 College of Continuing and Professional Studies

Dr. Caroline M. Brackette, assistant professor of counseling, served as a grant reviewer for the U.S. Department of Education's Office of Elementary and Secondary Education's Office of Safe and Healthy Students. She read and evaluated grant applications submitted under the 2012 Elementary and Secondary School Counseling Programs grant competition. She also was invited to present on the impact of stress on mental, emotional and physical health for a women's wellness seminar at Cascade United Methodist Church.
Dr. Hani Q. Khoury, professor of mathematics and chair of the Department of Mathematics, Science and Informatics, and Dr. Duane E. Davis, professor emeritus of religion and philosophy, will lead a Mercer On Mission to Amman, Jordan, during the summer of 2013. The proposal for the mission was recently approved and will include two academic courses focusing on religion and culture in Jordan, as well as education and citizenship challenges facing Arab societies. The Mercer On Mission/Jordan will include a service-learning project in Amman involving orphaned and physically challenged children. In addition, Dr. Khoury along with Khalil Derzi, adjunct faculty of mathematics, Dr. Sabrina Walthall, assistant professor of science, and Dr. Rob Ceglie, assistant professor of education in the Tift College of Education, delivered a two-week workshop in mathematics and science content to 50 elementary teachers from four counties: Crawford, Jones, Monroe and Peach, July 16-26. The workshop concluded an approved Georgia Department of Education partnership grant with Middle Georgia Regional Educational Service Agency.
Dr. Zipangani M. Vokhiwa, assistant professor of science, and Dr. Mike U. Smith of the School of Medicine have been approved to carry out a Mercer On Mission in Malawi during the summer of 2013. The Mercer On Mission Project will be conducted at Mercer University's anchor site – Chuluchosema Orphanage and Clinic in Zomba, where Mercer installed a solar-powered water pump for water articulation for the clinic during a Mercer On Mission in 2011. Dr. Vokhiwa spent the months of June and July in Malawi, where he participated in collaborative research with scientists at The University of Malawi working on a climate change mitigation project. Dr. Vokhiwa looked into biodiversity trends and the landscape of Kalimanjira community as part of the climate change mitigation continuum. He also worked with the Mulanje Mountain Conservation Trust to carry out ecological monitoring and ecosystem services at six sites in the Mulanje Mountain Biosphere Reserve and worked with the National Herbarium and Botanical Gardens of Malawi for the establishment of long-term botanical, ecological and biodiversity monitoring program for the Matandwe Forest Reserve. Two draft manuscripts are currently being produced for the climate change mitigation and the ecological monitoring research projects.
Dr. Richard Martin, associate professor of public safety, will chair a roundtable discussion on preservice certification at the March meeting of the Academy of Criminal Justice Sciences in Dallas, Texas. He will also present a paper on recruit characteristics desired by Georgia police chiefs.

College of Liberal Arts
Craig Coleman, associate professor, was included in the "CSA Macon Project," a program where five Macon artists were chosen to create 50 works to be purchased by 50 collectors. The program was a partnership between The 567 and the Macon Arts Alliance with help through a grant from the Knight Foundation. Coleman's work was also in an exhibit of the "CSA" artists held at the 567 Center for Urban Renewal Gallery in June. The show and the "CSA" pick-up event were subsequently featured on the Knight Foundation's "Knight Arts" website in an article about the program. Coleman served as an organizer for the first-ever TedX Macon Conference, held on May 5. Coleman helped to find and choose guest speakers, organize an art exhibition on the TedxMacon theme, "Local." He also helped create the opening motion graphics for the event, and served as a photographer during the event. In April, Coleman presented a lecture about his photographic and multimedia art at the University of South Florida.
Dr. David A. Davis, assistant professor of English, delivered a paper, titled "Faulkner and the Inheritors of Slavery," at the Faulkner and Yoknapatawpha conference in Oxford, Miss., July 8-11.
Dr. John Marson Dunaway, professor of French and interdisciplinary studies, traveled to France in June to collect items for the Vladimir Volkoff Archive, which Tarver Library's Special Collections department will house. Ray Brewster, professor emeritus, and Laura Botts, head of special collections at the Tarver Library, are collaborating with Dunaway on the project. Dr. Denise Juillard Volkoff, professor emerita, has donated the materials for the archive.
Dr. Kathryn Kloepper, assistant professor of chemistry, presented at the Biennial Conference on Chemical Education, held July 29-Aug. 2 at Pennsylvania State University. Dr. Kloepper gave an oral presentation, titled "Collaborating with industry to create new opportunities for undergraduate research" and a poster presentation, titled "Stoplight quizzes and around-the-world discussions: strategies to increase class participation in the analytical chemistry sequence."
Dr. Paul Lewis, associate professor of Christianity, and Dr. Bryan Williams, assistant professor of political science, took a group of students to Brazil for a Mercer On Mission. The group studied liberation theology and the political economy of Brazil. The classes assisted residents of the favela, Ladiera dos Tabajares, with developing a host family program and taught lessons on environmental care to students, ages 5-16, in Projeto Vida (Project Life) in another favela, Morros dos Mocacos. These lessons coincided with the Rio+20 conference that was underway at the time.
Scot J Mann, associate professor of communication and theatre, taught a two-day master class in stage combat skills to industry professionals and performers in training at Theatre Macon in July. Mann instructed bullwhip techniques, knife and tomahawk throwing, and double stick for stage and film. He also served as master instructor for the Theatrical Firearms Safety Course through the Society of American Fight Directors. Fifteen students completed the course and two teaching candidates were officially certified as instructors.
Dr. Anya Silver, associate professor, had two poems in The Christian Century: "Coincidence" in the May 16 issue, and "On Our Anniversary" on June 27. She also had two poems featured in the web journal Bread and Glitter, "All Souls Day" and "Praying as a Child." Dr. Silver also published "Ploughman" in the Anglican Theological Review, Spring 2012, p. 315.
Dr. Randall Peters, professor emeritus of physics, had a paper, titled "Prediction of catastrophes: an experimental model," which he co-authored, accepted for publication in Physical Review E:
Dr. Beth Stewart, professor, attended the NEH Research Institute "Leonardo da Vinci: Between Art and Science" hosted by the Max Planck Kunsthistorisches Institut in Florence, Italy, June 23 – July 14.
Dr. Richard F. Wilson, Columbus Roberts Professor of Theology and chair of The Roberts Department of Christianity, co-led a Mercer On Mission to Liberia with Dr. Emilie W. Paille, associate professor of the Tift College of Education. The trip was from May 25-June 16. For a third time, Wilson and Paille introduced Mercer students to the challenges and possibilities at Ricks Institute, a K-12 school near Monrovia, which is led by Olu Q. Menjay, who is a Mercer graduate and associate professor in The Roberts Department of Christianity. Mercer students worked alongside Liberian teachers in the school for 15 full school days. Students also experienced wide exposure to Liberian leaders, including President Ellen Johnson Sirleaf and Sen. Jewel Howard Taylor, as part of the Christianity seminar: Peace and Reconciliation in Post-war Liberia. Wilson also participated in the General Council meetings of the Baptist World Alliance, held in Santiago, Chile, July 1-8. Wilson is the chair of the Commission on Christian Ethics and on the executive committee for the Missions, Evangelism and Theological Reflection division of the BWA. Wilson planned, convened and moderated eight hours of seminar sessions over four days. While in Chile, he also met with a group of 35 Chilean Baptist pastors eager for conversation and support concerning contemporary ethical issues.
Dr. Carolyn Yackel, associate professor, reviewed National Science Foundation proposals and attended the Bridges: Mathematics and the Arts conference in Towson, Md., where she served on the program committee and presented a workshop included in the prestigious family day. The workshop was titled "Teaching Temari: Geometrically Embroidered Spheres in the Classroom," where participants learned the beginning steps of making a Temari ball.
College of Pharmacy and Health Sciences

Dr. Ajay K. Banga, professor, was awarded a grant for $193,750 for "Permeation enhancement of a hormonal gel" from Abbott Laboratories. Dr. Banga and Ph.D. student Vijay Kumar co-authored "Modulated iontophoretic delivery of small and large molecules through microchannels" in the International Journal of Pharmaceutics 2012; 434(1-2): 106-114. Dr. Banga and Dr. Ayyappa Chaturvedula, assistant professor, were awarded a $125,000 grant for "Intradermal/topical and transdermal product development" from GlaxoSmithKline. Dr. Banga also co-authored "In vivo iontophoretic delivery of salmon calcitonin across microporated skin" in the Journal of Pharmaceutical Sciences 2012; 101(8): 2861-2869.
Dr. Melissa M. Chesson, clinical assistant professor, was elected the 2012-2013 Northwest Georgia District director for the Georgia Society of Health-System Pharmacists.
Dr. W. Klugh Kennedy, clinical associate professor, co-authored "Imported plasmodium falciparum malaria in the United States" in the American Journal of Health System Pharmacy 2012;69(14):1186-1187. Dr. Kennedy was also elected by the American College of Clinical Pharmacy Board of Regents as a fellow.
Dr. Annesha W. Lovett, research assistant professor, was appointed grant reviewer for the Patient Centered Outcomes Research Institute.
Dr. Lisa M. Lundquist, clinical associate professor, was appointed chair of the Task Force for Promotion of Academic Careers for the American Association of Colleges of Pharmacy, Pharmacy Practice Section for 2012-2013. Dr. Lundquist was also appointed to the 2012-2013 Education Steering Committee, Section of Ambulatory Care Practitioners for the American Society of Health-System Pharmacists.
Dr. Nicole L. Metzger, clinical assistant professor, was appointed to the American Society of Health-System Pharmacists 2012-2013 Section Advisory Group on preceptor development skills.
Dr. Nader H. Moniri, associate professor, and Monalisa Singh, Ph.D. student, co-authored "Reactive oxygen species are required for ß2-adrenergic receptor-ß-arrestin interactions and signaling to ERK1/2" in Biochemical Pharmacology 2012; 84(5):661-669.
Dr. Angela O. Shogbon, clinical assistant professor, co-authored "Cryptogenic organizing pneumonia during adjuvant chemotherapy with oxaliplatin, 5-fluorouracil, and leucovorin (FOLFOX) for Colon Cancer," in the Journal of Pharmacy Practice.2012; DOI: 10.1177/0897190012451929.
McAfee School of Theology

Dr. David Gushee, Distinguished University Professor of Christian Ethics and director of the Center for Theology and Public Life, published his edited collection titled A New Evangelica Manifesto: A Kingdom Vision for the Common Good, with Chalice Press. The book is a collection of 22 essays from progressive (post) evangelicals strongly staking out a clear alternative posture to the Christian Right while deepening and clarifying what it means to claim an evangelical identity. McAfee graduates Andi Sullivan and Scott Claybrook wrote chapters in the book. It is his third faith-and-politics collection and has been endorsed by Washington Post columnist EJ Dionne, among others. In October, Yours Is The Day, Lord, Yours Is The Night, comes out with Thomas Nelson. He co-edited the book with his wife Jeanie. The book is an ecumenical prayer book gathering morning and evening prayers from all continents and 2,000 years of Christian tradition. In January, Eerdmans will release The Sacredness Of Human Life. The book is an analysis in Christian theological ethics of what it has meant and what it means to say that life is of sacred worth. Dr. Gushee was invited to talk about the key themes of the book at a conference at Oxford University in June.
Dr. Robert Nash, associate dean for Doctor of Ministry Studies and professor of missions and world religions, was traveled to Israel for the first stage of the Christian Leadership Initiative, an intensive 13-month educational program on Judaism, co-sponsored by AJC and the Shalom Hartman Institute.
Dr. Brett Younger, associate professor, is serving as the interim pastor at Highland Hills Baptist Church in Macon.

School of Engineering
Dr. Jeng-Nan Juang, professor, represented Mercer on July 10 at the ceremony in Tiawan for the sister university agreement between Southern Taiwan University and Mercer. Dr. Juang is also serving as general chair for the International Conference on Intelligent Technologies and Engineering Systems, which will be held at National Changhua University of Education on Dec. 13-15 in Taiwan.
School of Medicine

Dr. Susan D. Cline, associate professor of biochemistry, published an invited review article, titled "Mitochondrial DNA Damage and its Consequences for Mitochondrial Gene Expression," in the special issue Mitochondrial Gene Expression of the journal Biochimica et Biophysica Acta – Gene Regulatory Mechanisms [1819(9-10)]. Dr. Cline also served as a co-editor of this issue with Dr. Craig Cameron, professor in the Department of Biochemistry and Molecular Biology at the Pennsylvania State University.
Dr. Richard L. Elliot, professor and director of biomedical ethics and the office of professional practice, published "Does religion affect medical students' attitudes towards ethical dilemmas?" in the Journal of the Medical Association of Georgia. He also published "Telling patients the truth after a medical error" in the Journal of the Medical Association of Georgia and "An increasingly problematic situation regarding difficulty in rebutting defense testimony on battered person syndrome" in the Journal of American Academic Psychiatry Law.
Dr. Harold P. Katner, professor and chief of infectious diseases, was a guest educator and lecturer at the Kurobe City Hospital Residency program in Kurobe, Japan. He also presented a Grand Rounds to the students and faculty at the Toyama University School of Medicine in Toyama, Japan, in May.
Dr. Warren Hutchings, director of student health and assistant professor, and Dr. Monique Davis-Smith, assistant professor, attended a program featuring former NBA star Dominique Wilkins, who discussed his battle with diabetes. Dr. Hutchings is the CEO of Middle Georgia Medical Society Inc. and was the program moderator. Dr. Davis-Smith was one of two physician speakers.
Dr. E.S.Prakash, associate professor of physiology, gave an invited lecture, titled "Cardiac Sympathovagal balance: a critical reappraisal," in a Society for Neuroscience (Bangalore Chapter) meeting held at National Institute of Mental Health and Neurosciences in Bangalore, India, on June 4. He was principal resource faculty for a continuing medical education program and workshop on Heart Rate Variability held at Mahatma Gandhi Medical College and Research Institute in Puducherry, India, on June 12. In the continuing medical education program, he delivered a lecture, titled "Heart rate variability: standards of measurement, physiologic foundations, research and clinical applications," and he conducted a workshop on analysis of RR interval tachograms.
Dr. Mike U. Smith, director of AIDS education and research and professor of medical education, was named to the Genetics Education and Outreach Network of the American Society of Human Genetics.
Staff and Administration

Ellyn Couillard, TRIO student support services counselor, co-wrote two modules of the first chapter of "Theories Underlying Postsecondary Tutoring, Mentoring, and Training" in the Handbook for Training Peer Tutors and Mentors. She was the lead author on "Applying Recent Student Development Theories to Tutoring and Mentoring" and secondary author on "Using Foundational Student Development Theories to Guide Practice." The handbook is a publication of the College Reading and Learning Association and Cengage Learning.
Jenny Duckworth, instructor and student activities coordinator in the English Language Institute, taught freshman English classes in North Korea at Pyongyang University of Science and Technology in July. Pyongyang University of Science and Technology is the country's first institution of higher education founded and operated primarily by people from the United States, China, and South Korea. The university seeks to educate new generations of North Korean students who can contribute to their country's economic development and to promote peace.
Betsy Fitzgerald, executive director of The Grand Opera House, performed in July at Walt Disney World's Hollywood Studios as principal harpist with the Encore Cast Orchestra and Choir in their 10th anniversary concerts, titled "Finding Neverland."
Mary Louise Hendley, instructor in the English Language Institute, taught an English course in Amman, Jordan, this summer in connection with language programs offered by the Consortium for Global Education.

Walter F. George School of Law
Joseph E. Claxton, professor emeritus, made a presentation with Macon attorney Jonathan Alderman, titled "Estate Planning for Families with a Person with a Mental Disability," on April 14 at Developmental Disabilities Ministries Inc. in Norcross.
Teri McMurtry-Chubb, associate professor, recently published a book, titled Legal Writing in the Disciplines: A Guide to Legal Writing Mastery, and a teachers manual Legal Writing in the Disciplines: A Guide to Legal Writing Mastery, with Carolina Academic Press in June. McMurtry-Chubb presented "Don't Sweat the Technique: Toward a Disciplinary Pedagogy for Legal Education" at the 15th Biennial Conference of the Legal Writing Institute. McMurtry-Chubb was also elected for a three-year term to the Association of Legal Writing Directors Board of Directors.
Scott Titshaw, associate professor, will have his work "The Reactionary Road to Free Love: How DOMA, State Marriage Amendments and Social Conservatives are Destroying Traditional Marriage," published in the West Virginia Law Review in October. Titshaw will also have his work, titled "The Discord Between Assisted Reproductive Technology and Immigration," published by the American Immigration Lawyers Association in conjunction with upcoming audio seminar. He will make a presentation, titled "The Discord Between Assisted Reproductive Technology and Immigration," at the American Immigration Lawyers Association National Audio Seminar, Aug. 16, "LGBT Families and U.S. Immigration and Citizenship Laws" at the National LGBT Bar Association Annual Conference in Washington, D.C., on Aug. 24 and "Crossing the Border to Marriage Equality" at the AILA Rome (Europe and Middle East) Chapter Fall Conference in London, U.K., on Oct. 5.