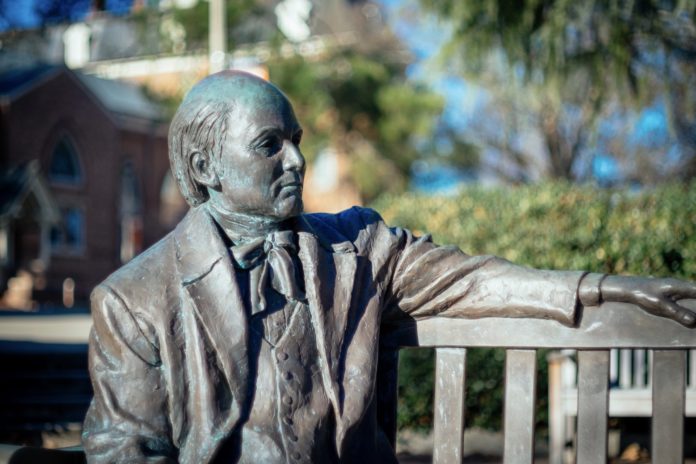 MACON – Mercer Law School has announced the appointment of two faculty members to endowed positions. Professor Timothy Floyd has been named to the Tommy Malone Distinguished Chair in Trial Advocacy and Professor Linda Jellum to the Ellison Caper Palmer Sr. Professorship, effective January 2014. Professors Floyd and Jellum were recognized at a reception in their honor on March 11.
The Tommy Malone Distinguished Chair in Trial Advocacy was established in 2007 by a generous gift from Tommy Malone, LAW '66, in support of Mercer Law School's trial advocacy program. Thomas "Tommy" Malone is the founder of Malone Law, and for more than 40 years has litigated cases involving catastrophic personal injury and wrongful death throughout Georgia. He is the past president of the American Board of Professional Liability Attorneys, the official certifying body sanctioned by the American Bar Association for certification of competency in handling professional negligence cases, and is recognized as a member of Best Lawyers, the oldest peer-review publication in the legal profession, as well as Super Lawyers, a listing of lawyers from more than 70 practice areas who have attained a high degree of peer recognition and professional achievement.
Professor Floyd's appointment to the chair recognizes his leadership in experiential education in American law schools, which includes extensive scholarly and teaching contributions. He has a particular interest in the law, policy and morality of the death penalty, and he has represented several defendants in death penalty cases, including in the only case before the United States Supreme Court under the Federal Death Penalty Act of 1994. Floyd began his career in legal education in 1982 at the University of Georgia School of Law, moving from there to the faculty of Texas Tech University School of Law from 1989 to 2004, where he was the J. Hadley Edgar Professor of Law and co-director of Clinical Programs.Floyd came to Mercer in 2006 as director of the Law and Public Service Program, where he has developed Mercer's clinics and externships. Along with his appointment to the Malone Chair, he will become the director of Experiential Education, continuing to oversee and coordinate clinics and externships, and he will assume supervisory responsibility of the trial practice curriculum and other skills courses.
The Ellison Caper Palmer Sr. Professorship was established by Ellison Caper Palmer Jr. in honor of his father's long and distinguished career with the Internal Revenue Service. Ellison Capers Palmer graduated from Mercer in 1918. He entered law practice in Macon with the firm of Hatcher & Smith, then moved into government service, joining the intelligence division of the Internal Revenue Service. He served with the IRS from that time until his retirement in 1957, ultimately serving as regional commissioner.
Professor Jellum has taught at Mercer Law School since 2003 in the areas of administrative law, statutory interpretation and property. In 2011-2012, she served as deputy director of the Association of American Law Schools. She has authored two books on statutory interpretation:
Mastering Statutory Interpretation and
Modern Statutory Interpretation: Problems, Theories, and Lawyering Strategies. In the past few years, her conversance with administrative law and statutory interpretation has sparked an interest on her part in ongoing debates among tax scholars about forms of tax abuse and regulations adopted to stem them. Her recent article, "Codifying and 'Miscodifying' Judicial Anti-Abuse Tax Doctrines," will be published this spring in
Virginia Tax Review.


About Mercer Law School
Founded in 1873, the Mercer University Walter F. George School of Law is one of the oldest law schools in the United States and the first one in the state of Georgia accredited by the American Bar Association. Mercer Law School's educational philosophy is based on a broadly shared commitment to prepare students for the high-quality, general practice of law in a day-to-day learning environment that is both strongly supportive and consistently professional. Its innovative Woodruff Curriculum – which focuses on ethics and practical skills amid small class sizes – earned the Gambrell Professionalism Award from the ABA for its "depth of excellence." With an enrollment of about 440 students, Mercer Law School is nationally recognized for its exceptional programs in legal writing, moot court, public service, and ethics and professionalism. For more information about Mercer Law School, visit law.mercer.edu or call (478) 301-5000.